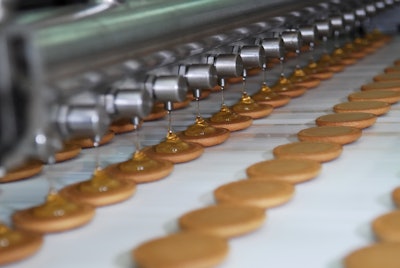 Here's a look at the third largest segment, bakery:
The value of the bakery machinery market is estimated to have been $0.6 billion in 2016; IHS Markit forecasts it to grow with 3.1% CAGR from 2016 to 2021.
Demand for bakery machinery is driven by factors including demand for luxury bakery products as a result of increasing per capita disposable income, which is changing consumer preference regarding packaged bakery foods. In the US, breads are the largest segment in the bakery products, followed by pastries and cakes.
Increasing awareness of nutritious and healthy foods has made low-carbohydrate diets more popular; and has changed consumers' perception of the health benefits of grain-based food products. In order to meet consumer preferences, bakery processing machinery manufacturers are reformulating the end product to reduce the amount of carbohydrates in breads.
The association of high sugar, salt and fat intake with various health conditions has also pushed producers of baked goods to reduce the use of these ingredients in their products. Many producers have looked for ways to meet consumer and regulatory demands without affecting the quality of product. Consequently, there is greater use of alternative ingredients and product differentiation in baked goods processing, driving demand for flexible machinery and automation to modify processes and easily control and optimize the use of ingredients.
Efficient bakery machines with higher speed and less mixing time continue to be introduced; bakery manufacturers are relying on machines with no-time dough systems to capitalize on increased efficiency and decreased factory space.
Traditional baking machines use high-speed mixing equipment and some traditional baking machines use high-energy mixing equipment. Baking machinery manufacturers are now focusing on combining the two types of equipment with high-energy/high-speed mixing capabilities, as the dough conditioner provides the same result as traditional equipment.
The trend towards line production is increasing in the US bakery processing machinery market. In order to remain competitive, manufacturers are using automated computer-controlled baking systems in closed tubes. This has resulted in increased demand for more liquid raw materials. For example, industrial bakeries have replaced margarine with liquid oils to produce toasted breads.
Demand for equipment types such as mixers and ovens and proofers has been increasing due to the aforementioned demand for premium bakery products and a shift in consumer preference to healthier and innovative bakery items.
There has been an increasing interest in combining microwave with other heating systems to reduce processing time and increase the quality of the end product. One option is a combination of halogen lamp and microwave. These halogen lamps generate near-infrared radiations, which provide browning and crisping effects in the baking process.
Source: PMMI Business Intelligence, "2018 Food and Beverage Processing Machinery Report."
Download your FREE executive summary or the full report here.
To see other food and beverage market deep dives click here.