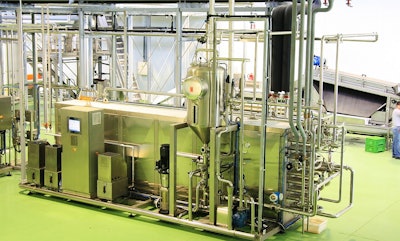 As food and beverage processing becomes more complex and supply chains get longer, pasteurization becomes a more important tactic in a manufacturer's food safety arsenal. Pasteurization not only kills pathogens to make food and drinks safe to consume, but it also extends shelf life and reduces spoilage. ProFood World caught up with HRS Heat Exchangers, a United Kingdom-based supplier of thermal technology and heat transfer solutions, to learn more about why pasteurization is vital for food and beverage manufacturers, dispelling seven popular myths about this particular food safety technique in the process.
Myth 1: Pasteurization is expensive.
While the exact costs will vary with each installation, there is no doubt that there is a capital cost to pasteurization. However, the capital expenditure and running costs are insignificant when compared with the potential losses due to food spoilage or, worse, a food safety recall. In the United States, recalling food products average $10 million a year — and that doesn't include damage to a company's brand. Last year, the USDA issued 24 recalls due to E. coli, Listeria monocytogenes and Salmonella contamination, resulting in the destruction of almost 700,000 pounds of food products.
Myth 2: Pasteurization is too complex.
Pasteurization is a relatively simple process. It requires heating liquid or food for a certain time at a certain temperature in order to kill micro-organisms. Pasteurization adds an additional step in the overall manufacturing process, but a well-designed pasteurization system should not slow down throughput or place additional management burdens on the plant. Continuous pasteurization systems simplify the process and minimize the potential for product damage or change in quality.
Myth 3: Pasteurization is only suitable for simple fluid materials.
Pasteurization can be used on a variety of solid and liquid materials. While simple Newtonian fluids are the easiest to work with and can often be effectively pasteurized with a simple plate heat exchanger, there are solutions for almost any food and beverage product. For example, a corrugated tube and scraped surface heat exchanger can pasteurize anything from viscous fluids requiring gentle handling or low rates of heat transfer to complex mixtures, such as curd cheese.
Myth 4: Pasteurization requires a lot of energy.
The amount of energy used in food pasteurization is highly variable depending on the process used, the nature of the material being treated and the heat exchanger used. The bulk of any energy requirement is used to raise the temperature of the food. Traditional pasteurization units simply dump this heat afterwards, meaning they are incredibly wasteful and inefficient. Whereas heat exchangers recapture that heat and use it again, making them up to 70 percent more efficient than some traditional systems.
Myth 5: Pasteurization equipment is high maintenance.
Pasteurization systems that use corrugated tubes with integrated clean-in-process functionality minimize the amount of fouling and cleaning necessary to maintain the efficiency of the equipment. The careful design of static tubes also helps to keep down production costs and, therefore, purchase costs, too.
Myth 6: You cannot pasteurize viscous fluids.
Subjecting viscous and non-Newtonian fluids, such as cooking sauces, to shear stress during the manufacturing process can damage the quality and texture of the material, which may preclude the use of certain heat exchangers for pasteurization. However, a pasteurization system like a scraped surface heat exchanger can prevent fouling while maintaining relatively low pressure, thereby retaining the consistency of the viscous product.
Myth 7: Pasteurization is the same as sterilization.
Unlike sterilization, pasteurization does not completely eliminate micro-organisms from food and beverages. Pasteurization reduces the microbial load by a significant factor (for example, by 5-logs), which reduces pathogens to a level at which they do not pose a hazard.
Pasteurization need not be overly onerous or detrimental to the quality of the product. With the right equipment and systems in place, a food or beverage manufacturer can use pasteurization to bring flexibility and efficiency to its operations — and boost the bottom line in the process.
Companies in this article