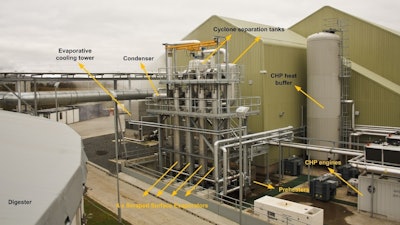 More food and beverage processors are adding anaerobic digestion operations to their manufacturing plants to combat the growing problem of food waste while saving on energy costs. But to maximize the ROI of anaerobic digestion, food and beverage manufacturers need to incorporate innovative heating, pasteurization and concentration technologies that optimize the process.
According to the USDA Economic Research Service, up to 63 million tons of food is wasted across the U.S. supply chain every year. But many food and beverage processors are mitigating that waste by using anaerobic digestion, a series of biological processes in which microorganisms break down biodegradable material in the absence of oxygen. Processing organic wastes through anaerobic digestion not only cuts greenhouse gas emissions by diverting waste from landfills, it generates homegrown renewable energy and produces a biofertilizer (digestate), rich in valuable nutrients, such as nitrogen, potassium and phosphorous. Manufacturers can sell that biofertilizer to farmers, growers and even gardeners, bringing in extra revenue.
Efficient digestate pasteurization
Pasteurization is crucial to sell digestate from food waste digestion. Many countries have legal requirements around pasteurizing digestate in order to reassure farmers, growers and legislators that it is safe to apply to land.
Matt Hale, international sales and marketing director for United Kingdom-based HRS Heat Exchangers, recommends using a heating and pasteurization system like the 3 Tank Batch Sludge Pasteurizer System from HRS Heat Exchangers that works on a three-tank principle, which can cut energy costs up to 70 percent. With a three-tank system, one tank is being filled, while the second tank holds the digestate above 158°F. At the same time, the third tank is being emptied. Each process lasts an hour.
Traditional systems heat digestate in a tank with a heating jacket — similar to waiting for a giant kettle to boil — and then dump the heat after it has served its original purpose. The HRS system, however, employs energy recovery and is typically two to three times more efficient. By transferring energy from the hotter (pasteurized) sludge to the colder (unpasteurized) sludge, energy consumption is reduced by up to 70 percent, maximizing the use of heat which would have otherwise been wasted. This also circumvents the need to install an additional heat source, such as a biomass boiler, which can increase project costs.
Flexible and adaptable
Food and beverage manufacturers can also leverage the heat in their pasteurization process by using an exchanger with inner tubes that feature a corrugated design rather than flat tubes, according to Hale. Corrugated tubes like the ones in the 3 Tank Batch Sludge Pasteurizer System from HRS boosts heat transfer by creating extra turbulence and also helps reduce fouling. As the digestate travels around the system, it's less likely to stick to the tube wall. That decreases downtime and maintenance and increases the system's life span.
Because digestate stocks can fluctuate depending on the volume of feedstock being processed at the front end, Hale says it is important that operators employ a pasteurization system capable of running a continuous process even when stock levels fall. For example, HRS' pasteurization system uses four level temperature probes — three in the bottom of each tank and one in the top. That means the tanks can be filled to half capacities should demand or flow drop off, allowing for continuous and flexible digestate production. Without these probes, the system would operate slowly as it waits for the tanks to fill, which would not only require more heat, but would also incur the expense of slowing down production or shutting the system and restarting.
Overcoming digestate storage issues
While heat exchangers and pasteurization technology are helping processors to create quality digestate, the sheer volumes can be difficult to manage. A typical 1.5 MW plant generates as much as 44,000 tons of liquid digestate each year, bringing significant economic and logistical challenges associated with its storage and transportation. Digestate storage is a major consideration for processors because digestate should not be applied to land year round. Spreading digestate at the wrong time of year when the crops are unable to absorb its nutrients can actually reduce their value and risk polluting the environment.
Hale recommends reducing the liquid fraction to overcome these issues. For example, the Digestate Concentration System from HRS superheats liquid digestate in a vacuum, increasing the dry matter typically from 4 percent to 20 percent and reducing the overall volume of digestate produced. This means that up to 60 percent less storage capacity is needed and fewer truck loads are required, helping to curb a plant's transportation costs and carbon footprint. The water removed by the process is then recovered and can be mixed with the anaerobic digestion feedstock, increasing the efficiency of the digester and reducing the overall amount of energy and water used.
Win-win
By using heat exchangers and pasteurization and concentration technologies, food and beverage manufacturers can take their anaerobic operations to the next level, Hale says. They optimize efficiency of the anaerobic digestion process, create another source of income with the resulting biofertilizer, and deliver energy and cost savings that benefits the processor and the planet.
Companies in this article