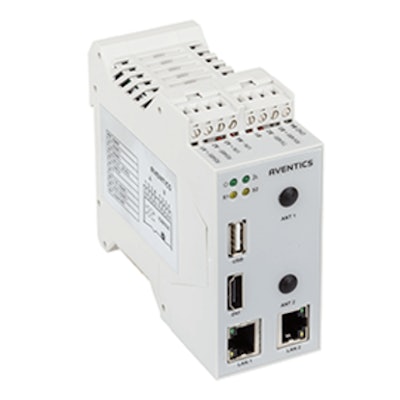 During ProFood Tech 2019 in Chicago, Emerson debuted its AVENTICS Smart Pneumatics Monitor, which features local data collection and analysis independent of the controller.
Another featured demonstration allowed visitors to control the volumes and speeds of actual bubbles flowing through a mass flow and density meter. Through the innovations of the Micro Motion Advanced Phase Measurement software, Coriolis sensors tolerate real-life and multi-phase conditions.
Also on display at Emerson's booth was its AVENTICS CL03 Clean Line pneumatic directional control valves are hygienically designed and able to withstand high pressure washdown and aggressive chemicals, which provide solutions to reduce the potential for harmful bacteria in food processing and primary packaging.
In addition, to help processors and packagers meet market demands, Emerson's ASCO G3 Fieldbus Electronics' automation capabilities offer easy access for enhanced control of pneumatic actuators across the line. Emerson's AVENTICS CCL-IS pneumatic cylinders meet ISO 15552 standards and are based on a clean design to minimize potential pocket areas. The CCL-IS features the "ideal cushioning" design and can be used in lighter washdown applications, according to the company.
The ASCO 290 Angle Body valves are compact, feature low electrical consumption and can handle backpressure, eliminating the need for check valves. The X290 can regulate both hot and cold flows and can seamlessly integrate with Emerson's intelligent valve manifolds, providing greater levels of automation, feedback and monitoring of temperature levels.