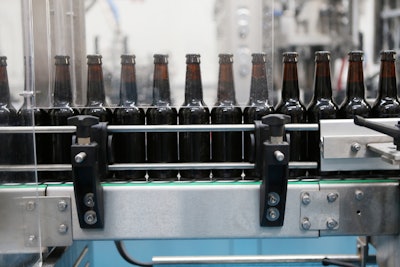 Anyone who has walked into the beer aisle of their local liquor or grocery store lately can attest to the almost overwhelming number of selections available to the consumer today. Craft beer and spirits are catering to the consumer interest in new formulations, flavors, styles, and varieties by ramping up the speed of their new offerings and varieties.
According to a new white paper by PMMI Business Intelligence, "Craft Breweries and Distilleries: Machinery and Automation Trends," for the craft beer industry, unfiltered IPAs (particularly of the New England style), complex hops with tropical notes, sour beers, and brut IPAs are some of the trendiest offerings. Craft spirits are gravitating toward pre-mixed cocktails, liqueurs, flavored whiskeys and gin.
The increased number of SKUs are creating related labeling, filling and changeover challenges, as production runs are now shorter to accommodate the increased offerings. Rapid changeover is a new machine consideration in an industry that typically didn't have to worry about the efficiency of their changeover operations.
According to the white paper, "OEMs should focus on making changeover a simplified process, especially on smaller machines, and assist craft producers in structuring an efficient changeover procedure, which is critical to the long-term success of smaller operations."
Scaling up production is another new challenge. Volume demands and expansion goals must be balanced against budget and space constraints, giving OEMs a unique opportunity to partner with craft producers and offer their expertise and experience in expanding an operation.
Said one director of brewing from OR, "We have several challenges: we need more operational efficiencies to secure volumes, minimize product loss, and implement quicker changeover to continue offering an ever-increasing variety of product flavors. "
To learn more about craft beer and craft spirits markets, download the FREE white paper here.
Source: PMMI Business Intelligence, "Craft Breweries and Distilleries: Machinery and Automation Trends."
Learn more about craft brew and craft spirit packaging solutions at PACK EXPO Las Vegas, September 23-25, 2019.