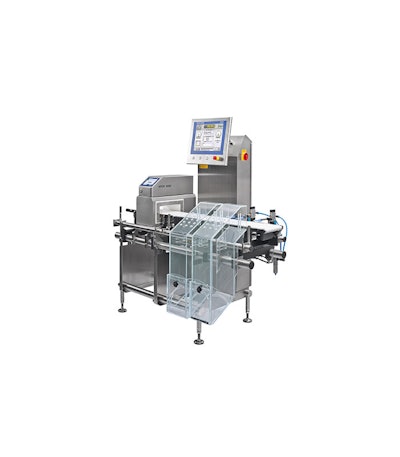 Inspection equipment can be used for more than just food safety purposes. Many food and beverage manufacturers use their inspection technologies to not only ensure product quality and operational efficiency, but to also reduce food waste and loss, according to Robert Rogers, senior food and safety adviser for METTLER TOLEDO Product Inspection.
Food and beverage manufacturers invest in inspection equipment like metal detection, X-ray, vision systems and checkweighers to ensure foods are free of contamination and properly weighed, coded and labeled. But inspection equipment can play an integral role in reducing food waste — a growing problem in which 1.3 billion tons of food worldwide is either lost or thrown away every year.
"These inspection systems can help reduce food loss and waste," Rogers says. "Often it is a combination of these technologies that deliver the highest levels of operational efficiency, ensuring that products meet regulatory and brand standards, preventing costly and wasteful rejections or recalls."
Integrating contamination detection technologies early in the production process will help remove any unwanted foreign bodies from products. It protects downstream processing equipment, ensures contaminants are removed before significant value is added and offers the potential to rework nonconforming products. This, in turn, helps minimize food waste and associated costs, according to Rogers.
False rejects during inspection are common sources of waste. Rogers recommends adjusting X-ray and metal detection settings so that only nonconforming products are rejected, thereby preventing good product from being discarded. Regularly testing detection sensitivity levels and taking advantage of fully automated product setup and changeovers ensure that detection sensitivity is always at an optimum level, he says.
Recent advances in metal detection technology are reducing false rejects from certain production lines, while some X-ray systems now combine fully automated product setup with an optimum power generator and intelligent proprietary X-ray software to improve uptime, enhance detection sensitivity and minimize false rejection rates.
Recent developments in product rejection mechanisms also mean nonconforming products can now be removed with greater efficiency. Rather than remove a full belt width of product when a contaminant is detected, newer X-ray systems use multilane scoop devices to accurately reject only the area of the belt containing the contaminated product. Similarly, multilane air blast rejection devices can remove a smaller, more targeted section of product on the belt, limiting waste. In metal detection applications, advanced sealing technology used in gravity fall systems offers a dust-tight seal that reduces the chance of high-value fine powders escaping into the reject channel.
Precision weighing can also reduce food waste. When inspection equipment detects underfilled products, manufacturers can rework those products, thereby reducing food waste. On the flipside, precise weighing can also prevent costly and wasteful product giveaway. Inline checkweighers can be calibrated to exacting customer specifications with automatic feedback to upstream filler controls, enabling manufacturers to ensure waste is avoided down to the last gram.
Vision inspection also helps mitigate food waste. In addition to performing quality assurance checks, such as confirming fill levels, identifying missing or misapplied caps, and verifying tamper-proof seals, vision inspection conducts rigorous inspection of labels. Verifying the accuracy of a label's contents, such as ingredients, allergen declarations and identification codes, avoids wasteful product recalls, Rogers says. A vision system inspects each label in real time based on established parameters that include lot numbers, bar codes and expiration dates. Simply confirming use-by dates, for example, avoids waste for the manufacturer, retailer and consumer. Detecting food packaging with nonconforming labels means those packages can then be reworked, reducing waste and cost.
As inspection equipment becomes more advanced and interconnected, they will become even more vital to reducing food waste and improving production efficiency in the future, according Rogers.
"This is an ethical and environmental thrust, but cutting food waste on the production line also means reducing costs and increasing profits," he says.
Companies in this article