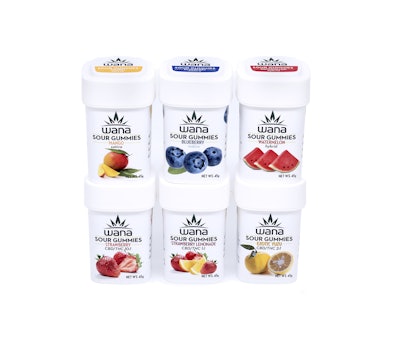 In complying with strict cannabis packaging laws, Wana Brands used an excessive amount of packaging. But the Boulder, Colorado-based manufacturer of cannabis-infused edibles says it has found a more sustainable solution. The company recently rolled out eco-friendly, sleek packaging that substantially reduces its carbon footprint, yet still offers high-visibility branding, maintains the freshness of the product and meets stringent regulations.
In February, Wana Brands started packaging its cannabis-infused gummies in 25-dram plastic rectangular bottles from Calyx Containers, a Boston, Massachusetts-based manufacturer of cannabis packaging. Wana Brands previously used three layers of packaging for its gummies: About 10 pieces of gummies were placed in resealable plastic bags to ensure freshness of the product. They were then inserted into 60-dram child-proof vials before being placed into cardboard boxes. By switching to the Calyx bottles, Wana Brands has reduced its packaging by 60 percent.
"The cannabis industry really has a waste issue. Because of labeling regulations and product quality standards, a lot of cannabis products are sold in multiple layers. We kept hearing from our consumers — and we thought about this ourselves — that we have a lot of packaging," says Julia Bright, director of marketing for Wana Brands, which also produces cannabis-infused tarts and lozenges, extended-release capsules, and vape pens. "So when Calyx came out with this very elegant solution, we jumped on it."
Calyx Containers spent two years developing its packaging to address the unique challenges of the burgeoning cannabis market. Made of PP, the Calyx bottles are created using a double-shot injection molding process. The result is a modern, simple and eco-friendly package that offers optimal storage, access and protection of cannabis products that meets the needs of both manufacturers and consumers, according to Alex Gonzalez, chief financial officer of Calyx.
"The entire industry was using outdated repurposed packaging. The pill bottle has been around since the 1970s. There hasn't been any innovation in 50 years or so," Gonzalez says. "So we set out to create better packaging."
Packaging makeover
In addition to helping Wana Brands reduce the amount of packaging it uses, the Calyx bottles offer other environmental benefits. It is not only recyclable, but also biodegradable, breaking down faster than typical PP, thanks to a proprietary biodegradable additive that is included during the injection molding process. "What the additive does is attract unique enzymes that only exist in the landfill environment," Gonzalez says. "That speeds the degradation process."
The Calyx bottles also meet strict cannabis packaging regulations. The heat shrink band at the top of the bottle lets consumers know whether the bottle has been tampered with. The bottle also features a child-resistant pinch-and-pull mechanism, which requires consumers to squeeze the sides of the base to pull the lid off. And the peel-and-reveal adhesive labels let Wana Brands include information that state agencies mandate on the bottle, such as ingredients and license numbers, without taking up space on the rest of the bottle, allowing the company to use those panels for marketing and branding purposes.
In addition, the resealable and air-tight Calyx bottles protect and extend the shelf life of the gummies.
Wana Brands also likes the modular format of the bottles. The rectangular shape takes up less space and stacks easily during transportation as well as on dispensary shelves. It also helps boost brand awareness and differentiation on the shelf, Bright says: "Everything else out there is round. If you look at a dispensary shelf, you'll see all these old-fashioned pill bottles and boxes. In comparison, our package always stands out."
"From a marketing perspective, if we were to go with a round container the same size, we would be able to fit less marketing messages on it," she adds. "The square shape really lends itself to bigger panels from the front, sides and back. We're able to do more design-wise with a square container than we could with a round one."
"There's a lot of plusses about this packaging that we are very excited about," Bright says.
Companies in this article