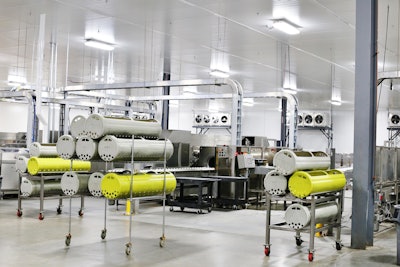 High pressure processing (HPP) is gaining interest among food and beverage manufacturers as consumers increasingly demand fresh flavors, minimally processed foods and clean labels. Capitalizing on the health and wellness trend, HPP is a cold pasteurization technique that submerges packaged product in water and subjects it to as much as 87,000 psi of cold water pressure, killing the pathogens in it without damaging the flavor, nutrients or texture of the product. While it may seem like an ideal alternative to traditional thermal and chemical preservation technologies, HPP can be a very expensive technology and is only suitable for certain types of products. From packaging to consumer education to plant infrastructure, here are the factors food and beverage manufacturers need to keep in mind to successfully integrate HPP into their operations and reap the benefits for their brands.
"HPP: Production under pressure"
The HPP process doesn't come cheap, but manufacturers who use it say that it is worth the investment to ensure their products are safe for customers, free of pathogens and have longer shelf lives. They advise potential users to be aware of infrastructure issues for this heavy equipment; ongoing maintenance costs; and processing challenges, such as serializing all carriers and improper loading.
"High pressure processing: In lieu of pasteurization"
Food and beverage consultant Jill Costelow sheds light on how manufacturers can get started using HPP, including how to work with HPP toll processors, and the advances being made in HPP technology, such as the use of bulk packaging and higher temperatures.
"The pressure points of HPP packaging"
Not all packaging is created equal for HPP. To take advantage of HPP, manufacturers must invest in packaging that can survive the unique rigors, limitations and demands of the HPP process.
"Chairman's Foods: A logistical case for HPP"
In this case study, Chairman's Foods in Nashville, Tennessee, turned to HPP when a customer requested a chicken casserole-style dish with 30 days of shelf stability upon receipt, but wouldn't accept frozen as an alternative. HPP ended up being a cost-effective option for Chairman's after all of the other logistical factors came into play.
"Cold Pressure Council offers high pressure processing certification"
The Cold Pressure Council (CPC) has created a High Pressure Certified logo for CPC members to use on their products. Members will need to meet CPC guidelines to earn the certification. But food and beverage manufacturers and suppliers say consumer education and acceptance will be key to the success of the certification program.
"Inks ensure HPP properly applied"
Chromatic Technologies Inc. developed a color-changing ink that darkens as HPP pressure is applied, indicating whether insufficient or target pressure was reached during the HPP process.
Learn more about high pressure processing at PACK EXPO Las Vegas Sept. 23-25 at the Las Vegas Convention Center. Register by Aug. 30 to save 70 percent off the registration fee.
Companies in this article