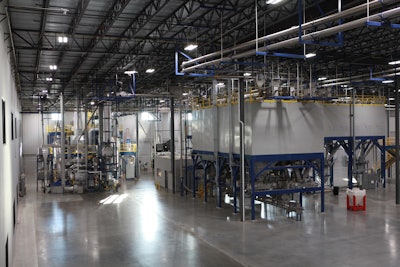 The Lone Star state marks the new home of Farmers Brothers' evolution and growth. The relocation of its main operations center from Torrance, California, to Northlake, Texas, gave the century-old coffee processor the opportunity to develop a state-of the-art, 540,000-sq-ft headquarters campus that includes a LEED silver-certified office building; a 127,000-sq-ft lean manufacturing and roasting plant; a 258,000-sq-ft distribution center; and a 60,000-sq-ft green coffee bean receiving, storage and cleaning facility.
The new plant increases the company's total potential coffee roasting capacity to more than 200 million lb per year. The Northlake facility can store 16 million lb of coffee, has three state-of-the-art roasters and features 1 mile of coffee conveyors. The plant can produce enough coffee per day to provide the equivalent of approximately 1 million cups of coffee.
Established in 1912, Farmer Brothers also has production locations in Portland, Oregon, and Houston, Texas, but needed a new flagship facility to not only retain and attract customers, but to be more centrally located. But therein lies the rub. The majority of the existing staff did not relocate from California to Texas.
"On top of the challenge of developing this new facility was the challenge of finding the right folks to maintain the business and to continue to grow it," says Daniël Gerritsen, director of engineering and operations strategy for Farmer Brothers. The coffee manufacturer decided to rely on employee engagement, a comfortable work environment, and advanced technology and automation to help ease its growing pains in the new facility.
Efficient flow, effective operation
Value stream mapping was used during the preconstruction planning stage to create a highly efficient and effective process flow from green coffee bean receiving to finished product in the distribution center, says Rob Lillich, project director with Faithful+Gould, the company hired by Farmer Brothers to oversee project management. Additionally, the physical location of each step of the manufacturing, packaging and shipping process, from green bean receiving to shipping vacuum-sealed bags of roasted ground coffee, was studied to provide the greatest economy of space and motion in the finished facility.
Wall and door types, sizes, and locations were all analyzed to ensure the necessary characteristics of food safety, personnel safety and efficiency. "The floor layout of the overall facility was designed specifically to eliminate unnecessary steps and exposure to product damage and loss," states Lillich.
The tubular chain conveying system, supplied by Luxme International Ltd., uses a unique closed-loop design concept that meets all food quality standards, minimizes bag damage, and conserves product and bean integrity. After analysis of Farmer Brothers' existing facilities, other coffee company facilities and other food production plants, Farmer Brothers chose conveyors that greatly reduced operating error and effectively eliminated product contamination.
"It's the first installation of tubular chain conveying for green bean handling up in the capacities of 40,000-lb-per-hour system," states Rick Leroux, vice president and general manager at Luxme International Ltd.
"It's a front to back conveying system, which is state of the art," continues Leroux. "There is an extremely low breakage level of the coffee beans coming out from the roasters." Gentler handling means higher quality beans with a higher yield for Farmer Brothers.
Modern sensing microwave equipment was installed to ensure that accurate moisture levels in the roasting process meet customer requirements. All roasters in this facility are equipped with advanced software that allows Farmer Brothers' roast masters to prepare and monitor all settings and then record them, saving time and avoiding inconsistencies in roast profiles. The system also allows for real-time adjustment settings to mitigate green bean characteristic variances. The closed conveying system provides more flexibility, improves food safety and requires less maintenance compared with traditional coffee conveyor technology.
"The technology, software and layout of the manufacturing and roasting process were developed to be replicable, scalable methodologies that allow Farmer Brothers to pivot with industry changes and meet the rapid growth of the specialty coffee industry," explains Lillich.
The new facility includes a new automated inventory procurement system that maximizes SKU level output and is projected to reduce operational costs, decrease stock levels, improve inventory turnover, and deliver higher service levels. The predictive tool optimizes manufacturing scheduling and reduces human error by constantly monitoring stock, reviewing minimum/maximum rules and creating replenishment orders.
The plant uses new technology, software and lean manufacturing processes to measure overall equipment effectiveness (OEE), with a goal of 95 percent OEE.
"What do we have to do to realize 95 percent OEE? Working with a professional OEM and implementing automation are both a great start," Gerritsen says. "The rest is really operationally applying Men, Method and Material concepts. We all know the elements; it works. Quality materials avoid downtime issues. The right Methods set expectations and create repeatability. And Men focuses on those touching the machine and delivering quality products and an outstanding performance – the operators, quality technicians and mechanics. My main focus during the engineering phases has been from an operator standpoint, and how can we make their lives as easy as possible."
Gerritsen says he has seen instances where once machinery is installed, only then management starts realizing what it takes to change over the machine. Farmer Brothers stays ahead of instances like this and involves operators and mechanics upfront as much as it possibly can.
The highly automated production facility has few workers on the plant floor and is mainly operated from a central control room. Staff is largely kept off the roasting floor. With automated weighing and mixing in place, the process is easier to manage. In fact, Gerritsen says seeing an operator on the plant floor could mean there is a production issue. "A lot more [processing operations are] supported by the right systems in place," he adds.
Maximizing performance
Combining data from the efficient replenishment optimizer and roasting profile software helps Farmer Brothers reduce downtime and eliminate slow cycles, maintain equipment at peak levels to avoid stoppages and unplanned maintenance, and record and automate peak roasting profiles and production to reduce rejects.
The coffee manufacturer engaged Haskell to integrate refurbished, existing and new equipment for roasting, grinding and packaging. Haskell developed process and packaging improvements as well as the plant's control system architecture. It created a manufacturing layout and design that incorporates lean manufacturing principles and integrates manufacturing with packaging and studied production output/flow to maximize efficiency.
The SQF-certified manufacturing and roasting plant uses customized software and technology to enable communication across platforms and up-to-the-minute data feeds to promote food safety flexibility.
According to Sean Hubbard, director of process engineering for Haskell, in the controls systems and enterprise resource planning (ERP) network, information for orders comes directly from the ERP system to the plant floor. Orders are executed on the plant floor, then information is transmitted at each step back to the ERP system for block traceability, he adds.
"The system for distributing from processing to packaging is a matrix-type setup," states Hubbard. "So, [they] can go from any grinder to any process or packaging line at any given time. [The plant] can have multiple grinders feeding a single line if needed. There is an incredible amount of flexibility to the design of the system, especially between the processing and packaging."
The facility is designed to handle multiple batches in the conveyor at the same time. In other words, more than one batch can be destined for more than one packaging line at the same time.
The distribution center (DC) incorporates an advanced warehouse information system, crossdocking, space optimization and food safety guidelines to deliver optimized service levels to customers while optimizing inventory positions and product quantity on hand. The DC has more than 23,000 pallet spots and handles approximately 15,000 annual shipments to customers by truck and rail.
The overall site also required a delicate balancing act, meeting aesthetic desires, code requirements of the city of Northlake, food safety requirements (especially specific to pest control and landscaping), cost constraints, sustainability, employee safety and security, access for up to 100 inbound and outbound trucks per day, and local soil and weather conditions.
At the end of the day, running smaller batches and being more flexible is the main goal for today's sophisticated food and beverage plants. "Farmer Brothers invested in [technology] to allow them to be nimble to respond to quickly changing customer needs and have more customized product SKUs to deliver to customers," says Keith Perkey, Haskell's vice president of food and beverage.
With this high level of flexibility, automation, process control and white glove green bean handling, Farmer Brothers earned a 2018 Manufacturing Innovation Award from ProFood World and upped its game as a world-class coffee producer.
To learn how Farmer Brothers built its new coffee processing plant with environmentally friendly materials and energy-efficienct technologies that are unique to the coffee sector, please read "Sustainability is in Farmer Brothers' DNA."
Learn more about advanced automation technologies at PACK EXPO Las Vegas Sept. 23-25 at the Las Vegas Convention Center. Register by Aug. 30 to save 70 percent off the registration fee.
Companies in this article