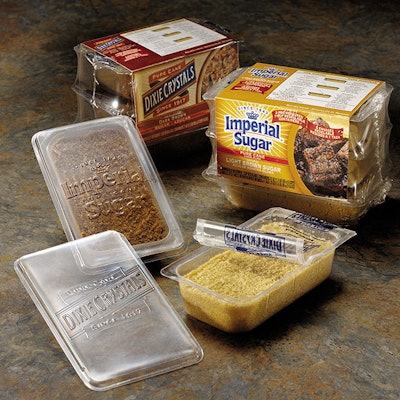 Holiday season 2004 may be over, but the Imperial Sugar Co. of Sugar Land, TX, is still celebrating. Sales for Imperial Light Brown and Dark Brown Sugar hit a new peak during the November-December season in large part due to new packaging that hit the shelves last August.
As an alternative to the two traditional formats—the 2-lb lay-flat bag and the 1-lb bag in a paperboard carton—Imperial now offers its brown sugars in pre-measured 1-cup resealable containers packed in multiples of three. The three-packs are unitized inside a paperboard U-board and clear shrink film, and each three-pack includes one snap-fit plastic overcap that lets consumers reclose a one-cup container if they don't use the whole portion.
"When we first tested the pre-measured cups of brown sugar, consumers loved them," says Art Saxby, vice president of marketing at Imperial. "They instantly recognized the benefit of one-cup resealable containers. It's the amount called for in many recipes, and for those times when they don't use a full cup, the resealable lid keeps the brown sugar safe from spilling, insects, and humidity."
The new three-count package measures 61¼2" x 33¼4" and stands 5" tall. "The new packaging is like a billboard for the brand," says Saxby. "It gets attention."
The cups are formed from a 20-mil Pentafood® polyester film from Klöckner Pentaplast. Flexible film lidding on each cup is DuPont Mylar with a heat-seal coating. Film clarity, says Saxby, was a key requirement as Imperial began evaluating materials. "Consumers want to see the sugar, they made that very clear, " notes Saxby.
Machinery's role
Machinery played an important role, too, in Imperial's roll-out of the new packaging. A Mahaffy & Harder Sureflow 805 thermoform/fill/seal machine was chosen for the job. An intermittent-motion system capable of 15 cycles/min, it forms sugar containers 8-up. Senior packaging engineer Mark Yunker says he likes the machinability of the Klöckner forming material.
"With other films we tried, we had problems with cutting and forming," says Yunker. He also notes that he's currently working with Klöckner on a polyester/polyethylene coextrusion that may bring improved sealing characteristics.
Individual cups are formed to a depth of about 15¼8". Filling is currently done manually, though an auger filler is being evaluated. Once the mylar lidding is heat-sealed in place, individual cups are cut out and discharged. Operators manually slip the U-board around a stack of three packages and then send the stack through a Great Lakes HC37 shrink wrapper from Arpac Group. At speeds to 80 stacks/min, the continuous motion, bottom-overlap horizontal wrapper puts film around the stacks and shrinks it tight in a heat tunnel.
The three pre-measured cups, containing a combined weight of 1.3 lb of sugar, sell for $1.49. Imperial's sugar in 2-lb lay-flat bags has the same price point.
"With the new packaging format, we took a little sugar out and kept the price the same," says Saxby. "That means consumers can decide for themselves if they prefer convenience at a slightly higher cost per ounce of sugar or if they'd rather get more sugar in a less convenient package."
Before leaping into the future with their new packaging format, Imperial approached Wal-Mart and some other retailers to et some feedback on its pre-measured cup conept. All were favorable, says Saxby. In fact, some made room on their shelves for the new package without pulling Imperial's conventional packs off.
Companies in this article