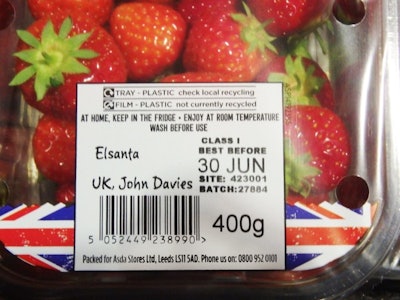 The 18 Zodiac printers, from Interactive Coding Equipment, are integrated with tray sealers and are being used to print variable information directly onto film on heat-seal trays. They have replaced in-jet coders printing onto pre-printed labeled lids, a process that S&A found was not able to cope with the increases in the volume of produce they were experiencing.
"As a growing business, we needed a faster and more efficient operation that could cope with increased throughput at busy periods," explains S&A Packhouse Manager Fred Williams. "It's also much more cost effective to print onto film and it reduces the waste on pre-printed materials."
S&A reports that the Zodiacs are easy to operate with switching between product lines a simple process using the touchscreen interface.
In addition, S&A Group, the largest independent berry and asparagus grower in the UK, has benefited from fewer coding errors thanks to the CLARiTY touchscreen operating system, used in all ICE coders, which controls the way operators can edit the variable print fields available. The sell-by date, best-before date, fruit variety, and grower code can be entered using pre-defined fields that the operator selects on the screen. Dates may only be adjusted as allowed by a concessions system, while the other fields are chosen from a pre-defined list. The features help to simplify the operator's task and drastically reduce the risk of coding errors.
S&A has also installed barcode verification scanners to check the information is correct before produce is transported. "We consistently achieve high quality prints – proof that the ICE coders are doing a good job," says Williams.
Companies in this article