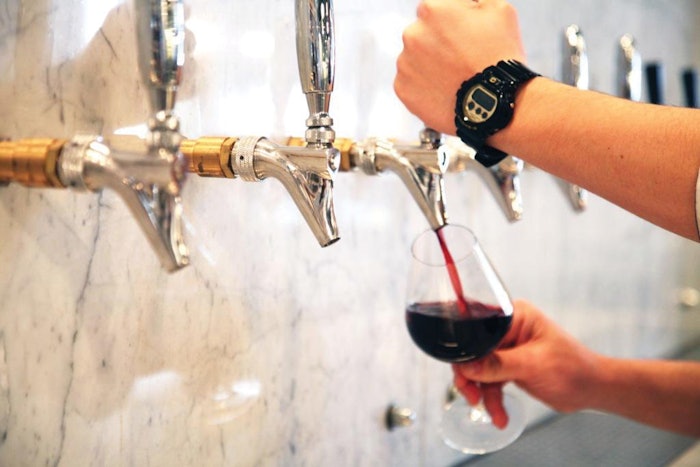 London-based independent wine specialist Roberson Wine was established in 1991 when Cliff Roberson opened the first "urban winery" on Kensington High Street. London Cru offered a diverse range of wines, including everything from the very finest, rarest wines, to the best everyday bottles. Since then, the company has evolved from a retail to an online business, specializing in artisanal, high-quality wines from France and California. Roberson sells to individuals as well as to restaurants and bars, and can deliver its wines anywhere in the world.
In 2014, looking to continue its history of innovation—Roberson also brought the "New California" wine movement to the U.K., according to Marketing & Communications Manager Lisa McCaghy—the company considered adding kegged wines to its offerings. Roberson had seen their use by wineries in the U.S. and Canada and was excited by the advantages wine-on-tap provided.
Says Roberson Senior Buyer Mark Andrew, "We've managed to build a really great reputation for the wine we sell in bottles. It's something that we spent 20 years building. But we decided it was time to do something different, something new, something interesting. A wine on tap fit perfectly into that mold."
In autumn 2014, Roberson became the first in the U.K., according to McCaghy, to introduce kegged wines. Following its U.S. suppliers' lead, Roberson chose Petainer's PetainerKeg™ one-way PET keg. Since Roberson introduced kegged wines, six London restaurants and one food market have begun using the company's wines on tap.
From beer to wine
The PetainerKeg was introduced in 2011 as an alternative to steel kegs for beer. As Petainer Group Commercial Director Annemieke Harman-Jemmet explains, the commercial proposition for the 100% recyclable PET keg is its simplicity. "Today, a brewer will send a steel keg out to a customer, and they want to see the keg returned," she says. "That obviously has an associated cost, not only from a freight standpoint but also from a sustainable footprint perspective.
"Brewers also lose a phenomenal amount of steel kegs; maybe 30 percent to 40 percent just do not get returned. At 100 Euros a steel keg, it's quite an expensive proposition if you loose that many kegs.
"We're finding a lot of brewers are very interested and are embracing the opportunity to buy a one-way keg, fill it, and send it to the same markets but not, obviously, have to fund the return journey."
In time, Petainter recognized the advantages of the PetainerKeg for wineries as well. "What is happening in the wine industry is that they have similar challenges to the beer industry," says Harman-Jemmet. "They would like to service markets farther away from their location, but they don't particularly want to do that in glass because it's very heavy."
The PetainerKeg, available in 15-, 20-, 30-, and 40-L sizes, offers a lightweight construction, ranging from 226 g to 576 g. Notes Petainer, 20% to 30% more liquid can be transported in a 20-L PetainerKeg versus a standard metal keg.
Blow-molded into an oblong shape from a preform manufactured by Petainer, the keg is constructed of a single layer of 100% PET that incorporates Petainer's Polyester Plus scavenger and its own blending technology to restrict oxygen ingress and reduce CO2 losses by actively removing oxygen from the interior of the keg. A brown pigmentation in the plastic and an optional corrugated outer case provide UV light protection.
The keg can be filled either manually or with filling equipment from Petainer partner KHS GmbH that ranges from semi- to fully automated systems. Petainer also offers a specially designed version of the keg, the PetainerKeg USD in a 20- and 30-L size, that can be used with conventional filling lines for metal kegs.
Taste, variety win hospitality customers
According to Roberson Business Development Director Adam Green, Roberson was initially attracted to the PetainerKeg because of its 100% recyclability, its ease of use for consumers—the keg is compatible with standard drink industry fittings—and its cost. "It is the most cost-efficient solution for kegging wine, meaning we can invest the largest amount into the liquor that is going into the keg, which is obviously the main purpose of the project," he says.
Another important benefit was the PetainerKeg's ability to preserve the taste and freshness of the wine. According to Harman-Jennet, over a 12-month testing period, VLB Berlin determined that the PetainerKeg offers the best taste performance versus competitive PET kegs. Wine filled in a PetainerKeg has a nine- to 12-month shelf life in an untapped keg. Once the keg is tapped, the wine must be consumed within two months.
Says Nick Chambers, Operations for London restaurant Rex & Martino, a Roberson customer, "The enemies of wine are exposure to light, exposure to oxygen, and temperature changes. We don't have any of those operational issues with wine-on-tap. It's all in a cabinet, it's all in low-light conditions, it's always at the right temperature, it never changes, and it never gets moved around."
But taste is just one of the benefits Roberson can offer its customers via wine-on-tap. In addition, because all the wine is used, there is no waste or spoilage. Without bottles, there is no glass breakage, and with no corks, there is no cork taint. Environmentally, one PetainerKeg is equal to 27 glass bottles, corks, capsules, and labels. "For a restaurant working with about 120 cases of wine per month, they are going to save about 17,000 bottles per year, which means about 8,000 tons of glass waste alone," says Green.
Wine-on-tap also allows restaurants and bars to provide greater variety. "Stocktaking and ordering are so much easier for our customers," says McCaghy. "They can serve wine in a variety of sizes, as well as give customers tastes of everything very easily—the possibilities are endless."
One initial concern of Roberson's customers related to wine-on-tap was the perception that wine in kegs is of lower quality. But so far, McCaghy says the restaurants have been pleasantly surprised with how positive the reaction has been from their customers. "The systems need to be explained to people, but once they understand the benefits for both the quality of the wine served and the environmental benefits, it's hard not to get on board," she says.
Expanding program
Roberson now offers around 60 wines on tap—everything from house wines like French and Italian varietals, to high-end, small-quantity wines from California, Bordeaux, and Spain. "All of our wines are high quality," says McCaghy. "We wouldn't work with them otherwise."
Roberson's wine suppliers fill the Petainerkeg manually, using a system costing roughly €200 Euros (approximately US$226) that sparges the keg with nitrogen, fills it with wine, and then sparges it again to eliminate oxygen in the headspace.
McCaghy says it was easy to get its U.S. wine suppliers to use the PetainerKeg, as many already use them for the U.S. market and in their tasting rooms. The French market, however took more time to convince. "But we got there in the end," she says, "and now they can see the immense benefits wine-on-tap brings. It has even opened up new markets for them—one of our producers in Southern France has now started shipping kegs to New York."
VIDEO: More content online at pwgo.to/1823
Companies in this article