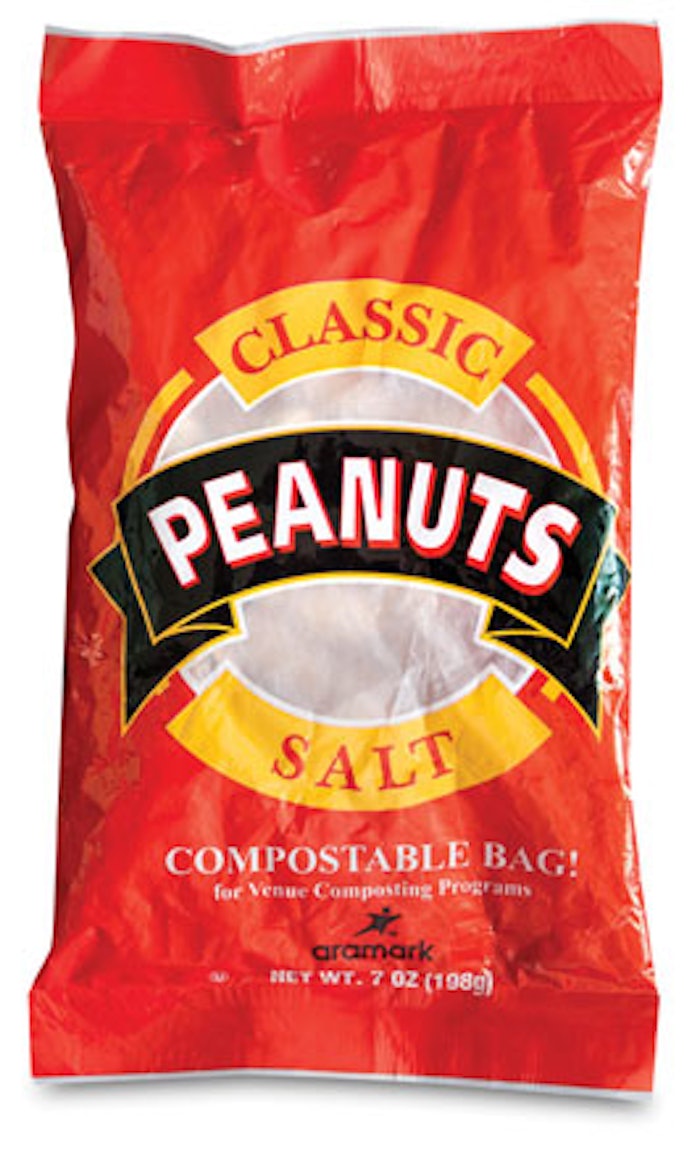 The bag is the result of a full supply chain partnership between BASF Corp., flexible packaging supplier TC Transcontinental Packaging, sustainable cellulose film developer Futamura, peanut farmer Hampton Farms, and stadium food vendor Aramark.
The chief benefit of the new bag is that it reduces the amount of labor previously devoted to manual sorting of materials collected during clean up after games. The economic benefit is the lowering of overall waste management costs for the venue. The environmental benefits of this package center around the use of renewable resources and its easy inclusion into the venue-managed composting program. Read more about how the Kansas City Chiefs deployed this innovative bag at pwgo.to/3366.
"Our hope is to, alongside BASF, draw attention to this product," says Todd Addison, Vice President, Business Development, TC Transcontinental Packaging. "We have a couple of end users already, like the Kansas City Chiefs and others that would really like to be able to make that green statement about their stadiums. TC Transcontinental Packaging does a fair amount of work elsewhere in this space, too. In coffee packaging, for instance, we have one of the largest compostable coffee programs that's currently running in the United States."
The compostable peanut bag was designed using certified compostable materials to support stadium and arena green initiatives. This bag replaces the laminated polypropylene bag currently used in most stadiums. Because the PP bag is destined for the landfill, many stadiums reject it altogether, thereby eliminating a classic game-day menu offering.
The bag contains printed verbiage to help fans understand that the bag is compostable as part of the venue composting program. Additional venue-specific signage will be employed to help the consumer understand how to properly dispose of the peanut bag. To date, the introduction of this package is through specific Aramark venues where its composter has verified the compostability of the package.
This peanut bag is a two-layer adhesive lamination consisting of certified compostable materials. The print and barrier layer is NatureFlex™, a cellulose-based product from Futamura USA. The heat-seal layer is ecovio®, a product of BASF. One hurdle designers of this structure encountered was in the adhesive lamination of the two plies. This was overcome with the Epotal® product line, also from BASF.
"This Epotal product is a compostable water-based adhesive that allows the packaging to pass the ASTM Standards it needs to be considered compostable," says Addison. "It was put together with those products, and the inks are fully tested for ecotoxicity."
The graphics are reverse-printed using standard flexo printing methods. The packaging is shipped to the filling plant in rollstock form for vertical form/fill/seal.
Companies in this article