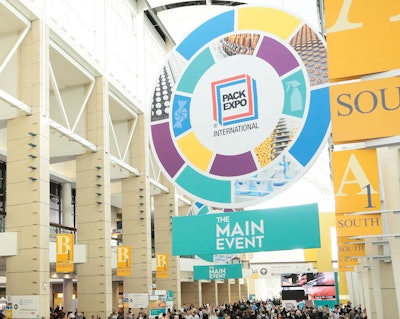 Each year the editors at PMMI Media Group roam the aisles of PACK EXPO looking for the next big thing in the packaging sector. Of course, with a show this size it's never one big thing we find but rather a multitude of things big, medium, and small, all of them innovative and meaningful in one way or another to packaging professionals of today.
This report sums up what we found in six main categories. We present them here for your review knowing full well that, inevitably, we missed a few. Probably more than a few. That's where you come in. Let us know what we missed and we'll look into it. Or at the very least, we'll know to be on the lookout for it at the next PACK EXPO.
Our report comes to you from the following:
Matt Reynolds, Editor, Packaging World
Pat Reynolds, VP Editor Emeritus, Packaging World
Anne Marie Mohan, Senior Editor, Packaging World; Editor, Contract Packaging
Stephanie Neal, Senior Editor, Automation World; Editor-in-Chief, OEM
Joyce Fassl, Editor-in-Chief, ProFood World
Maya Norris, Managing Editor, ProFood World
Natalie Craig, Managing Editor, OEM
Jim Butschli, Editor, Healthcare Packaging
Keren Sookne, Director of Editorial Content, Healthcare Packaging
In addition to the HMI, the complete standalone system comes with a print head as well as an easily adjusted tubular bracket system for mounting to a conveyor or to permit use as a floor-standing unit. The print head is described as a "smart" print head, so it can be disconnected from the HMI and the HMI can be shared among multiple print heads. It will continue to run and print on its own with no need for the HMI to be connected. Within the cartridge itself, ID Technology is using the HP 45 SI cartridge, which encompasses the Smart Card. That makes it possible to put ink parameters and such into the system and lets the system read that without the need for an operator to go in and program anything. So if you change colors or cartridges, there is nothing other than simply changing the cartridge that the operator need do. The Smart Card also records the amount of ink that's been used. So if an operator removes the cartridge and stores it for awhile and then perhaps puts it into another printer, that cartridge will be recognized by the other printer and it will know exactly how much ink is left.
For customers that require the highest print quality, ClearMark can be set to achieve a resolution of up to 600 dpi. If set to print 300 dpi, ClearMark typically maintains speeds of 200 ft/min (61 m/min) and can reach higher speeds when printing at lower resolutions. It offers a print height of 1⁄2 in. (12.5 mm) and unlimited print length.
"This is the first in our new ClearMark family of smart thermal inkjet printers. As HP continues to introduce new TIJ technology, we'll design new systems around it and further expand the family's capabilities," says David Holliday, Director of Product Marketing at ID Technology. "For many customers, TIJ systems offer huge advantages over CIJ. In addition to eliminating the mess of flushing a CIJ printer, new TIJ systems are able to offer a lower total cost of ownership after the labor and downtime of maintenance are factored in. ClearMark reliably produces high-quality print while presenting an easy-to- use, maintenance-free system." For video of the printing system in action, go here: pwgo.to/3948.
According to Domino, fluids consumption, downtime for cleaning procedures, and long changeovers due to packaging variations are creating efficiency challenges for beverage manufacturers. This presents problems in many areas, including the date and lot coding for traceability purposes. To address these challenges, Domino developed a turnkey system for the beverage production environment, The Beverage Can Coding System. Central to the system is the F720i fiber laser printer with an IP65 rating and robust design, capable of maintaining continuous output in extremely harsh, humid, and temperature-challenging production environments up to 45°C/113°F.
"The Beverage Can Coding system offers clean and clear indelible marking, ideal for compliance purposes and brand protection on aluminum cans," says Jon Hall, Laser Product Marketing Manager for Domino North America. "Further, Domino's system can achieve codes on concave surfaces with high quality and a high speed—one system can mark up to 100,000 cans per hour, with over 20 characters per can… The code quality is consistently excellent even with condensation present on the can."
There are five other key components to the system that complement the fiber laser: 1) the DPX Fume Extraction system, which extracts fumes from the processing area and keeps dust from covering the optics or absorbing the laser power; 2) optional camera integration; 3) a Domino-developed guard with full compliance to laser class-one standards; 4) a quick-change system, which allows for easy changes for various-sized cans; and 5) a protection window for lens protection to sustain the highest print quality and simplify cleaning.
This system is also IP-rated and designed hygienically with major food packaging users in mind. It can easily be integrated into f/f/s machines commonly found in meat, cheese, and poultry plants. Go here: pwgo.to/3949 for a video of this technology taken at PACK EXPO.
DuraCode is designed with a robust IP55-rated stainless-steel structure and delivers the best quality code continuously, day in and day out, says InkJet Inc. This printer is manufactured to withstand extreme temperatures, humidity, vibration, and other industrial environments with the added benefit of ease of operation via a high-resolution interface.
DuraCode's reliability is enhanced by InkJet, Inc.'s comprehensive portfolio of ink and make-up fluids, which undergo several quality control processes that are unmatched in the industry. This printer offers print data options through network and local scanners as well as quick filter and fluid changeouts, which ensure powerful performance with a low cost of ownership.
InkJet, Inc.'s Technical Services Group is working hand-in-hand with customers, guaranteeing the right ink for specific substrates and processes as well as installation support to ensure a stress-free experience, focused on maximizing production uptime.
"Providing the best quality, highest performing equipment and fluid to our customers is our top priority. DuraCode represents a continuation of a commitment to meeting and exceeding the expectations of our distributors and end users," says Patricia Quinlan, Chairwoman for InkJet, Inc. "Through our ongoing product development initiatives, we anticipate and address the needs of our customers, so that we are well-equipped to deliver the right type of printer, fluids, parts, and service."
For a video, go here: pwgo.to/3950.
An in-line thermoforming machine from Harpak-Ulma all but eliminates scrap and reduces material input by nearly 40%, the company says. The new Mondini Platformer™ in-line tray thermoformer (3) cuts rollstock film into rectangular sheets and then forms the trays using proprietary technology. The machine can produce both rectangular and square formats of varying depths up to 2.36 in. at speeds of 200 trays/min, depending on the film thickness and tray design, using 98% of the forming material.
The current approved film range is from 12 to 28 mil for PET and barrier PET as well as HIPS. A #3 case-ready tray can run up to 120 trays/min. The machine can easily and quickly change formats—typically, in less than 10 min. Cutting-edge tool design reduces changeover cost and complexity, taking a bite out of the time and costs that can burden new product introductions. This process produces a high-quality finished tray with turned-down flanges that give the tray remarkable rigidity for a thermoformed part. Most impressive is that the process produces only 2% scrap loss versus the 15% waste typical of both preformed tray production and conventional thermoform fill/seal systems that produce a matrix of scrap.
Those kinds of savings add up. Consider this scenario: A single whole-muscle line running 50 trays/min of #3 padded case-ready trays at 80 hours per week produces approximately 12 million trays annually. The Platformer produces that volume at a material cost of 10.7 cents per tray—an average savings of up to 38% per pre-formed tray on materials alone, or $700k on 12 million units. An additional benefit is a 75% space reduction by inventorying rollstock versus pre-formed inventory. In this scenario, customers can create their own new tray formats for approximately 2⁄3 less than they'd pay a commercial tray supplier.
Sustainability is an important social and business goal in our times, but it is also a fundamental aspect of lean philosophies. In the above scenario, film stock can be delivered with 22 deliveries versus 71 deliveries for pre-formed stock. That's a whopping 49 fewer truck trips and 2,744 pallets eliminated. This translates into a reduced carbon footprint (~92 metric tons), lower freight and handling costs, as well as less waste removal (340 lbs. of landfill) and reduced storage costs.
In keeping with lean customer concepts, Mondini sought to include relevant "value-add" opportunities. A significant benefit of forming your own trays is the opportunity to emboss trays with a company's logo or insert seasonal or other marketing messages. This can be achieved at a substantially lower cost as compared to current market options.
Of course, even the most innovative solutions must pass the ROI sniff test. While ROI calculations will vary based on assumptions and inputs, some rough conclusions can be drawn based on the scenario above. Simple calculations point to an estimated annual operational savings of $770k to $1M with paybacks that range between 10 and 13 months (ROI will change based on the size of tray and output).
Kevin Roach, President of Harpak-ULMA, says, "Our customers can realize up to 38% in material savings, reduce labor as well as their warehouse space requirements, all while improving their carbon footprint. That's the very tangible impact of this innovation."
Connectivity for data collection is also a feature of the X-Line, which as Multivac Vice President, Sales & Marketing Pat Hughes explained has been engineered to meet the requirements of Industry 4.0. To fully implement the technology, Hughes said the company is looking for "partners that want to use a common platform to gather data and use the cloud."
Features of the X-Line touted by Multivac include maximum packaging reliability, more consistent pack quality, and a higher level of process speed, as well as easy and reliable operation. Among its features are seamless digitalization, a comprehensive sensor system, and networking with the Multivac Cloud and Smart Services.
Additionally, the X-Line's connection to the Multivac Cloud gives users access to Pack Pilot and Smart Services, which provide a constant connection and up-to-date information on software, film availability, machine settings, and other pertinent data that enable the machine to be used even without special operator knowledge.
The X-Line comes with X-MAP, a gas flushing process that can be precisely controlled for packing with modified atmosphere. Finally, users can operate the X-Line through its intuitive HMI 3 multi-touch interface that corresponds to the operating logic of today's mobile devices. The HMI 3 can be set up for individual operators, including different access rights and operating languages.
Fresca has three manufacturing facilities with a strong presence in multiple regions of India. But the Tropical Mix and Guava Premium Juice products shown here represent the firm's first foray into Asepto Spark technology. The August launch came just ahead of Diwali, the November 7 festival of lights, which is one of the most popular festivals of Hinduism.
"We believe this is the ideal time to launch when people are on the lookout for something new and appealing for gifting," says Akhil Gupta, Managing Director of Fresca. "With the help of Uflex's brand Asepto we are able to revitalize the consumer experience in the sparkling holographic packs of Fresca's 200-mL Tropical Mix Premium and Guava Premium. The packaging not only serves as marketing differentiator from the retail standpoint but also takes care of the key components for safe journey of products from production to consumption. The smoothness and superior taste is very pleasing, as it has a higher percentage of fruit pulp, giving a great drinking experience to consumers.
"On the first day of market launch we have been able to bag massive orders for the upcoming festive season. With this format, avenues that we were looking to get associated with have now agreed and welcomed us to fill their shelves in the Fresca Holographic packs. We are aiming at 15 million packs in 2019 and definitely plan to increase our geographic reach in India in the next 2-3 years."
Like other structures on which food and beverage producers rely for aseptic packaging, this one is a six-layer lamination that includes paperboard, foil, and polyethylene. Uflex says its aseptic filling equipment has a rated speed of 7,800 200-mL packs/hr.
EvoFILL Can's accessible "no base" design provides easy cleaning and eliminates residual product from the filling environment. The filler's improved CO2 pre-flushing system reduces O2 pick-up for beer producers down to 30 ppb, while reducing inputs since less CO2 in total is used.
Features include carefully considered ergonomics, an external tank for cleanability, high-efficiency servo motors, and quick changeover. It also offers both single and double can infeed options for flexibility and speed. Overall, the company says the machine can hit 98.5% efficiency with an output of more than 130,00 cans per hour.
Not to be outdone, the EvoDECO labeler line spans flexibility and volume with four models. The EvoDECO Multi allows manufacturers to apply several label types to PET, HDPE, or glass in varying formats and dimensions (from 0.1 L to 5 L) on a single machine at speeds from 6,000 up to 81,000 containers per hour. EvoDECO Roll-Fed can generate outputs of up to 72,000 containers per hour at an efficiency rate of 98%. The EvoDECO Adhesive labeler can be equipped with six different carousel sizes, up to five labeling stations, and 36 configuration possibilities. And the EvoDECO Cold Glue labeler is available in six carousel sizes and can feature up to five labeling stations, making it easy to configure according to bottle size, output need, and product type.
The systems' six (CB 50) to twelve (CB 100) individual filling heads use precise Hinkle X2 flow meter technology without any moving parts. The CO2 flushing system achieves low dissolved oxygen (DO) levels. Controlled fills mean less wasted beer, and low DO levels mean beer that will stay fresh longer. All direct product contact parts are either 316L Stainless Steel or hygienic grade materials allowing for CIP (Clean-In-Place) up to 180 degrees including caustic.
The mechanically operated seamer features first and second operation seaming cams, dual levers, and a spring-loaded lower lifter. This proven mechanical canning methodology allows for superior seam quality and easy changeover when running different materials and/or can sizes.
The CB 50 and CB 100 both use Rockwell components including the processor (PLC), motor drives (VFD), and an intuitive operator interface (HMI).
Targeting rigid packaging, the real-time VR tool places the package in a realistic, 360-deg environment that lets a customer see how their product would look on shelf. There are two environments currently; one, a supermarket, was demoed at the show. But, explained Scherer, "anything is possible" when it comes to the environments R&D/Leverage can design. Within the VR program, customers can adjust the size, shape, color, material, and other parameters of a package as well as look at labeling options. Using VR gloves, the user moves the package through the environment and, once they have selected package options, they can virtually run the container by a scanner that records all the data related to that design.
R&D/Leverage plans to continuously update the software with custom package designs and environments to meet a range of end-user needs. The company can even stock the virtual shelves with competitive products so a customer can see how their package compares.
Said Scherer, "One of the advantages of the software is that it has been designed to be very user-focused and user-friendly. The tutorial takes just seconds." Watch a video on LE-VR at pwgo.to/3952.
The company used PACK EXPO to introduce a plastic consumption-limiting prototype with an all new clip—currently called the slim and sleek model—to its line of four- and six-pack can handles. On the other end of the spectrum, the company also demonstrated its ability to add material via custom molds, allowing larger brand owners extra marketing and messaging space on the can handles.
"We have the ability to insert or emboss on the can handle," says Chris Turner, Sales Director, Robert PolyPro. "So a craft brewer can add a brand name, logo, recycling messaging, and so on."
Roberts Polypro also demonstrated a range of can handle application stations designed to cover the gamut of craft brew sophistication needs and volume. The MAS2 Manual Can Handle Applicator is able to track at a rate of 48 cans/minute. The MCA10 Semi-Automatic Can Handle Applicator handles four or six packs of beer at speeds to 10 cycles/min. And at the highest level of sophistication, the THA240 automatic applicator can hit speeds of 240 cans/min.
According to the company, the largest global brand names use Persson handles due to exceptional speed, low cost, high quality and strength, and sustainability. Persson's plastic and reinforced paper handles cost only a few cents, and are used to carry package in excess of 40 lbs.
The three main machines are 1) a columnless machine with exchangeable labeling stations; 2) a columnless machine with fixed labeling stations; and 3) a tabletop machine. Labeling methods and speeds include pre-cut labels with cold glue or hot melt at 72,000 containers/hr, reel-fed labels with hot melt at speeds to 81,000/hr, and self-adhesive reel-fed labels up to 60,000/hr.
For the columnless machine with exchangeable labeling station option, Krones offers the 801 ErgoModul. The columnless machines with fixed labeling stations include the 802 Ergomatic Pro, the 804 Canmatic Pro, and the 805 Autocol Pro. Tabletop machines include the 892 Ergomatic, the 893 Contiroll, the 894 Canmatic, and the 895 Autocol.
The columnless main machines feature a newly created machine layout that includes the ergonomic replacement of the brushing-on unit, container plate, and centering bells, and optimal use of the brushing-on distances. The machines' standalone labeling stations offer accessibility from three sides, and hygienic design offers optimal cleaning properties, Krones said. Watch the video at pwgo.to/3953.
Previously, in order for a printer/applicator to utilize a pdf, some type of middleware was required to translate the pdf into the printer's native language format. With the 5610 and its on-printer pdf app, label designs can be sent directly in pdf format from ERP systems such as Oracle and SAP as well as graphics programs. This eliminates the middleware and any translation errors that could occur.
In addition to eliminating complexity and extra steps, printing directly to the label printer has other benefits:
• By using a pdf created by the ERP system, that document can be archived for later retrieval and reprinting
• A pdf can be created at the intended print size, eliminating the need to scale documents, which can bring about bar code scanning issues
Other features of the 5610 include a large, icon-based, 7-in. full-color HMI, two USB host ports, 16-in. OD label roll capacity for high-volume applications, repositionable control box, and optional RFID encoding.
"The Interceptor DF (divergent field) is sensitive to very thin contaminants that are difficult to detect and can be missed by other technologies," according to Marketing Coordinator Christina Ducey. The new metal detector uses multiple field patterns to simultaneously inspect products horizontally and vertically. Low-profile food applications include chocolate, nutrition bars, cookies, and biscuits, for example. In addition to dry products, the metal detector can be used for cheese and deli meats.
The new series provides high detection-sensitivity for a broad range of applications from food production to pharmaceutical processing. It can detect the smallest contaminants, while also conducting product integrity checks, from mass detection to missing component and shape detection, including the capability to measure the overall mass of a packaged product, detect missing components, or discern if a blister pack of pills or package of muffins is missing a product in one of its compartments. In addition to inspecting for contaminants that include metal, glass, stone, and bone, the shape-detection feature can also discern if the correct product is in the package.
"Our reject classification provides additional value to our users by classifying why the reject triggered a fail, which provides feedback to the customer's upstream process. This enables rapid response and minimal downtime," states Daniel Cannistraci, Product Manager – Inspection Systems, for A&D Americas.
With the OX-TRAN 2/40, whole packages can now be accurately tested for OTR values under controlled humidity and temperature, while the chamber can accommodate four large samples, each approximately the size of a 2-L soda bottle, in independent test cells.
Package test adaptors are available for a variety of package types including trays, bottles, flexible pouches, corks, cups, caps, and more. Efficiency gets a boost as operators can set up tests quickly and no calibration is required.
The second-generation XR75 DualX X-ray is equipped with a newly developed dual-energy sensor that detects contaminants as small as 0.4 mm and significantly improves detection of low-density or soft contaminants while minimizing false rejects. The system analyzes two X-ray signals—both high and low energy—for a higher detection of low-density items as well as foreign materials not previously detectable by standard X-ray systems. It analyzes material differences between organic and inorganic items to effectively detect soft contaminants, such as stone, glass, rubber, and metal.
The upgraded X-ray system also provides a higher-quality image, allowing detection of contaminants such as bones in poultry, pork, or beef. In addition, it can find contaminants within products with overlapping pieces, such as fries, frozen vegetables, and chicken nuggets.
The XR75 DualX X-ray is optimized for low total cost of ownership. In addition to being energy efficient, the X-ray provides a longer tube and detection life compared to previous dual-energy models—reducing the replacement cost of key components. Standard features include HD imaging, tool-free belt and roller removal, and an auto-learn product setup wizard. In addition, the dual-energy system offers all the other detection capabilities of an Anritsu X-ray inspection system, including missing-product detection, shape detection, virtual weight, count, and package check as standard features.
"We are excited to introduce our second-generation DualX X-ray technology to the American market," says Erik Brainard, President of Anritsu Infivis, Inc. "The advancement of our DualX technology significantly improves detection of dangerous low-density contaminants while providing virtually zero false rejects. This second-generation DualX model delivers a superior return on investment because now it's on the proven energy-efficient XR75 platform. It helps our customers advance their contaminant detection and quality program while improving operational efficiency and reducing overall cost of ownership."
"The EPX100 is designed to be safe, simple, and smart for today's manufacturers," says Norbert Hartwig, director of research and development at Eagle. "From its sturdy design to the dynamics of the software, the EPX100 has the flexibility to perform in a host of different manufacturing environments. It is designed for manufacturers of all sizes and for the packaged products they produce."
With generous beam coverage and a large aperture size with 300 mm and 400 mm detection, the new EPX100 machine can detect a range of hard-to-find contaminants across an array of small to medium-sized packaged products. It is suitable for items such as baked goods, confectioneries, produce, ready meals, snack foods, and personal care products. The EPX100 can detect multiple types of contaminants like metal fragments, including metal within foil and metalized film packaging; glass shards, including glass contamination within glass containers; mineral stones; plastic and rubber; and calcified bones. In addition to inspecting for contaminants, the EPX100 can detect count, missing or broken items, shape, position, and even mass without performance degradation. The system inspects products in various packaging formats as well, such as cartons, boxes, plastic containers, standard film wrapping, foil or metalized film, and pouches.
Eagle's proprietary SimulTask 5 image processing and inspection control software powers the EPX100. The intuitive user interface simplifies product setup and operations to facilitate changeover, reduce downtime, and impart flexibility during the inspection process. For example, it allows for greater on-line visibility for operators to monitor inspection results and make corrective actions. In addition, the storage of historical SKU data ensures consistency, fast product changeovers, and information transparency. It further keeps unplanned downtime at bay with on-line visualization and analysis of the production line so workers can anticipate maintenance instead of reacting to it. The software also ensures compliance with stringent hazard analysis, critical control points principles, and global safety regulations via advanced image analysis, data logging, on-screen diagnostics, and quality assurance traceability.
In addition, the EPX100 can lower a manufacturer's environmental footprint and total cost of ownership. The 20-watt generator eliminates traditional air conditioner cooling, reducing energy consumption. The low-energy x-ray environment also doesn't require extra or extensive radiation shielding.
Intended for sorting vegetables such as green beans, leafy greens, and corn as well potato products such as French fries and potato chips, the TOMRA 5B combines TOMRA's smart surround view technology with 360-deg inspection. The technology features high-resolution cameras and high-intensity LEDs for optimal product appearance. These features reduce false rejection rates and improve product quality by identifying each object, which in turn improves detection of color, shape, and foreign materials.
The TOMRA 5B's customized high-speed, small-pitch TOMRA ejector valves allow for precise removal of defective products with minimal final product waste at a rate three times faster than TOMRA's previous valves. The ejector valves are designed for both wet and dry conditions. In addition, the sorter has a belt speed rate of up to 5 m/sec, responding to increased capacity demands.
TOMRA designed the TOMRA 5B with enhanced sanitation features that are in accordance with the latest food hygiene standards and specifications. It has a fast and efficient cleaning process, which results in fewer unreachable areas and a lower risk of waste material build-up, maximizing the machine's uptime.
The TOMRA 5B is also equipped with an easy-to-use, intuitive user interface called TOMRA ACT. It generates on-screen performance feedback on production quality and safety. The settings and data are application driven, providing processors with an easy way to set the machine and peace of mind by delivering clear data on the sorting process. This in turn allows the further optimization of other processes in the plant. The on-screen performance feedback not only allows processors to intervene quickly, if necessary, but also ensures that the sorting machine is operating at optimal capacity. The user interface was recognized at the 2016 International Design Excellence Awards with a silver medal in the digital design category.
Non-destructive, 100% testing was on display in something called SIT—or Seal Integrity Tester (15). It's suitable for a variety of products that are packaged in plastic cups—yogurt or cottage cheese for example—and that have a foil lid applied to the top. Right after the sealing station where foil lidding is applied to filled cup, a sensor head comes down and compresses the lid with a specified spring tension. Then an internal proprietary sensor measures the deflection of the lid compression and an algorithm determines if there is a gross leak, a minor leak, or no leak at all. These sensors, which can be configured two-across or as much as 32-across depending on customer requirements, can keep up with all conventional cup-filling systems available today.
Teledyne TapTone also announced the release of a new Heavy Duty (HD) Ram Rejector at PACK EXPO to complement their existing line of rejecting and laning systems. The new TapTone HD Ram pneumatic rejectors provide reliable rejection up to 2,000 containers per minute (product and application dependent). Available with a fixed stroke length of 3 in., 1 in., or 1⁄2 in. (76mm, 25mm or 12mm), the rejectors require only a standard air supply and come complete with a filter/regulator. The HD Ram Rejector is the first in a new line of rejectors featuring an oil-free cylinder design with a NEMA 4X IP65 environmental rating. The rejectors are actuated by a 24-volt reject pulse supplied by any of TapTone's inspection systems or third party systems. Designed for tight production spaces, these rejectors can be conveyor- or floor-mounted and can withstand high-pressure washdown.
Some of the additional design enhancements incorporated into the new HD Ram rejector include a heavier-duty base plate and cover resulting in reduced vibration with additional soundproofing for quieter operation. The new design also incorporates a non-rotating cylinder for longer life and increased cycle counts, without the need for lubrication.
The system comes standard with a 3-ft bulk-load infeed conveyor. The bags are advanced to the pick-and-place automatically, where they are picked one at a time and placed on the pusher transfer system. The bag/pouch aligns while being pushed onto the labeling or printing conveyor. The system is fully adjustable for a variety of flexible packaging, including zippered pouches and bags, coffee bags, foil pouches, and gusseted bags, as well as auto-bottom cartons. Loading new pouches can be done while the machine is running, with no need to stop—in fact, the system is designed for non-stop, 24/7 operation.
Enumerating its features, Darrow notes that the vertical feeding system features a user-friendly design that requires minimal maintenance, a PLC that controls the system and provides stored recipes and product counts, and a pick verification system comprising an infeed conveyor that advances until a bag is detected—if a bag is not detected, the conveyor times out and alerts the operator. The standard machine can accept pouches and bags from 3 x 5 to 10 x 131⁄2 in. at speeds to 60 cycles/min.
Darrow says the system is similar to a reciprocating placer, but the design of the vertical feeding system allows it to move the infeed conveyor in/out for smaller or larger bags, shortening the stroke length and enabling the machine to operate faster. The bags and pouches are placed at the same location no matter the length. The system can be configured to place bags and pouches onto a moving conveyor that is 90 deg to the placement.
CARTONING AND MORE AT COESIA
The introduction of the R.A Jones Criterion CLI-100 cartoner was one of the highlights at the Coesia booth. A leader in primary and secondary packaging machinery for the food, pharma, dairy, and consumer goods industries, R.A Jones is part of Coesia, headquartered in Bologna, Italy.
The Criterion CLI-100 is an intermittent-motion machine available in 6-, 9-, or 12-in pitch with production speeds to 200 cartons/min. This end-load machine was engineered to provide more flexibility for running different types of product and the largest range of carton sizes in the industry. Especially notable is its variable-pitch bucket conveyor that uses ACOPOStrak linear servo motor technology from B&R for highly flexible product control. Other enhancements include these:
• A feathering pusher mechanism using a two-axis kinematic arm design provides access to change pusher heads from the operator side of the machine.
• Interior machine lighting with "Fault Zone" indication improves operator awareness to address issues sooner.
• Enhanced sanitary design features a stainless-steel bulkhead frame and minimal horizontal surfaces.
Making the cartoner's debut all the more impressive is that it was integrated into a complete pouching line that included the new Volpak SI-280 horizontal form/fill/seal pouching machine upstream and the Flexlink RC10 palletizing robot downstream. Mounted over the Volpak poucher was a Spee-Dee twin-auger filler. As for the Volpak poucher, it was no ordinary rollstock being fed into it. Instead, it was a paper/PE lamination from BillerudKorsnas called Fibreform that can be embossed thanks to a special embossing tool on the Volpak machine. According to BillerudKorsnas, FibreForm can be embossed up to 10 times deeper than traditional papers, opening up numerous opportunities for new packaging in a wide variety of applications, in this particular case an embossed standup pouch.
The new HB-26 machine is built to be fast. Speed capability is based on package size, but "it can handle up to 80 pouches per minute and changeover can be done in under 15 minutes," says Roger Stainton, president of Effytec USA. "Typically, this kind of machine changeover is about 4 hours."
The features include parallel motion side sealing, remote tele-modem assistance, low inertial dual-cam roller, and servo-driven film pull rolls. The machine uses control technology from
Rockwell Automation, including PLCs and servo drives and motors that are responsible for the speed enhancements. And the Rockwell touchscreen HMI has the ability to save recipes in the machine to accelerate set up.
The HB-26 is suitable for applications in food & beverage, cosmetics, pharmaceuticals, nutraceuticals, with support for granulated products, liquids and sauces, powders, and tablets.
The machine also is designed to use both single- or multi-component packaging: one-piece corrugated blanks for standard wraparound shipping cases and two-piece tray and hood for retail-ready presentations. It does so by offering the utmost in adaptability and impressive speed, along with the latest generation of industrial automation from Rockwell Automation and UL-certified components.
"Our new machine provides CPGs with the flexibility to meet a variety of retailers' packaging demands," says Peter Fox, Senior Vice President of Sales for Somic America. "Stand-up pouches, flow packs, rigid containers, and other items can be collated, grouped, and packed in a wide variety of formats. This ranges from open or wraparound trays to paperboard cartons and trays with covers."
Essentially, the SOMIC-FLEX III is a tray packer with a cover applicator that has been split apart at the center and expanded to include an insertion packer. Each of the three user-friendly modules operates together within one machine. The advantage is the capability to run virtually any pack arrangement, and in any type of shipping or display vehicle, according to the company.
"The tray packer is employed for upright display arrangements, followed by the application of a cover," Fox says. "By replacing the lamella chain (vertical collator) with a control conveyor for horizontal and nested groups, it allows the products to pass through the vertical tray packer. The insertion packer then inserts six items into the pre-formed cartons that were formed in the pass-through tray packer. The final station on the machine glues and closes the wraparound case, or applies the hood or cover to the display tray."
INTERMITTENT MOTION CASE PACKER
Douglas Machine launched the CpONE™ intermittent motion case packer available in speeds up to 30/min for wraparound or knockdown cases and trays.
With 40% fewer parts, 30-50% fewer lubrication points, and 45% fewer change points, the CpONE design is simpler to operate, maintain, and clean. CpONE's simple design provides users with enhanced value and usability.
"On the overwrap machine, we fold the film on the edge, about an inch overlap on each side, and the film travels through the machine to be applied to the package," Cerf says. "It's a very simple and reliable technology, and a huge cost saving for the customer."
The end result is a double thickness of shrink film on the bullseyes, strengthening them so consumers can easily carry the weight of a tray-less pack by handling the bullseyes. Ultimately, this allows end users to downgauge the film thickness of the stock material while maintaining film thickness on the ends of the pack for handling.
For example, a 24-pack of bottled water is usually wrapped in a 2.5 mil thickness film. Comparison based on 5,000-ft rolls at $1.40/lb. of film:
• Traditional 24-pack film size = 22-in. Width X 38-in. Repeat 2.5-mil film, roll weight = 110 lbs. Price per bundle = $.0976
• Stronghold™ 24-Pack film size = 26-in. Width X 38-in. Repeat 1.5-mil film, roll weight = 78 lbs. Price per bundle = $.0692
"What you are going to gain from this product is condition monitoring, failure prevention, as well as control: start, stop, reverse," explains Jason Kanaris, Special Projects Engineering Assistant.
The self-contained drum motor unit includes control features such as manipulating speed and an e-stop option that provides a safe torque off. The IntelliDrive has a new electric motor design that makes it more efficient—up to 72% efficiency gains over conventional conveyor drive solutions, according to Kanaris. View a video at pwgo.to/3955.
With its Activated Roller Belt™ (ARB™) technology, Intralox provides functionality and reliability while reducing total system costs. It increases throughput, gently handles challenging products, and reduces footprint. Applications include sorter, switch, turner divider, 90-deg transfer, merge, perpetual merge, and virtual pocket merge.
Intralox's belt solutions also eliminate common problems with transfers and product handling such as: simpler, smoother transfers for products as small as 3.9 in. (100 mm); no need for transfer plates; reducing jams and product impact/damage; and same nosebar used for multiple belt types and series including radius belts.
The company's radius solutions enhance belt performance and belt life, enable small-product handling in flexible layouts, and improve total cost of ownership. They provide a smaller footprint, smooth conveyance and transfer of packages smaller than 6 in., and higher line speeds.
The Series 2300 Flush Grid Nose-Roller Tight Turning uni-directional belt meets complex radius challenges such as smaller packages, more compact footprints, and heavier loads.
"Our vision is to deliver world class packer to palletizer solutions from layout optimization through life cycle management, by utilizing our technology, service, and expertise," states Intralox's Packer to Palletizer Global Team Leader Joe Brisson.
"The industry wants higher sanitary design with open access for cleaning," says Greg Stravers, PFI Senior Vice President.
PURmotion's components are IP69K rated, which means PFI's new horizontal motion conveyor is able to withstand the close-range, high-pressure, high-temperature spraydowns necessary to completely sanitize equipment, as well as completely preventing dust ingress.
"Customers in the food industry frequently purchase several types of conveyors depending on what product they want to convey," states Stravers. "While there are many types of conveyors, four main types are common in the food industry depending on their application: belt, vibratory, bucket elevator, and horizontal motion. We created PURmotion to round out our product offerings for each of the four major types."
PURmotion offers a highly sanitary product that is easy to clean and efficient in operation, with immediate reversing motion to wash down without removal of side panels.
Companies in this article
Videos from VDG (Van der Graaf)