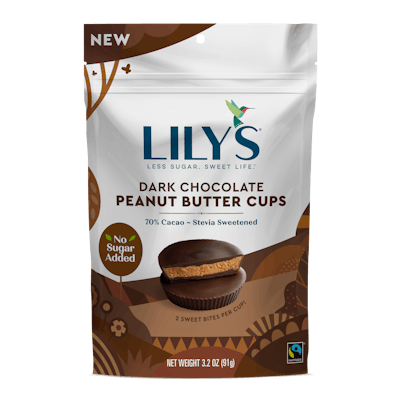 Company:
Lily's Sweets - www.lilys.com
Located in:
Boulder, Colo.
# of employees full-time:
28 people
Product:
Lily's Sweets Peanut Butter Cups
Owner:
Lily's Sweets was founded by Cynthia Tice, and in April 2018 received an investment from VMG Partners.
How products are sold?
The new Dark Chocolate and Milk Chocolate Peanut Butter Cups hit shelves nationally this summer, including at Whole Foods Market and Sprouts stores, and with additional stores being added throughout the remainder of 2019. As the Peanut Butter Cups hit shelves, shoppers will be able to search the Store Locator at lilys.com to find a store nearby. The Peanut Butter Cups will also soon be available online through key retailers including Amazon.
Unique selling proposition:
Lily's Sweets new Peanut Butter Cups are made with thoughtfully-sourced, Non-GMO ingredients so that they fulfill the same expectation as every product from the brand: sweets with no added sugar filled to the brim with pure deliciousness. Botanically-sweetened with stevia, the new Peanut Butter Cups have less than 1g of sugar and only 130 calories per two cup (30g) serving, while still delivering a chocolatey goodness you're bound to obsess over. The new Peanut Butter Cups are also Fairtrade America certified, GFCO gluten-free certified, and they fit into the requirements of a ketogenic or other low sugar diet.
Packaging Journey:
Earlier this spring, Lily's Sweets unveiled a modernized brand and packaging architecture. The new look carries over the whimsical nature and design that attracted devotees to the brand, including the continued use of the symbolic hummingbird, and better allowed for expansion beyond chocolate bars to items like the new Peanut Butter Cups. The Peanut Butter Cups come in a convenient pouch with six, individually-wrapped cups ready to satisfy daily cravings.
Use a contract packager or package ourselves:
Lily's uses a contract manufacturer.
Lily's will be at Natural Products Expo in Baltimore in September.
FREE research on 2019 Nutraceuticals market from PMMI Business Intelligence. Download your FREE 20-page Executive Summary here, including functional foods like Lily's Sweets. Looking for an answer to your nutraceutical packaging challenge? Make plans to visit PACK EXPO Las Vegas, Sept. 23-25 for the latest materials and machinery.