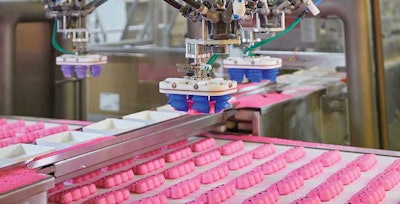 Improving automation has been the holy grail in the food industry for the past few decades with software and controls implementation as well as actionable data collection getting the most attention in recent years. However, robotics technology has been making strides. According to Industrial Robot Opportunities in Food and Beverage Processing, a research report from PMMI, The Association for Packaging and Processing Technologies, while robot deployment in the food industry has been slower than in some other sectors, ongoing technology developments are leading to greater opportunities for manufacturers to benefit from increasing the levels of robot automation in their processes. (See related article, "Food industry is ideal for industrial adoption.")
Case in point: Just Born Quality Confections recently transformed its popular PEEPS line from a labor-intensive packaging operation to one that uses robotics with soft gripper end-of-arm (EOA) tooling to speed production immensely. In fact, Just Born's robotics project was awarded a 2019 Manufacturing Innovation Award at ProFood Tech last March in Chicago. (See sidebar below.)
The company's Bethlehem, Pennsylvania, plant produces 2 billion PEEPS each year, with Easter as its biggest season. Due to the many product variations and a new delicate PEEPS Delights premium product, which is a single marshmallow chick with a chocolate-coated bottom, Just Born needed to automate this labor-intensive process.
The company also wanted to evolve from manual to automatic tray loading of all varieties of two-dimensional (2-D) PEEPS (chicks and bunnies), which, for the most part, had been automated to fit the general format of a 1x4 cluster of PEEPS bunnies. But it was the three-dimensional (3-D) Delights that were the project's focus, as they previously had to be packaged by hand.
Finding the best automaton solution was no easy task because of the delicate nature of the marshmallow confection.
In its quest for automation technologies, a Just Born team attended PACK EXPO International 2016 to survey possible technologies. After viewing a robotics demo at PACK EXPO in the JLS Automation booth employing Soft Robotics grippers loading various products into cases, Just Born found its answer.
The candy maker and JLS worked together to design a new integrated packaging system for PEEPS that includes four JLS Talon® robotic pick-and-place systems. Each of the four systems features an ABB FlexPicker robot equipped with a Soft Robotics EOA gripper. The line features 16 vision-guided robots that pick PEEPS off a conveyor line and then gently and accurately place them into paperboard or plastic trays.
Picking a good partner that has the capabilities to bring a complex automation project together was essential to the project, according to Ross Born, Just Born CEO. "JLS had the right chemistry to not only get along with the internal project team, but was also willing to provide pushback when appropriate," Born says.
Do not touch
In August 2018, the new packaging line went live. The integrated line starts as the newly sugared warm marshmallow PEEPS come out of an A&B Process Systems "kitchen," are formed and cooled, and then loaded on to a Rotzinger spreader conveyor. The spreader belt is used to move the PEEPS in a wide fashion across the belt so they do not touch each other.
The fragile products now have more product separation across the belt before they are picked up by the robot gripper's "fingers." Individual PEEPS cannot touch each other once they're formed or they'll stick together and gum up the lines, says Randall Copeland, senior vice president of supply chain operations at Just Born.
In the upstream process, Just Born and JLS both noted early on that if sugar was not properly and evenly deposited on the PEEP, the robot handling could create a gooey mess. There were no wholesale process changes to accommodate the robotic line, but by making small alterations in the quality control process, Just Born was also able to reduce the amount of scrap and more accurately control product shape and sugar depositing.
The candy maker also wanted to make food safety improvements. The grippers are cleaned during changeovers between PEEP formats and undergo a sanitation review. "You remove the actual grippers at the point where it is connected to the arm, and then you literally dump the tool in a bucket of sanitizing solution. Changeover on a gripper is 30 seconds," Copeland says. Everything from the pick belt down is washdown capable, and all the upstream conveyors get sprayed down.
The four JLS Talon® robotic work cells, each equipped with four ABB FlexPicker robots with ABB robot controllers and Festo pneumatics, control the Soft Robotics gripper actuation. In total, there are 16 robots guided by Cognex vision systems with infrared backlit vision.
The integrated line is controlled by a Rockwell Automation Allen-Bradley ControlLogix programmable logic controller that acts as a system gateway and ties the various machines together.
"Because it was our convention and the convention of some of the other machines that were integrated on the line, we used Ethernet IP on the pure communication side. That's obviously a standard protocol for Rockwell," says Craig Souser, president/CEO of JLS Automation. "Also, our standard for HMI (human machine interface) is either a PackML-like or a fully PackML execution, so for consistency in the screens, we use that as our standard, and that's regardless of platform."
"As the costs of components go up, the cost of labor goes up," says Copeland. "We're always looking for ways to improve, and our primary tool, frankly, is modernization and capitalization by putting in equipment that gives us better speeds, capital capabilities rates and less labor."
With the current tight job market and the aging workforce getting ready to retire, the project has been a boon as far as staffing is concerned. Just Born was able to reallocate labor from this line to other plant floor jobs. The redeployed labor has allowed the candy maker to run operations 24/5 or 24/6 as needed and resulted in increased production volume and overall efficiencies.
"This [automated line] gives us so much flexibility," says David Yale, Just Born's president and chief operating officer. The new system gives the company the ability to produce Delights and traditional PEEPS in a variety of different configurations and packs. "We've never had the flexibility to do that on any of our lines before," adds Yale.
According to JLS, the biggest challenge was the integration of so many pieces of equipment to create a single line that can handle 16 different recipes, three different product plates (which meant three different EOA tools on the robotic pick and place), nine different cluster formats, five paperboard carton styles and five thermoform tray styles requiring denesting.
There were also challenges getting the equipment to work optimally while interacting in the sequence that was needed. For example, Ilapack Delta flow wrappers might have a point where they need to stop, but the robots have trays they are working on, and the Kliklok-Bosch system can't stop immediately because the cartons are partially glued, and it needs to process and finish.
"It was our desire, and JLS' suggestion, that [the line] have enough capabilities such that you can lose the cell and keep going at full rate," says Copeland. Usually, line stoppages have nothing to do with the cells and are related to the wrappers, he states. Just Born has very reliable wrappers, but short interruptions downstream are inevitable, adds Copeland.
Today, production keeps on humming even when the wrappers are down for a few minutes. In addition, Copeland says plant floor operators are happier. They enjoy being challenged and like running the sophisticated machinery.
From the engineering side, Copeland says the project's biggest challenge was fitting the new robotic line into Just Born's existing tight footprint. The entire line was set up by JLS for the factory acceptance test and was moved into Just Born's factory in two weeks.
"There were nine trailer loads of equipment that were set, staged and choreographed. It was like a ballet. We got all the pieces taken down so they would fit on the [facility's] elevator," Copeland explains.
His advice to others taking on a similar project is don't waste time making every little detail perfect. He advises just diving in. "You're going to find so many things good equipment can do that you never thought about beforehand and you can't put a value on beforehand," Copeland states. "We learned ways to make product better."
PMMI Media Group Chief Editors Matt Reynolds and Stephanie Neil contributed to this report.
Learn more about the latest innovations in robotics at PACK EXPO Las Vegas from Sept. 23-25 at the Las Vegas Convention Center, where the trade show will debut its Robotics Zone. Register by Aug. 30 to save 70 percent off the registration fee for PACK EXPO Las Vegas.
---
A peep inside Just Born Quality Confections
Founded in 1923 by Russian immigrant Sam Born, Just Born Quality Confections is a third-generation, family-owned candy manufacturer known for brands such as PEEPS®, MIKE AND IKE®, HOT TAMALES® and GOLDENBERG'S® PEANUT CHEWS®.
The PEEPS brand is the company's most widely known brand, particularly for the PEEPS chicks and bunnies at Easter time. Each year, Just Born produces 2 billion PEEPS, with Easter being the biggest season. The PEEPS brand has been the No. 1 nonchocolate candy at Easter for more than 25 years, but is also available in a variety of shapes, colors and flavors at other holiday sea-sons.
Just Born acquired the GOLDENBERG'S PEANUT CHEWS brand in 2003, which has been a strong brand for more than 100 years.
As the U.S.' 10th largest candy company, Just Born products are made domestically by 500 employees, most of whom work at the headquarters and candy manufacturing facility in Bethlehem, Pennsylvania, where PEEPS, MIKE AND IKE and HOT TAMALES are produced. The company's plant in Philadelphia, Pennsylvania, produces GOLDENBERG'S PEANUT CHEWS.
The birth of innovation
Sam Born immigrated to the United States from France and introduced "French chocolates" to New York City. A candy maker by trade, Born was responsible for innovations including the technology to produce chocolate sprinkles, known as Jimmies, and the hard chocolate coating used for Eskimo Pies. In 1916, he invented the Born sucker, a machine that mechanically inserted sticks into lollipops.
When Born opened his retail shop in New York during the 1920s, his store window displayed an evolving line of daily-made candy, marketing its freshness with a sign that said, "just born." Born's brothers-in-law, Irv and Jack Shaffer, joined the company shortly after the retail store opened. The company thrived during the Great Depression and, in 1932, moved its operations to Bethlehem.
In 1953, the confection maker acquired the Rodda Candy Company of Lancaster, Pennsylvania. Known for its jelly bean technology, Rodda also made a small line of marshmallow products that intrigued the Just Born family. A popular 3-D marshmallow chick was made by hand-squeezing marshmallow through pastry tubes. Sam Born's son Bob, who joined the company in 1946, helped to mechanize the marshmallow-forming process. What once took 27 hours to produce and package, the PEEPS chick now only takes six minutes. With the recent addition of the new robotics line with soft grippers, production had increased exponentially.
Ross Born (third generation) and David Shaffer (second generation) joined Just Born in 1978. After more than a decade of shared responsibility with their fathers, they became Just Born's co-presidents in 1992, and today, Shaffer is chairman of the board and Born is CEO.
---
Just Born's award-winning robotics project
During Profood Tech 2019, Randall Copeland, senior vice president of supply chain operations at Just Born, told show attendees about Just Born's journey to production efficiency using robotics. A combination of soft-end grippers and robotic pick-and-place equipment led to increased production volumes and overall efficiencies. This automation project received a 2019 Manufacturing Innovation Award from ProFood World.
In June 2020 at ProFood Live!, ProFood World will again recognize outstanding food and beverage processing and packaging innovation projects via the fourth annual Manufacturing Innovation Awards competition. Entries are due Jan. 17, 2020. View videos from past winners, such as Royal Cup Coffee, Dairy Farmers of America and more, and learn about entry requirements at www.profoodworld.com/awards/mia.
Companies in this article