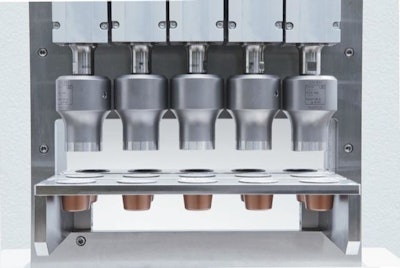 Packaging ground coffee in capsules includes a number of production steps that make ultrasonic sealing technology an attractive choice, says Herrmann Ultrasonics. First, the sealing tools do not heat up, making ultrasonic technology gentle on the packaging material and easy on the product itself. Second, foil can be cut out and ultrasonically sealed onto coffee capsules in a single step at one workstation with the combination of ultrasonic sealing and a cutting unit for capsule lids. The single-step process reduces the overall footprint of the machinery.
Even if there is residual coffee in the sealing area, the ultrasonic technology still produces a tight and firm seal. The coffee is driven out of the sealing area before actual sealing occurs by mechanical ultrasonic vibrations. The whole process is accomplished in an average of 200 milliseconds, enabling an output of up to 1500 capsules/min.
Meanwhile, over on the flexible packaging side of the scene, Herrmann has completely reworked its module LSM Fin forcontinual longitudinal seals and chained bagson both vertical and horizontal f/f/s systems, making it compact, easy to integrate,andIP 65 washdown-rated.The longitudinal seal module LSM Fin delivers high sealing speeds thanks to its long exposure area and does not require synchronization with the film feed as would be the case with rotating solutions. When sealing at the fin, speeds of up to 120 m/min can be achieved. The anvil can be easily removed using a quick release system. Different contours are available and parallel seals are also possible. The sealing blade is easy to replace, while the parameter settings are retained.