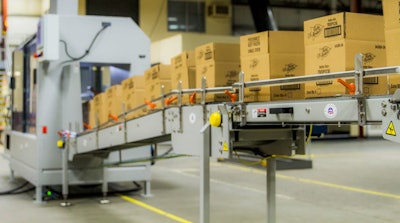 Earlier this year, Pearson Packaging Systems tested blockchain technology in a pilot project that experimented with new ways for customers to pay for its end-of-line packaging equipment. That idea came out of necessity, as customers sometimes lack access to capital, but still need the machines. Customers said, "If you are willing to provide us with the equipment, we'll pay on the successful output," recalls Michael Senske, president and CEO of Pearson Packaging.
It was a good concept, the problem, however, was that it was very difficult to keep track of the performance of the machine and tie it into a real-time payment process. But then Senske foundstart-up company Steamchain Inc., which has an automated business process engine that leverages the Internet of Things (IoT) and blockchain to access the data from industrial machines and use it to execute financial transactions. Blockchain, commonly associated with the cryptocurrency Bitcoin, is a secure and immutable digital ledger that logs machine output and calculates transactional payments.
The technology has worked so well that at PACK EXPO Las Vegas, Pearson (booth C-3106) will officially announce this new purchasing method, known as Machine-as-a-Service (MaaS). MaaS will allow manufacturers to use Pearson case erectors, sealers and compact palletizers as part of their operation, but without the upfront equipment investment. Instead, Pearson retains ownership of the machineswhile customers pay for output.
Senske says MaaS is an ideal option for companies who prefer to pay for automation incrementally, or who have an immediate need for end-of-line machinery, but don't have approved funding. By eliminating the upfront expense of machinery, manufacturers can devote their resources to other projects that improve operations or differentiate their businesses, such as new product development, he says.
Pearson will ship MaaS equipment to customer facilities, offer installation and start-up support, and train operation and maintenance personnel as part of the package. Machine users pay an established price per case, with the option to purchase the machines outright at any point during the contract term if their circumstances change.
MaaS users can access data beyond basic case counts, including information relating to fault types and counts, and uptime and downtime durations. This data is useful in identifying month-over-month trends, proactively spotting potential issues before unexpected downtime occurs, or highlighting the need for additional operator training. In addition, troubleshooting efforts will be facilitated and response times can be executed more swiftly with MaaS as automatic notifications are sent to Pearson's service department, alerting them when excess faults, network outages, or other performance issues occur.
"This is by no means the perfect option for every manufacturer," Senske says, "but customers have told us time and time again about the challenges they face obtaining funding for automation projects, and this offering was specifically designed to give those customers more flexibility in regards to financing."
The company chose to unveil the MaaS offering at PACK EXPO as it is one of the largest shows in the industry. "People come to this event looking for what's new," says Pearson product manager Tim Hill. "Pearson has always differentiated itself from the competition by thinking outside the box and taking risks, and we'll continue to do that to ensure our offerings meet the needs of our customers."