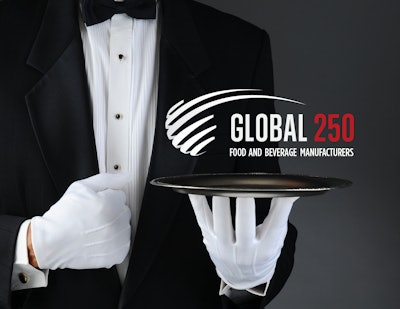 Consumers around the world are looking for a taste of the finer things in life — and food and beverage manufacturers are capitalizing on that demand. Many of the manufacturers in ProFood World's Global 250 Food and Beverage Manufacturers list have expanded their portfolios with premium offerings as a way to drive sustainable growth. Whether they are repositioning legacy products with high-end ingredients or bringing better-for-you offerings to market, premiumization allows manufacturers the opportunity to reinvigorate their brands by staying relevant with existing consumers and connecting with new customer segments as they trade up to premium products in an affordable way.
Premiumization in the food and beverage industry bridges the gap between luxury and mass market so that all consumers may have access to premium products. In the wake of the Great Recession, consumers have more disposable income and are willing to pay more for high-end products, according to the 2016 premiumization study conducted by IRI, a Chicago, Illinois-based market research firm. The study finds that premium food and beverage products allow consumers of all income brackets to indulge at a cost well below that of other lavish items or professional services, such as traveling or going to a spa, while still being able to stick to their budgets.
"Many [consumers] are looking for everyday items that perform better or fulfill their emotional needs or social aspirations at a price that doesn't break the bank," concurs Liana Lubel, senior vice president of Nielsen Innovation Practice. "This is a ripe opportunity space for mainstream brands to provide premium products that are still affordable compared to higher-tier premium services and offerings."
According to the 2018 Nielsen Global Premiumization Study, the premium sector is outpacing total growth for many fast-moving consumer goods categories, and consumers are willing to trade up in everyday consumables like food and beverage products. The study finds that 56 percent of respondents deem a product as premium if it is made with high-quality materials or ingredients. Other attributes that respondents associate with premium products include exceptional function and performance, superior style or design, integrity or trustworthiness of the brand, organic or natural ingredients, environmentally friendly or sustainable materials or production, uniqueness, origin-based traits (i.e. Swiss chocolate or French wine), artisanal production methods, exclusivity and scarcity.
By incorporating these premium attributes into their products, food and beverage manufacturers can create heightened value propositions that resonate with today's consumers who want affordable luxury, thereby unlocking new revenue streams and increasing market share, according to IRI. In fact, IRI estimates that a manufacturer can earn 10-15 percent in incremental topline revenue with a well-strategized and -executed premium product initiative.
Modern growth plan
Many food and beverage manufacturers are taking advantage of the clamor for premium products by revitalizing iconic legacy brands and acquiring startups to bring niche products to market with a premium look and feel. For example, Conagra Brands has been modernizing its older brands, including Healthy Choice, Marie Callender's and Reddi-wip, while buying food companies in the lucrative snack and frozen food segments that complement its existing brands.
To grow in the competitive health and wellness sector, Conagra revamped its Healthy Choice brand in 2017 with Healthy Choice Power Bowls, a line of frozen entrees packaged in plant-based fiber bowls that feature antibiotic-free proteins, grains, vegetables, and global flavors and ingredients that are packed with fiber and protein. Varieties include Adobo Chicken with guajillo chilis, Korean-Inspired Beef with sweet and spicy gochujang sauce, and Cuban-Inspired Pork with sweet plantains and bold sofrito sauce. This year, Conagra released Healthy Choice Grain Free Power Bowls to accommodate low-carb lifestyles. The bowls feature riced cauliflower paired with nutrient-dense leafy greens, vegetables, lean proteins and global sauces in four varieties: Spicy Beef Teriyaki, Basil Pesto Chicken, Spicy Black Bean & Chicken and Chicken Marinara.
On the other end of the spectrum, Marie Callender's has been redefining its frozen comfort food brand. In 2017, the company introduced its Delight Dinners, which offer a lighter version of comfort food favorites. Varieties include Roasted Turkey & Sweet Potato Stuffing and Panko Herb Crusted Chicken with a Multi-Grain Medley of rice and quinoa with vegetables. This year Marie Callender's debuted its Pub Pies, an elevated take on the traditional pot pie with tender cuts of braised and roasted meats wrapped in a buttery shortbread crust, as well as a line of layered pies, including Beef Shepherd's Pie and Beef & Chili Bean Cornbread.
"We see continued growth ahead for frozen meals and are taking advantage of this opportunity by offering consumers the flavors, modern health attributes and convenience they demand," says Darren Serrao, executive vice president and co-chief operating officer for Conagra.
According to the report Global Frozen Food Market – Growth, Future Prospects and Competitive Analysis, 2018-2026 from Credence Research Inc., the global frozen food market was valued at $252.77 billion in 2017 and is expected to grow at a compound annual growth rate of 6.6 percent from 2018-2026. The report credits Millennials and the rise of working women for the sector's growth. They prefer the convenience of frozen foods, which require far less time to prepare than cooking meals. As a result, frozen ready-to-eat meals dominated the segment in 2017, driven by both convenience and premiumization, according to the report.
Hoping to disrupt the coffee creamer category, Conagra introduced the Reddi-wip Barista series this year to give consumers the coffeehouse experience at home. The Reddi-wip Nitro Coffee Creamer is infused with nitrogen to give coffee swirling layers of velvety texture, an extra creamy finish and sweetness. The Reddi-wip Sweet Foam can be used alongside the Nitro Coffee Creamer or other coffee creamers to add a slightly sweet layer of frothed foam on top of coffee so consumers can make lattes and macchiatos.
Acquisitions have also played a crucial role at Conagra, especially as it sharpens its focus on the growing snack sector. For example, since acquiring Angie's BOOMCHICKAPOP, an upstart ready-to-eat popcorn brand, for $250 million in 2017, Conagra has added product extensions to the brand. This year it released Angie's BOOMCHICKAPOP Trail Mixes, which feature the brand's popcorn with nuts, dried fruits and pretzels, and Angie's BOOMCHICKAPOP frozen sweet treats. In 2017, the company also snapped up Duke's meat snacks and Bigs sunflower seeds, complementing Conagra's other high-protein snack brands, Slim Jim meat sticks and beef jerky and DAVID Seeds, which feature sunflower and pumpkin seeds in flavors such as spicy queso and ranch.
In addition, the company purchased Pinnacle Foods in October 2018 for $10.9 billion, betting big on the resurgence of frozen foods. The acquisition not only gave Conagra ownership of well-known brands like Birds Eye and Hungry-Man, but also a strong presence in the health and wellness sector with smaller brands, including Gardein meatless foods, Udi's gluten-free baked goods, and EVOL organic and clean-label products. The acquisition makes Conagra the second largest frozen food company behind Nestlé.
Joining forces
Many food and beverage companies are elevating the cache of their products by collaborating with well-established premium brands as well as celebrities and influencers. For example, Swiss food giant Nestlé is looking to coffee as a key driver of its growth strategy, noting consumers' willingness to pay for premium java. Last year, Nestlé shelled out $7.15 billion for exclusive rights to sell Starbucks-branded coffees and teas outside of the chain's cafes. In February, Nestlé launched 24 Starbucks coffee products, including coffee beans, roast and ground coffee, and single-serve capsules for its Nespresso and Nescafé Dolce Gusto coffee makers. They are available in grocery stores and online in 14 markets, including Belgium, Brazil, Chile, China, Mexico, the Netherlands, South Korea, Spain and Britain. In addition to this global alliance with Starbucks, Nestle is expanding its U.S. presence by acquiring a stake in the high-end coffee shop chain Blue Bottle and buying Chameleon Cold Brew, an organic and fair trade brand. These upmarket acquisitions help the company round out its coffee portfolio, which also includes Nescafé, Taster's Choice and Nespresso. The company credits its sales growth this year in part to its coffee strategy.
Kraft Heinz is also fond of collaborations. In 2018, the company joined forces with the Food Network to launch Food Network Kitchen Inspirations, a line of globally inspired salad dressings, cooking sauces and meal kits designed to make it convenient for busy households to quickly prepare weeknight meals with bold flavors. According to data from market research firm NPD Group, people are eating at home 80 percent of the time, compared to 75 percent a decade ago. Cost is a factor. Restaurant meals are more expensive than the price of a meal at home. In addition, many people don't want to take the time to get dressed up and drive their families to restaurants.
The Food Network Kitchen Inspirations accommodates growing consumer preference for restaurant-quality meals at home. Salad dressings in the line include Mexican Style Mango Chipotle and Greek Feta Herb Vinaigrette. The Chicken Tikka Masala and Tuscan Style Mushroom Risotto are two of the five meal kit varieties. Cooking sauces include Thai Style Sweet & Spicy Chili and Jamaican Style Jerk. This is the first product line the Food Network has created for grocery stores.
"This opportunity is especially exciting for us because the new Food Network Kitchen Inspirations products make it easy for people to expand beyond their culinary comfort zones and try new flavors," says Liz Rubin, senior associate brand manager for meals at Kraft Heinz. "We are thrilled to partner with Food Network to help consumers spice up their meals and inspire them to get creative in their own kitchens."
Kraft Heinz continues to partner with media mogul Oprah Winfrey on the O, That's Good! line, a healthier spin on comfort foods. The line initially debuted with refrigerated soups and sides. For example, the Original Mashed Potatoes product swaps some of the potato with cauliflower, while the Broccoli Cheddar Soup replaces some of the cheese with butternut squash — increasing the amount of vegetables in the products without compromising their rich taste. Kraft Heinz has since extended the line with frozen classic-crust and thin-crust pizzas, in which one-third of the crusts are made from cauliflower. Varieties include BBQ Chicken and Fire Roasted Veggies. In July, Kraft Heinz added frozen skillet meals to the line, touting them as convenient dinner options that can be ready in 10 minutes. Like other products in the line, the frozen skillet meals include more vegetables. For example, the Chicken Alfredo & Penne swaps out some of the cream in the sauce with pureed cauliflower. According to Kraft Heinz, all the products in the O, That's Good! line are made with premium ingredients, including antibiotic-free chicken and natural sausage, and have no artificial flavors, preservatives or dyes.
Green scene
Another premium sector that continues to grow is the plant-based market. Data from the Plant Based Foods Association and The Good Food Institute shows that U.S. retail sales of plant-based foods have grown 11 percent over the past year, bringing the total plant-based market value to $4.5 billion.
The plant-based meat sector has been particularly strong. According to Euromonitor International, the global plant-based meat industry rang up sales of $19.5 billion in 2018 and will hit $22.9 billion by 2023. The market research firm credits the increase to consumers who are seeking to eat healthier as part of their flexitarian lifestyles as well as their concerns for climate change and the welfare of animals, farmers and societies.
Impossible Foods and Beyond Meat put the plant-based meat sector on the map over the past year. Both make plant-based meatless burgers that look and bleed like real meat. Impossible Foods has rolled out nationwide at Burger King and White Castle. It also has products in Macau and Hong Kong and is aiming to enter China, one of the largest meat-eating countries in the world. The product recently became available in U.S. grocery stores for the first time, entering 27 Gelson's Markets in Southern California in September.
Beyond Meat offers plant-based beef crumbles, burgers, chicken and sausage at grocery stores, including Whole Foods, Kroger, Safeway and Target. The company also sells its products to restaurant chains Del Taco, KFC, Carl's Jr. and Subway. Beyond Meat's initial public offering earlier this year exceeded analysts' expectations when the stock price soared 160 percent from its offering price of $25.
The rapid growth of alternative plant-based proteins has prompted other food manufacturers to grab a piece of the market for themselves. Hormel, the maker of Spam, recently debuted its plant-based and blended-protein brand Happy Little Plants. MorningStar Farms, which is owned by Kellogg's, will launch a vegan meat range called Incogmeato next year that includes burgers and chicken nuggets.
Room to grow
But many food manufacturers are investing in plant-based products beyond beef substitutes. Kroger, the largest supermarket chain in the United States, will debut a plant-based product line under its Simple Truth private label brand in the fall. It will not only include meatless burger patties, but also plant-based cookie dough, pasta sauces, deli meats and dips.
In June, Tyson introduced a line of plant-based chicken nuggets and blended burgers as part of its new Raised & Rooted brand. The products use pea protein, a key ingredient that is gaining popularity with consumers who are allergic to soy. The company also invested in New Wave Foods, a plant-based seafood startup that makes faux shrimp from seaweed and plant protein.
And Perdue rolled out PERDUE CHICKEN PLUS nuggets, tenders and patties this past summer that blend cauliflower, chickpeas and plant protein into the products as a way to get kids to eat more vegetables.
"Perdue Chicken Nuggets have been a staple for families for years, but we wanted to provide an easy way to round out the meal and help parents put an end to the 'eat your vegetables' battle," says Eric Christianson, chief marketing officer for Perdue. "By blending plants and vegetables with the Perdue chicken families love, not only are we helping to meet demands for millions of parents, but we are appealing to the growing number of flexitarian families who have an increased commitment to getting more plants and vegetables in their families' diets."
Even the plant-based dairy category is growing. For instance, plant-based yogurt sales have grown 39 percent over the past year, while conventional yogurt sales have declined 3 percent, according to the Plant Based Foods Association and The Good Food Institute.
That's why yogurt leaders like Chobani are jumping on the plant-based bandwagon. In January, the Greek yogurt brand launched Non-Dairy Chobani, the company's first plant-based yogurt product. It is made from a coconut base and has 25 percent less sugar than traditional plant-based yogurts. Because Non-Dairy Chobani doesn't have naturally occurring protein, which is a big selling point of traditional yogurt, Chobani is promoting the product's other nutritional benefits, such as probiotics, use of natural ingredients and reduced sugar content. The line consists of single-serve cups and drinks in flavors that include strawberry, blueberry, mango and peach.
Whether it's plant-based products or offerings with global flavors or indulgent ready-to-eat meals, premiumization is a trend that is here to stay for the foreseeable future. By providing premium products, food and beverage manufacturers have the opportunity to boost sales, inject new life into their brands and lock in consumer loyalty — keeping their brands relevant and resilient.
To see the searchable Global 250 Food and Beverage Manufacturers and Global 50 Alcoholic Beverage Manufacturers lists, please visit www.profoodworld.com/global-250.
To read about how major beer companies that are included in the Global 50 Alcoholic Beverage Manufacturers list are developing cannabis-infused beverages to tap into the nascent yet lucrative weed industry, please visit www.profoodworld.com/articles/cheers-cannabis-big-alcohol-stakes-claim-legal-marijuana-boom.
---
The Global 250 and Global 50 lists on ProFoodWorld.com
The Global 250 Food and Beverage Manufacturers list ranks the world's food and beverage companies by retail sales, while the Global 50 Alcoholic Beverage Manufacturers are ranked by volume produced.
Compiled by Euromonitor International and commissioned by ProFood World, this exclusive research features much more data available at www.profoodworld.com/global-250. It includes information such as the major manufacturing locations of the Global 250 companies, statistics on U.S. sales for each company, U.S. beverage sales by company, U.S. packaged goods sales by company, global beverage sales by company, and global packaged goods sales by company. Sort and search functions are available for both the Global 250 and Global 50 lists.