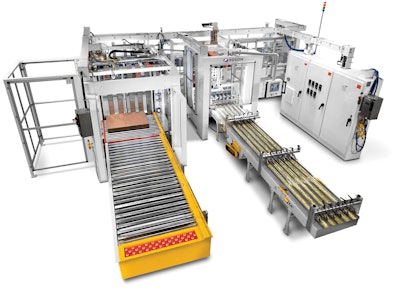 NOTE: Machinery wasn't the only area of interest at PACK EXPO. Click the links that follow to read more about innovations in:
Materials Controls Pharma E-Commerce Robotics
MACHINERY INNOVATIONS
As in years past, Claranor used PACK EXPO Las Vegas as an opportunity to show its pulsed light decontamination technology. A recent application of the technology comes out of Israel's Tnuva, a subsidiary of Shanghai-based Bright Food. It's notable because it represents the first application of Claranor pulsed light technology on a flexible film package. Previous applications have involved preformed cups, cups produced on thermoform/fill/seal lines, and caps. But the Tnuva package (1) is a three-side-sealed stick-pack tube of Yoplait brand yogurt produced by Tnuva on an Alfa intermittent-motion ESL machine from Universal Pack, which also exhibited at PACK EXPO Las Vegas. The 60-g packs have a refrigerated shelf life of 30 days.
The Claranor flexible packaging decontamination unit integrated into the Alfa machine makes it possible to reach Log 4 decontamination of aspergillus brasiliensis, a fungus that causes a disease called "black mold" on food. According to Universal Pack's Pietro Donati, this is the first time his firm has installed a machine that uses pulsed light for decontamination. Why opt for this technology over those used more typically like peracetic acid or hydrogen peroxide or UV-C (Ultraviolet light irradiation)? "It's more effective in bacteria kill than UV-C and its Total Cost of Ownership is more attractive. Plus it's nice not to have to worry about a residual chemical being left on the packaging material," says Donati. "Of course there are limitations in log reduction you can achieve, and limitations in speeds, too. In this case, where a Log 4 reduction is sufficient and speeds are in the moderate to low range and refrigerated shelf life is 30 days, pulsed light is perfectly suitable."
The Alfa stick pack machine at Tnuva is a three-lane system running a 240-mm wide flexible film consisting of 12-micron polyester/12-micron polypropylene/50-micron PE. It runs at 30 to 40 cycles/min, or 90 to 120 packs/min.
Claranor's Christophe Riedel says that two key benefits that draw food companies to pulsed light over UV-C are Total Cost of Ownership (TCO) and more efficient elimination of micro-organisms that cause spoilage. He says food companies also prefer it to hydrogen peroxide and peracetic acid because it's chemical-free. Studies done by Claranor, adds Riedel, show that TCO for pulsed light is considerably less than either UV-C or chemical decontamination. Pulsed light is particularly advantageous where energy consumption is concerned, notes Riedel. He says it also has the lowest carbon dioxide emissions among the decontamination technologies available today—an increasingly important consideration especially in Europe.
Also highlighting sterilization technology at PACK EXPO Las Vegas was Serac and its new BluStream® technology, a low-energy e-beam treatment that can be administered at room temperature. It's capable of ensuring a 6 log bacteriological reduction in one second without any use of chemicals. The BluStream® technology can be applied on any kind of HDPE, LDPE, PET, PP, or aluminum cap for any bottle size. This technology is for use in high-acid products such as fruit juices as well as low-acid products such as teas, UHT milks, milk-based drinks, and milk substitutes. Bluestream is intended for use on bottling lines of non-refrigerated or refrigerated ESL beverages with shorter shelf lives. E-beam is a physical dry treatment involving a beam of electrons that is dispensed over the surface to be sterilized. The electrons quickly destroy the micro-organisms by breaking their DNA chains. Serac's BluStream® uses low-energy electron beams that do not penetrate the treated material and it will not affect the internal structure of the cap. It's a safe and environmentally friendly solution monitored in real time. The BluStream® technology can be integrated on new Serac lines as well as existing machines, whatever their OEM.
The BluStream® treatment is highly efficient. It ensures a 6 log bacteriological reduction in only 0.3 to 0.5 seconds per side. It is this efficiency level that allows it to be used in aseptic packaging. BluStream® does not use any chemicals and does not require high temperatures. This allows it to avoid any chemical residue and any distortion of the caps.
The e-beam treatment only depends on three critical parameters that are easy to control: voltage, current intensity, and exposure time. By comparison, H2O2 sterilization depends on seven critical parameters, including temperature and time for hot air as well as temperature, concentration, and time for hydrogen peroxide.
Bacteriological reduction is ensured as soon as the cap has been exposed to the recommended dose of electrons. This dose is administered via perfectly controllable parameters and can be monitored in real-time using a simple dosimetry test. Sterilization is confirmed in real-time, which is not possible with chemical laboratory tests. Products can be released and shipped quickly, which will reduce inventory complications.
BluStream® also brings environmental benefits that will lower the environmental footprint. It doesn't require water, heating, or steam. By eliminating these requirements, it consumes little energy and does not generate toxic waste.
New rinser for spirits
Fogg Filler launched its new rinser dedicated to the spirits market during PACK EXPO. According to Fogg Owner Ben Fogg, the rinser has a unique design, which allows the machine to control the fumes and reduce alcohol evaporation losses.
In the past, Fogg has always made rinsers that spray the bottle and then recirculate product through the base. With this new design, the rinse solution is contained in cups and recirculates through a built-in trough system. Since the rinse solution is contained in cups, pre-labeled bottles stay dry, preventing any warping or damage to the label. Because spirits tend to create fumes, Fogg wanted to make sure this new rinser could better contain the fumes, allowing less proof to be lost, meeting the desires of this market. The high-volume, low-pressure spray creates a gentle and thorough rinse without losing any product. With no product hitting the base, this will keep the machine cleaner, as well as minimize change over waste.
Advances in case packing
Edson, a product brand of ProMach, introduced at PACK EXPO Las Vegas the new 3600C compact case packer (lead photo) designed specifically for the price and size requirements of the away-from-home towel and tissue industry. The 15 cases-per-minute 3600C case packer offers an exceptional price-to-performance ratio by leveraging advanced systems found on the industry-leading Edson 3600 case packing platform that have proven themselves in hundreds of installations.
Similar to other 3600 platform case packers–the 20 case/min 3600 for the retail market and the 26 case/min 3600HS for e-commerce customers–the 3600C is an all-in-one case packer featuring integrated case erector, product collator, and case sealer. The 3600C packs rolled tissue, facial tissue, hand towels, and folded napkins for away-from-home industrial and commercial customers. It can also be used to pack cases of diapers and feminine hygiene products.
Optional touch-of-a-button servo systems precisely implement format changes in as little as 15 minutes, which improves overall equipment effectiveness for throughput and uptime. Radio-frequency identification (RFID) tags on all change parts lower the risk of machine damage as the machine will not operate if there is a mismatch between case recipe and change part. Early tucking of minor case flaps accelerates product capture and delivers greater stability and control of product and case. For improved ease of use, the 3600C features a 10-in. Rockwell color touch screen HMI. To deliver the utmost in flexibility, these units can pack regular slotted containers (RSCs) and half slotted containers (HSCs) as small as 12 in. L x 8 in. W x 71⁄2 in. D and as large as 28 in. L x 24 in. W x 24 in. D.
Interactive video displays featuring 3D modeling at PACK EXPO allowed attendees to explore system details of all three 3600 models.
Scalable case erector adapts from manual to auto
Wexxar Bel, a product brand of ProMach, used PACK EXPO Las Vegas to unveil its new DELTA 1H, a fully automatic case former (3) with a modular, rapid-load magazine system. The machine on the floor included not only the patented Pin & Dome system, which has been a staple of Wexxar machines for years, but also a new Auto Adjust feature that automatically performs case-size changes with the push of a button.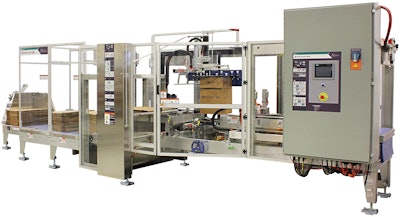 Designed as much for larger production operations as for smaller businesses looking for scalability as output grows, the open design of the new Modular Expandable Magazine (MXM) allows for manual case loading that can be adapted to automated loading. Streamlining the loading process with easier case loading, MXM's all new, patent-pending ergonomic-to-load design increases the available capacity of case blanks in the machine. Continuous operation and uptime is achievable by minimizing labor-intensive manipulation of cases during loading.
Also, DELTA 1's auto-adjust technology minimizes the level of operator engagement by automating many of the major adjustments on the case former, limiting human factors that affect machine setup and changeover. The updated loading features, along with the auto-adjust technology, work together in optimizing operator productivity by freeing up time spent on the machine for other areas within the plant.
"The operator doesn't need to go in and mechanically move things or interpret rules on the machine to bring it into adjustment. They pick from the menu and the DELTA 1 makes the adjustment and it's good to go," says Sander Smith, Product Manager, Wexxar Bel. "What this does is make changeovers predictable and repeatable in terms of time and adjustments. It's done automatically, and in only a few minutes."
Smith said the automatic programmable capabilities of the DELTA 1 are great assets to a packaging line, especially for food manufacturers and other industries that have operators with varying levels of experience with machines. Safety also increases due to less operator interaction, Smith adds.
In another demonstration of scalability, the DELTA 1 can be configured for either hot melt gluing or taping. After all, while tape is favored by smaller operations, hot melt is generally the adhesive of choice for medium to larger-sized companies that operate 24/7.
Other features and benefits of the new DELTA 1 Fully Automatic Case Former with MXM System include dynamic flap-folding for consistent square cases, even for recycled or double-wall cases. Onboard is Wexxar's WISE smart controls system allowing for easy machine operation, troubleshooting, and maintenance. WISE is driven by maintenance-free servo for efficient and precise movements. Delta 1 also features fully interlocked guard doors and emergency stops on both sides of the machine, flexible speed with remote demand that caters speed ranges to each case size or style, and toolless, color-coded size changeover in minutes with user-friendly, on-machine pictorial guides. Add to that the system's corrosion-resistant, paint-free frame construction and color HMI touchscreen, and you're left with a versatile machine ready for full production off the bat, or a capable starter case erector that you can grow into, the company says.
Case packing and sealing
The LSP Series packer from Delkor loads pouches vertically for a 14-count club store format or horizontally for a 4-count Cabrio retail-ready format. The system on display at PACK EXPO included three Fanuc M-10 robots, though an additional one can be added. Handles small pouches or pouches weighing as much as 10 lb. Changeover from club store case format to Cabrio retail ready takes as little as 3 min.
It was case sealing that was a focus at the booth of Massman Automation Designs, LLC. Introduced at the show was its new compact, low-cost-of-operation HMT-Mini top-only case sealer. This new sealer incorporates an innovative modular construction that allows specific features of the sealer to be changed out, enabling users to meet growing production demands by replacing modules rather than by investing in a new sealer. This modularity can also facilitate future sealer design changes and is a major factor in reducing production lead times for the HMT-Mini by 50%.
The standard HMT-Mini top-seals cases using either glue or tape at speeds to 1,500 cases/hr. An optional, more advanced sealer incorporating extended compression can seal at rates to 3,000 cases/hr. The fully-automatic sealer features robust, heavy-duty construction and speedy changeover to new case sizes, plus it's completely enclosed. The system's transparent enclosure offers increased visibility of the operation, and interlocked Lexan access doors on either side of the enclosure give greater access to the machinery without sacrificing safety.
The HMT-Mini seals standard cases up to 18 in. long, 16 in. wide, and 16 in. deep. The modularization of the tucking and metering functions of the system enable them to be changed to allow sealing of larger cases. The sealer has a compact footprint measuring 110 in. in length and 36 in. in width. It has an infeed height of 24 in. and can include either a drop gate or metered automatic infeed.
Laser cut for clear window
At PACK EXPO Las Vegas 2019 the Matik booth featured, among other things, the SEI Laser PackMaster WD. Matik is the exclusive North American distributor of SEI equipment. This laser system is designed for laser cutting, laser scoring, or macro- or micro-perforation of single- or multi-layer flexible films. Compatible materials include PE, PET, PP, nylon, and PTFE. The main laser advantages and features include the precise selective material removal, the laser perforating capability (hole size from 100 micron), and repeatability of the process. The all-digital process allows a rapid change-over and a significant time and cost reduction, which is not possible in the case of "analog" mechanical die-boards, says Matik.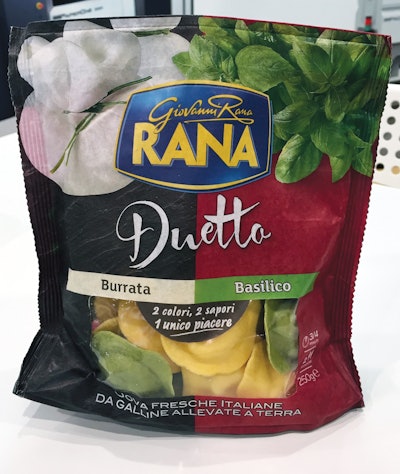 One good example of a package benefiting from this technology is the stand-up pouch for Rana Duetto ravioli (4). The colorful printed material is sent through the PackMaster laser cutting system and then a clear film is laminated to the printed material.
Versatile filler
Established in 1991 in Krizevci pri Ljutomeru, Slovenia, Vipoll was purchased in January 2018 by GEA. At PACK EXPO Las Vegas 2019, GEA Vipoll showed a truly multifunctional beverage filling system. Called the GEA Visitron Filler ALL-IN-ONE, this monoblock system can fill glass or PET bottles as well as cans. The same capping turret is used for applying steel crowns or seaming on metal ends. And if PET is being filled, that capping turret is bypassed and a second one is engaged. Changeover from one container format to another takes just 20 minutes.
The obvious target for such a versatile machine is brewers, many of whom launched their business with glass bottles but are now keenly interested in cans because consumers like them—a lot. Especially appealing to craft brewers is the small footprint of the ALL-IN-ONE, which is made possible by multifunctional elements such as a rinser that is equipped with universal grippers, a filler that uses electro-pneumatic filling valves, and a capping turret that can accommodate crowns or seamed-on ends.
The first installation of the ALL-IN-ONE system is at Macks Olbryggeri, the fourth largest brewery in Norway. With more than 60 products, ranging from beer to cider to alcohol-free beverages to water, this traditional brewery is one of Norway's strongest brands. The ALL-IN-ONE built for Mack has a capacity of 8,000 bottles and cans/hr and will be used for filling beer, cider, and soft drinks.
Also in line for an ALL-IN-ONE installation is Moon Dog Craft Brewery, located in suburban Melbourne, Australia. For video of the machine running, go to pwgo.to/5383 for a video of the ALL-IN-ONE running at PACK EXPO Las Vegas.
Volumetric filler/seamer takes aim at dairy
Pneumatic Scale Angelus, a BW Packaging Systems company, demonstrated a volumetric-style rotary filler (5), synchronized with a sealer, from its Hema brand. The demo was designed specifically for dairy, namely condensed and evaporated milk applications. Dairy is known for requiring extra care when it comes to food safety and quality assurance, so the system was designed with CIP in mind, with no operator intervention required during the CIP process. During CIP, the machine is flushed while rotary valves remain in place. The filling pistons exit their sleeves as the flush takes place thanks to a CIP arm located on the backside of the rotary turret.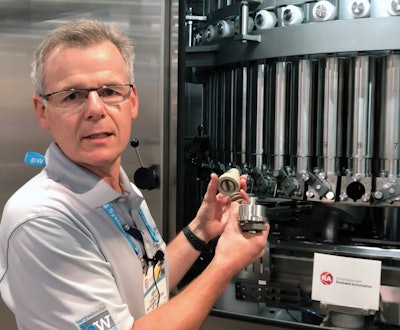 Despite operator-free CIP, each filling valve is designed for easy, toolless operator removal for inspection purposes.
"This is important during the first months of operation, during calibration," says Herve Saliou, Filler Application Specialist, Pneumatic Scale Angelus/BW Packaging Systems. During that period, he says, operators are easily able to conduct frequent checks of the cleanliness and tightness of the conical valve. That way, even when liquids with varying levels of viscosity, like thicker condensed vs. thinner evaporated milk running on the same machine, valve tightness is guaranteed and leakage is eliminated.
The entire system, which is mechanically synchronized to an Angelus seamer to prevent splashes regardless of liquid viscosity, is fitted to operate at speeds to 800 bottles/min.
Inspection tech figured prominently
Advances in inspection technology are always on display at PACK EXPO, and Vegas 2019 had plenty up its sleeve in this machine category. The new Zalkin (product brand of ProMach) ZC-Prism closure inspection and rejection module allows for high-speed rejects of nonconforming or defective caps before they ever enter a capping system. By eliminating defective caps prior to any capping operation, you also eliminate waste of both the filled product and the container.
The system can run as quickly as 2,000 flat caps/min. The types of defects that the vision system looks for include deformed cap or liner, broken tamper bands, missing tamper bands, upside down or wrong color caps, or presence of any unwanted debris.
According to Randy Uebler, VP and General Manager at Zalkin, if you're going to get rid of a defective cap, do it before you fill and cap the bottle.
Metal detectors on display included the new GC Series systems from Mettler Toledo. They're scalable, modular inspection solutions with a suite of configurable options for a wide range of conveyor applications. The equipment is easy to clean and features easy-to-change flow directions. It also includes sensors on air rejects and the reject bin, redundant inspections, and a tool-less conveyor design, according to Camilo Sanchez, metal detection product manager for Mettler Toledo. "The system can be easily retrofitted on an existing machine and features a new level of sanitary design," he adds.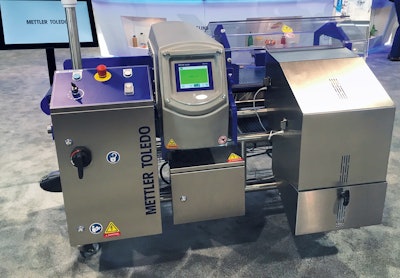 The booth also featured the Mettler Toledo V15 round line that can perform 360° product inspections using six smart cameras (6). Stainless steel construction makes the system suitable for food environments. Used to check code for label mix-up prevention during product changeovers, the system can verify 1D/2D barcodes, alphanumeric text, and print quality of codes. It can also inspect end-of-line inkjet printing in order to retract misprint or products with missing information. With a small footprint, it can easily install over conveyors and interface with existing rejectors.
Also sharing news on the metal detection front was Thermo Fisher Scientific, which launched the Sentinel metal detector 3000 (7) that is now combined with the company's checkweigher line.
According to Bob Ries, lead product manager, the Sentinel 3000 was designed to save space on the plant floor and features multi-scan technology that was launched in 2018 with Thermo's Sentinel 5000 product. "We've reduced the size of the metal detector so that we can mount it completely on the frame, and then integrate it with our checkweigher," explains Ries.
Multi-scan technology improves the sensitivity of the metal detector, but because it's running five frequencies simultaneously, it improves the probability of detection. "It's essentially five metal detectors in a row, each operating slightly differently to find any possible contaminants," Ries adds. View a video demo at pwgo.to/5384.
X-ray inspection continues to advance, and a good example was found at the booth of Eagle Product Inspection. The firm displayed a number of solutions, including its Tall PRO XS X-ray machine. Engineered to detect hard-to-find contaminants in tall, rigid containers, such as those made of glass, metal, and ceramic materials, the system is also suitable for use with plastic containers, cartons/boxes, and pouches. It can run at line rates over 1,000 ppm, simultaneously scanning for foreign bodies and performing inline product integrity checks, including fill level and cap or lid detection for bottles.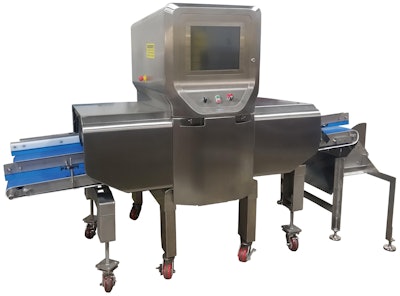 Peco-InspX presented X-ray inspection systems (8) incorporating HDRX imaging, which captures high-resolution images of products at normal production line speeds. HDRX imaging dramatically improves minimum detectable size and expands the range of detectable foreign material in a wide variety of applications. The new technology is available across the Peco-InspX X-ray system product line, including its side-view, top-down, and dual-energy systems.
We round out our inspection section with a look at leak detection and checkweighing, the latter highlighted at the booth of Spee-Dee Packaging Machinery. Spee-Dee's Evolution Checkweigher (9) provides an easy way to integrate accurate weight measurement into an existing filling or packaging line. The standalone unit delivers accuracy, simple connectivity, and easy calibration. "The Evolution Checkweigher is unique because it utilizes an electromagnetic force restoration weigh cell which gives you better accuracy," says Mark Navin, strategic account manager. It also uses PLC-based controls. To view a brief video on how it's calibrated, visit pwgo.to/5385.
As for leak detection, that was demonstrated by INFICON. The Contura S600 nondestructive leak detection system (10) on display at PACK EXPO Las Vegas featured an oversized test chamber. Designed to test multiple products at the same time, the system utilizes a differential pressure method to detect both gross and fine leaks. It can be used for products sold for bulk retail and foodservice applications, as well as large-format modified atmosphere packaging (MAP) and flexible packages for a variety of food applications, including pet food, meat and poultry, baked goods, snack foods, confectionery/candy, cheese, grains and cereals, prepared food, and produce.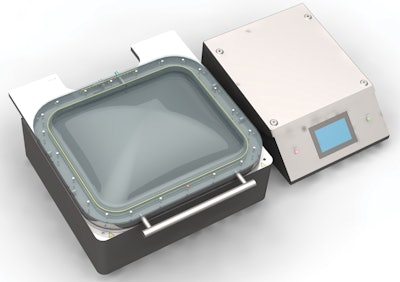 Tools for the food industry
Where would food manufacturers be without the best tools for cleaning their machinery assets, the best pumps and motors for optimizing efficiency and energy savings, and newly imagined retort technology that lets a user smoothly scale up from prototype to production?
On the cleaning front, Steamericas at PACK EXPO demonstrated their Optima Steamer (11), a valuable tool in helping food processors comply with the Food Safety Modernization Act. Portable and diesel-powered, the Steamer produces constant wet steam that effectively cleans a variety of surfaces. It can be incorporated with a number of different tools. At PACK EXPO a demo showed how the Steamer can be connected to a pneumatically driven tool that reciprocates back and forth over a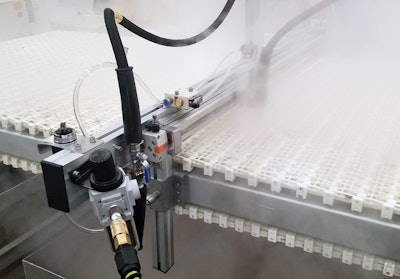 wire mesh conveyor belt. Says General Manager Yujin Anderson, "It can be adjusted in terms of width and speed of the nozzle, and steam can be easily applied to any kind of belt." For cleaning flat belts, a vacuum attachment is used to pick up any leftover moisture. Handheld, steam gun, brushes, and long lance models are available. See the Optima Steamer in action at pwgo.to/5386.
Elsewhere at PACK EXPO, Unibloc-Pump Inc. highlighted a uniquely designed line of sanitary lobe and gear pumps (12) for a wide range of applications for food and pharmaceutical industries. The Compac pump can be vertically or horizontally mounted, eliminates pump and motor alignment issues, and includes no accessible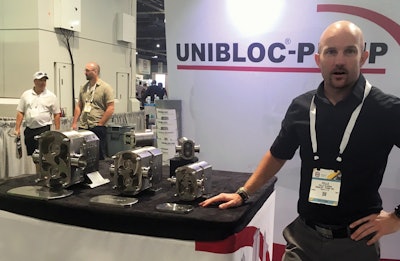 moving parts, thus improving worker safety. According to Pelle Olsson, national sales engineer with Unibloc-Pump, the Compac series of pumps are not mounted to any base, feature instant alignment that is engineered in place, help extend the bearing life, and feature a smaller footprint when building skids.
At the Van der Graaf booth, power consumption comparisons were on display. The firm presented the power consumption differences between its IntelliDrive products (13) and standard motors/gearboxes. The booth featured side-by-side displays with a one-horsepower motorized head pulley drum motor using new IntelliDrive technology versus a one-horsepower, standard electric motor and right-angle gearbox. Both devices were connected to loads via belts.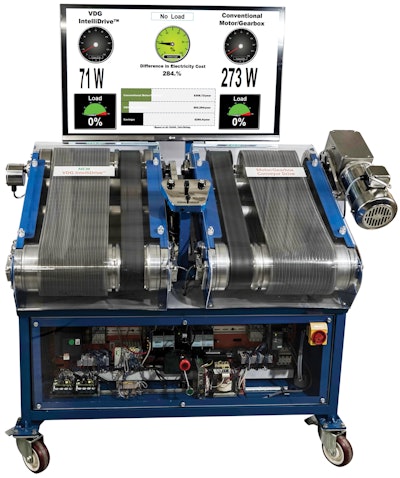 According to Drive Specialist Matt Lepp, both motors were loaded up to approximately 86 to 88 ft pounds of torque. "The Van Der Graff IntelliDrive uses 450 to 460 watts of electricity. The conventional motor gear box uses about 740 to 760 watts," says Lepp, resulting in approximately a 300 watt difference to do the same amount of work. "That correlates to about a 61% difference in energy costs," he states. View a video of this demo at pwgo.to/5387.
Meanwhile, Allpax, a product brand of ProMach, used PACK EXPO Las Vegas to launch the 2402 multi-mode retort (14) for developing new or enhanced food products and for quickly scaling up to production. It features rotary and horizontal agitation and saturated steam and water immersion modes.
The retort also features the new pressure profiler from Allpax that delineates cook and cooling process parameters to ensure package integrity by minimizing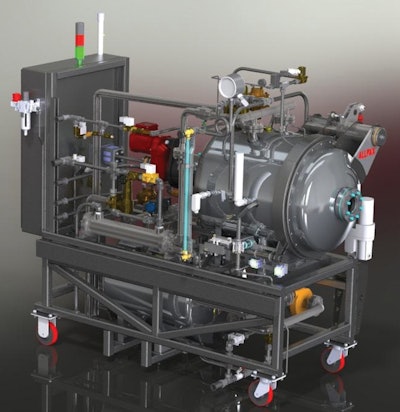 package deformation and stress during the sterilization process.
The large number of process combinations and profiles available from the 2402 multi-mode retort delivers the capability to develop entirely new product categories or refresh existing products with improved quality and taste.
Following PACK EXPO, the show unit was delivered to one of Allpax's latest customers, the North Carolina (NC) Food Innovation Lab, so it's up and running at this point.
"The NC Food Innovation Lab is a current Good Manufacturing Practices [cGMP] pilot plant that accelerates plant-based food research, ideation, development, and commercialization," says Dr. William Aimutis, executive director of the NC Food Innovation Lab. "The 2402 is one tool that allows this facility to offer a variety of capabilities and flexibility."
Changeover between modes is accomplished via software and/or hardware. The 2402 processes all types of packaging including metal or plastic cans; glass or plastic bottles; glass jars; plastic or plastic cups, trays, or bowls; fiberboard containers; plastic or foil laminated pouches, etc.
Each 2402 is equipped with the production version of Allpax control software, which is FDA 21 CFR Part 11 compliant for recipe editing, batch logs, and security functions. Using the same control solution for lab and production units ensures internal production operations and co-packers can accurately replicate process parameters.
Side sealer for sustainable new materials
Plexpack introduced its new Damark side-sealer, which is capable of configurations from 14 to 74 in. wide. According to Plexpack CEO Paul Irvine, the most important feature of the side sealer is its ability to run almost any heat sealable material, including paper, poly, foil, Tyvek, all on different configurations of the same machine. It's available in stainless or washdown configurations as well.
"The reason that we've gone to the lengths that we have to push for new, flexible wrapping technologies is that we see the sustainability issue as one that's only going to continue," Irvine says. "In Canada, we're at the point where single-use plastic is facing regulations, and it's also happening in some U.S. states and the European Union. Whether it's our Emplex Bag & Pouch Sealers, Vacpack Modified Atmosphere Bag Sealers, or Damark Shrinkwrap & Bundling Systems, we're seeing a great array of different materials that are going to be used in the future, whether they're regulated into the system or the market takes them on naturally."
Fascinating flow wrappers
The Alpha 8 horizontal wrapper (15) from Formost Fuji was designed to meet sanitary requirements. With easy removal of the fin seal and end seal units, the wrapper is wide open for a full visual inspection, thorough cleaning, and maintenance. The power cords simply disconnect and are provided with waterproof endcaps for protection during cleaning. Rolling stands are provided for the fin seal and end seal units during the removal and sanitation process.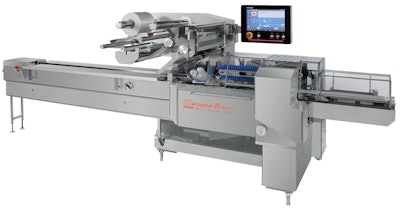 According to the company, the Fuji Vision System (FVS) incorporated in the wrapper has been improved, featuring an auto-teaching feature that includes auto detection of film registration, allowing for easier setup and product change. Other notable developments with the Alpha 8 wrapper include a shorter film route for reduced film waste during setup and stainless steel film rollers for increased hygiene. Watch a video of the Alpha 8 at pwgo.to/5388.
Another OEM that highlighted flow wrapping was BW Flexible Systems' Rose Forgrove. Its Integra system (16), a horizontal flow wrapper available in top- or bottom-reel models, has a hygienic and easy-to-clean design that's versatile enough for a range of applications. This machine is suitable for wrapping a wide variety of food and non-food products, both in MAP and standard environment, granting a hermetic seal using barrier, laminated, and virtually all heat-sealable types of films. According to the company, the Rose Forgrove Integra distinguishes itself through innovative engineering that focuses on delivering exceptional performance in challenging environments. A PLC-controlled horizontal form/fill/seal machine, it has five independent motors.
The top-reel version was the demo at PACK EXPO Las Vegas, where the machine was running baguettes. It featured a servo three-axis multi-belt or smart-belt feeder for accurate product spacing. This infeed system is compatible with upstream operations, cooling, accumulation, and de-panning in this instance. The machine is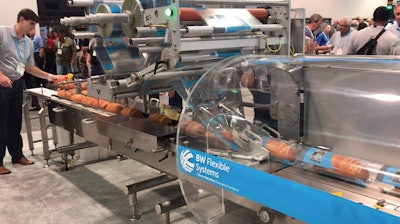 able to stop and start based on product availability, thereby preventing empty bag waste when there's a gap between product coming into the machine from the infeed. The flow wrapper is fitted with a twin-reel autosplice for splicing two reels together on the fly, preventing downtime when changing flow wrapper rollstock. The machine also features a twin-tape infeed, which connects easily to third-party infeeds (or BW Flexible Systems' smart-belt feeder as demonstrated). A long-dwell head system on the cross-sealing jaws is useful for MAP packaging or requirements for air-tight packaging, since it prevents oxygen from re-entering the bag after it has been flushed with modified atmosphere gases.
A third exhibitor that highlighted flow wrapping was Bosch Packaging Technology, which showcased one version of its highly efficient seamless bar packaging systems. The exhibit consisted of a high-performance, indirect distribution station, a paperboard inlay feeding unit, a high-speed Sigpack HRM flow wrapping machine, and a flexible Sigpack TTM1 topload cartoner.
The displayed system featured an optional paperboard inlay module. The Sigpack KA forms flat, U-shaped or O-shaped paperboard inlays that are fed into the high- speed flow wrapper. The Sigpack HRM is equipped with an HPS high-performance splicer and is able to wrap up to 1,500 products/min. One of the highlights of the system is the Sigpack TTM1 topload cartoner. It stands out for its high product and format flexibility. In this configuration, the machine either loads the flow wrapped products into 24-ct display cartons or fills them directly into a WIP (Work In Process) tray. In addition, the integrated bar system is equipped with the mobile device-friendly Operations and Maintenance Assistants that are both part of the Industry 4.0-based Digital Shopfloor Solutions portfolio. These user-friendly, intuitive assistants boost operators' capabilities and guide them through maintenance and operative tasks in a quick and easy manner.
Ultrasonic sealing and big-bag filling
Ultrasonic sealing technology is what Herrmann Ultrasonics is all about, and at PACK EXPO Las Vegas 2019 two areas the firm highlighted were the sealing of coffee capsules and longitudinal seals on bags and pouches.
Packaging ground coffee in capsules includes a number of production steps that make ultrasonic sealing technology an attractive choice, says Herrmann Ultrasonics. First, the sealing tools do not heat up, making ultrasonic technology gentle on the packaging material and easy on the product itself. Second, foil can be cut out and ultrasonically sealed onto coffee capsules in a single step at one workstation with the combination of ultrasonic sealing and a cutting unit for capsule lids. The single-step process reduces the overall footprint of the machinery.
Even if there is residual coffee in the sealing area, the ultrasonic technology still produces a tight and firm seal. The coffee is driven out of the sealing area before actual sealing occurs by mechanical ultrasonic vibrations. The whole process is accomplished in an average of 200 milliseconds, enabling an output of up to 1500 capsules/min.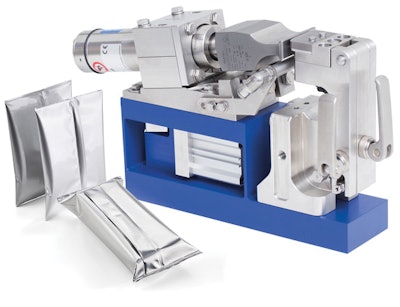 Meanwhile, over on the flexible packaging side of the scene, Herrmann has completely reworked its module LSM Fin for continuous longitudinal seals and chained bags on both vertical and horizontal f/f/s systems, making it compact, easy to integrate, and IP 65 washdown-rated. The longitudinal seal module LSM Fin (17) delivers high sealing speeds thanks to its long exposure area and does not require synchronization with the film feed as would be the case with rotating solutions. When sealing at the fin, speeds of up to 120 m/min can be achieved. The anvil can be easily removed using a quick-release system. Different contours are available and parallel seals are also possible. The sealing blade is easy to replace, while the parameter settings are retained.
Filling and sealing of much larger bags was a focus at the booth of Thiele and BW Flexible Systems. Highlighted was the OmniStar high-speed bag filling system, which offers production-enhancing features for large bags—those found in lawn and garden applications, for instance—that were formerly available only on smaller bagging systems.
In the system, stacks of die-cut bags (of any familiar material) are laid flat in a magazine at the rear of the machine, then fed into a tray within the machine's first station. There, a picker grabs each bag and orients it upright. The bag is then laterally advanced into a second station, where grippers open the bag mouth and filling occurs via a nozzle from an overhead hopper or auger filler. Depending on the industry or bag material, a third station may include polybag deflation and sealing, pinch paper bag folding and sealing, or woven polybag closing and sealing. The system handles and adjusts to irregular bag lengths, performs bag-top registration adjustment, and performs bag width adjustments in any changeover, all via an intuitive HMI. A colored-light safety- or fault-indicator system alerts operators to problems from a distance and communicates severity by light color. The OmniStar is capable of 20 bags per minute depending on the product and material.
According to Steve Shellenbaum, Market Growth Leader at BW Flexible Systems, there's another machine that wasn't at the show but bears attention in the context of the OmniStar. The company recently introduced its SYMACH overhead drop robotic palletizer system, also designed for larger bags of 20-, 30-, 50-lbs or more, that could reside immediately downstream of an OmniStar filler. This palletizer has a four-sided stacking cage that prohibits the load from tipping, keeping it upright until stretch wrapping can occur.
Shelf life-extending MAP system
The Nalbach SLX is a MAP system that was demonstrated at PACK EXPO Las Vegas. Suitable for integration into, for example, a rotary auger filler, it efficiently flushes packages with an inert gas, such as nitrogen, to displace the oxygen within the package. This process gives products such as coffee a much longer shelf life, retaining their distinctive aromas and flavors. The SLX is capable of reducing the residual oxygen (RO2) level to as low as less than 1%, depending on the application.
The machine incorporates a rail system designed with sanitation in mind. This system eliminates bacteria-harboring screens within the gas flow system, and the rails themselves can be easily disassembled, then reassembled, for thorough cleaning. The system also was designed with fewer parts than other models and uses no consumables, eliminating the cost and time associated with routine wearpart replacement.
A unique Cooled Gases system reduces the temperature of the gas used to flush a package. It's a highly efficient system that cools the gas immediately before it enters the container and requires no additional energy in the cooling process. The colder gases tend to remain in the package and don't dissipate into the surrounding atmosphere, thereby reducing the amount of gas required.
The Nalbach SLX is efficient in its use of purging gases with the SLX Crossflow Purge Chamber used to purge the product on-the-fly as it enters the filling system. The Crossflow Purge Chamber eliminates the need to pre-purge the product as well as the surge/feed hopper prior to entering the filler.
The Nalbach SLX provides a high level of sanitation and reduced labor cost; it eliminates consumable costs and uses far less purging gas. All Nalbach fillers manufactured since 1956 can be fitted with the SLX gassing system. SLX technology can be integrated into fillers made by other manufacturers, as well as upstream and downstream equipment. For video of this technology, go to pwgo.to/5389.
Vf/f/s machines
Based on its X-Series baggers,Triangle Package Machinery's new Model CSB sanitary vf/f/s bagging machine (18) for 13-in. bags, debuting at PACK EXPO Las Vegas, features a control box, film cage, and machine frame modified to fit into a narrow frame width of only 36 in.
When Triangle's produce customers asked for a smaller bagging machine that could fit inside a narrow footprint and run bags up to 13 in. wide, while still offering the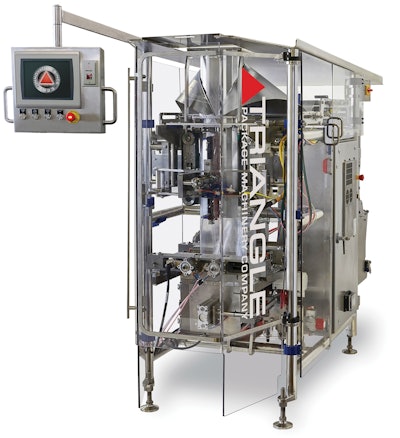 durability, flexibility, and superior sanitation features that Triangle baggers are known for, they got a two-word response: challenge accepted.
The R&D team at Triangle Package Machinery Co. took proven elements from the existing X-Series vf/f/s baggers and designed the new Compact Sanitary Bagger, Model CSB. Components such as the control box, film cage, and machine frame were modified to fit into a narrow frame width of only 36 in. To achieve maximum benefits, two Compact Baggers can be installed side by side (as a twin on 35-in. centers), sharing the same scale for filling the bags.
Model CSB packs a lot of benefits in a very small space. Designed with the fresh-cut produce market in mind but suitable for a variety of applications, the vf/f/s bagging machine includes a film cage designed to be as narrow as practical yet can accommodate the 27.5-in. film roll needed to make 13-in. wide bags.
Model CSB can run speeds of 70+ bags/min, depending on bag length. When set up this way, two Compact Baggers can fit on one salad line, 35 in. on center, to produce 120+ retail packages of leafy greens/min. This also provides the flexibility to run varying film structures or film rolls, or to perform routine maintenance on one machine without disrupting production on the second machine. Even in a side-by-side configuration, the bagger's small footprint is very similar in size to that of typical single-tube baggers. This allows customers to achieve significantly more production within the same footprint without having to add more feeding systems, labor, and floor space.
Sanitation is also a key benefit. To simplify cleaning and maintenance needs, the bagger is designed to be washed in place.
Also highlighting vf/f/s equipment at the show was Rovema. Its Model BVC 145 TwinTube continuous-motion machine features a pneumatic film spindle with servo motor pre-film unwinding. Film packaging materials are introduced from a single spindle with an internal splice into two films nearer the dual mandrel formers. The system includes metal detection built-in and toolless changeover on the machine's forming sets.
The all-around high-speed is capable of 500 bags/min, with 250 bags per side on the twin bagging system. The machine is designed for efficient packaging of bulk products
"One of the coolest features of this machine isn't just the speed, it's the ease of maintenance," says Mark Whitmore, Sales Support Coordinator, Rovema North America. "The entire electrical cabinet body is on rails and hinged, so it can be easily removed for maintenance access inside the machine."
F/f/s for portion packs


IMA DAIRY & FOOD presented a range of equipment including its Hassia P-Series form/fill/seal portion pack machines (20) that incorporate a new cell board conveyor discharge that controls round cups through case packing. The P500 version handles web up to 590-mm wide at forming depths up to 40 mm. Suitable for a variety of cup designs and materials, including PS, PET and PP, it can achieve speeds to 108,000 cups/hr. The P300 model features a new frame and guarding package for easier machine accessibility. Both the P300 and P500 now offer hygiene levels up to FDA-filed, low-acid aseptic.
Coding and labeling
The Videojet 7340 and 7440 fiber laser marking systems (19) feature the smallest marking head on the market today for easy integration into the packaging line. It's possible to mark up to 2,000 characters/sec. And this water-and dust-tight IP69 laser marking head means worry-free usage in washdown and harsh environments.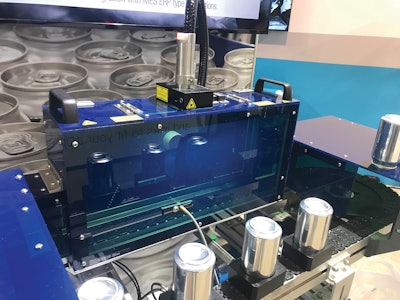 "The laser is great for marking onto robust materials including plastics and metals for industries like beverage, automotive, pharmaceutical, and medical device. The Videojet 7340 and 7440 complement our full lineup of CO2, UV, and Fiber lasers to mark on a wide array of products and packaging," says Matt Aldrich, Director, Marketing and Product Management—North America.
In addition to lasers, Videojet also featured a full range of packaging solutions from the extensive Videojet coding and marking line, including the Videojet 1860 and 1580 continuous inkjet (CIJ) printers, the new Videojet 6530 107-mm and 6330 32-mm airless thermal transfer over printers (TTO), thermal inkjet (TIJ) printers, case coding/labeling printers, and IIoT-enabled VideojetConnect™ solutions that leverage advanced analytics, remote connectivity, and the largest service footprint in the industry.
On the labeling front, two ProMach brands, ID Technology and PE Labellers both showed advancements at the PACK EXPO show. ID Technology introduced their CrossMerge™ label applicator module for print-and-apply labeling. Suitable for high-volume secondary packaging lines, the patent-pending new CrossMerge technology increases label output at the same time it simplifies mechanics and improves print quality and barcode readability.
"CrossMerge is a unique new concept for labeling secondary packages with GS1-compliant barcodes at very high speeds," says Mark Bowden, Regional Sales Manager at ID Technology. "Like other label applicator modules in our PowerMerge™ family, CrossMerge decouples print speed from line speed to simultaneously increase output and improve print quality compared to traditional tamp or feed-on-demand print &-and-apply labelers. Now, with CrossMerge, we've rotated the print head to change the orientation of printing. It has all of the advantages of PowerMerge and takes it further, with even higher throughput and print quality for select applications."
By rotating the print head, CrossMerge optimizes the conditions for both barcode printing and label application. To produce well-defined edges and ensure the best scores when verified, the bars of linear barcodes run parallel to the direction of feed (called "picket fence" printing), rather than perpendicular (called "ladder" printing). Unlike traditional print & apply labelers that must produce linear barcodes in the non-preferred "ladder" direction to apply GS1-compliant labels in landscape orientation, CrossMerge prints barcodes in the preferred "picket fence" direction and applies labels in landscape orientation.
Rotating the print head also enables CrossMerge to increase output and decrease print speed to reduce print head wear and tear and further improve print quality. For example, instead of using 2x4 GTIN labels, which are 2 in. across the web and 4 in. long in the direction of travel, CrossMerge customers can use 4x2 labels, which are 4 in. across the web and 2 in. long in the direction of travel. In this example, CrossMerge is able to dispense labels at twice the rate or slow the print speed in half to improve print quality and double the life of the print head. Furthermore, CrossMerge customers switching from 2x4 to 4x2 labels get twice the number of labels per roll and cut label roll changes in half.
Using a vacuum belt to transfer labels from the print engine to the point of application, PowerMerge allows multiple labels to be on the vacuum belt at the same time and enables the system to start printing the label for the next product without delay. CrossMerge reaches up to six in. over the conveyor to gently apply the labels without skewing or creasing. The all-electric design features a fan-based vacuum generator—it requires no factory air.
Compared to traditional print-and-apply labeling systems, PowerMerge increases packaging line throughput while decreasing print speed. Lower print speeds result in higher print quality, including sharper images and more readable barcodes, as well as longer print head life and less print engine maintenance to reduce the total cost of ownership.
Together, the high-speed vacuum belt, which transfers the labels, and the spring-loaded roller, which applies the labels, minimize moving parts to further reduce maintenance and enhance reliability. The system achieves consistently precise label handling and placement, easily tolerating low-quality labels, older labels with adhesive ooze, and non-conforming packages. Rolling labels onto packages eliminates complicated timing issues and improves worker safety compared to traditional tamp assemblies.
The CrossMerge label applicator module can be combined with a thermal-transfer or direct-transfer print engine to print linear and data matrix barcodes, including serialized barcodes, and variable information text to "bright stock" or pre-printed pressure sensitive labels. It can be equipped to apply side labels to cases, trays, shrink-wrapped bundles, and other secondary packages. An optional "zero downtime" configuration speeds changeover.
As for PE Labellers, what they debuted was an upgraded Modular Plus SL labeler that for the first time in the U.S. features controls from B&R Industrial Automation. With all major controls components from B&R—HMI, servo drives, servo motors, controller—it's easier to get data from one component to another.
"We wanted to program this machine to eliminate as much operator error as possible with all the servo drives and the programmable stations," says Ryan Cooper, vice president of sales at ProMach. When the operator is at the HMI, he or she can select the changeover format, and everything automatically switches over, eliminating the amount of times that an operator has to touch the machine. The machine displayed on the show floor, which had 20 bottle plates, labels up to 465 bottles/min. Other available models can label more than 800 bottles/min.
Also included is a new camera orientation system that can orient bottles prior to labeling at a rate of 50,000 bottles/hr. The camera inspection system ensures correct label placement and label SKU to produce a correct bottle every time.
The labeling machine has high-speed pressure-sensitive labeling stations, which allows it to dispense labels up to 140 meters/min. "We use an accumulation box, which controls the tension of the label web as we dispense the label on to the containers. This result in better precision," says Cooper. Even with all these new enhancements, the machine fits into a smaller footprint.
Flexible chain conveyors
The ability for conveyors to make tight turns in and around existing equipment is paramount as floor space continues to shrink in manufacturing and packaging facilities. Dorner's answer to this demand is its new FlexMove conveyor platform, which was showcased at PACK EXPO.
Dorner's FlexMove flexible chain conveyors are designed for effective horizontal and vertical product movement capabilities when floor space is limited. FlexMove conveyors are engineered for numerous applications, including:
• Packaging
• Automation
• Part handling
• Product transfers
• Machine conveyance
• Elevation changes
• Tight spaces
FlexMove conveyors allow for horizontal turns and elevation changes on a continuous run driven by a single gearmotor. Styles include Helix and Spiral, both of which feature continuous 360-deg turns for moving product up or down in a vertical space; Alpine design, which features long inclines or declines with tight turns; Wedge design, which conveys a product by gripping the sides; and Pallet/Twin-Track Assembly, which works by moving the palletization of products with similar sides.
FlexMove conveyors are available in three purchasing options based on the customer's application and situation. With FlexMove Components, customers can order all the necessary parts and components to build their FlexMove conveyor onsite. FlexMove Solutions builds the conveyor at Dorner; it's tested and then disassembled into sections and shipped to the customer for installation. Finally, the FlexMove Assembled Onsite option features the Dorner installation team assembling the conveyor onsite at the customer's location.
Another platform on display at PACK EXPO 2019 is Dorner's new AquaGard 7350 Modular Curve Chain conveyor. The newest iteration of Dorner's AquaGard 7350 V2 conveyor, the modular curve chain option is the industry's safest and most advanced conveyor in its class. It's the only side-flexing modular belt offered in North America to meet the new International Standard for maximum 4-mm openings; the upper and lower chain edges are covered for added safety. Furthermore, its innovative features include an 18-in. wide belt that eliminates gaps between belt modules, while also simplifying belt disassembly and re-assembly.
Additionally, the stainless-steel center bearing chain brings added performance, including the ability to have more curves per motor, all while carrying a greater load capacity.
Glue Dots in POP application
At its booth, Glue Dots International demonstrated how its versatile pressure-sensitive adhesive patterns can be used as an alternative to double-sided foam tape or hot melt for point-of-purchase (POP) display assembly (21). P-s adhesive patterns reduce labor while increasing efficiency, productivity, and profits, notes Glue Dots.
"Across a wide variety of industries, the range of uses for Glue Dots' preformed pressure sensitive adhesive patterns is virtually limitless," says Ron Ream, National Sales Manager for Glue Dots International—Industrial Division. "Each year, we like to invite visitors to our booth to educate them about new, highly effective applications for our adhesives."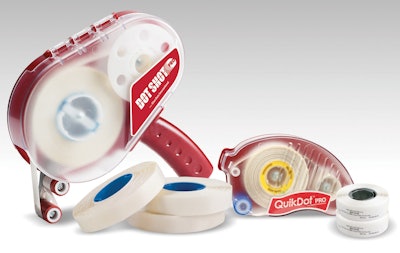 Recommended for co-packers, Consumer Packaged Goods companies, and third-party logistics personnel assembling POP displays, Glue Dots' range of hand-held applicators include the Dot Shot® Pro and Quik Dot® Pro with 8100 adhesive patterns. According to Glue Dots, the applicators are simple and easy to load, durable enough to withstand any work environment, and require virtually no training.
Compared with manual application of double-sided foam tape—a process widely used in the assembly of POP displays—the p-s adhesives can be instantly applied by simply pressing and pulling the applicator. The applicator allows operators to apply adhesive nearly 2.5-times faster by eliminating process steps. For example, on an 8.5 x 11-in. corrugated sheet, placing a 1-in.-square piece of foam tape at each corner takes an average of 19 sec, with a throughput of 192 pieces/hr. When following the same process with Glue Dots and an applicator, the time is reduced by 11 sec/corrugated sheet, increasing throughput to 450 pieces/hr.
The hand-held unit also eliminates liner litter and potential slip hazards, as the spent liner is wound on a take-up reel, which stays inside the applicator. And the need to inventory multiple tape sizes is eliminated, since there are no length limitations.

Companies in this article
Videos from VDG (Van der Graaf)