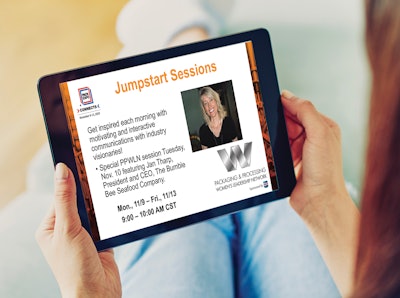 While more than 600 exhibitors have already signed up for PACK EXPO Connects coming November 9-13, the new virtual show also includes expanded educational content featuring leading experts on packaging and processing trends.
Comprehensive educational content will feature thought-provoking sessions from industry experts on today's trends. Information gleaned from these sessions will enhance attendee knowledge as they head into PACK EXPO Connects virtual showrooms for specific solutions. All educational content will be available both as scheduled during the event and on demand.
Innovation Stages – Daily presentations Monday through Thursday during the virtual the show will inform and engage with sessions on the exhibitors' latest innovations. Tune in for 30-minute sessions to hear from exhibitors and industry experts on the latest breakthroughs and trends in sustainability, food and beverage, and more. Presenters will be available during their scheduled sessions for live chat Q&As. If you miss the live scheduled session, video links will be available for future viewing.
---
See it Live at PACK EXPO Connects Nov. 9-13: Introducing the Revolutionary Beverage Can Coding Solution that everyone is talking about. Why aren't you? by Domino Amjet, Inc. Preview the Showroom Here.
---
The Solution Room – Friday features interactive sessions led by thought leaders and partner organizations, discussing packaging and processing challenges. Collaborate to find solutions with industry gurus from the Institute of Packaging Professionals, The Association for Contract Packagers & Manufacturers, the OpX Leadership Network, and OMAC - The Organization for Machine Automation and Control.
Daily Jumpstart Sessions – Start each day of the show with the morning Jumpstart sessions. The daily kick-off presentations are highly engaging and fast paced, featuring multiple subject matter experts in addition to reporting from PMMI Media Group editors.
The topics include:
• Monday – Sustainable Packaging and Processing
• Tuesday – Workforce Development and a special Packaging & Processing Women's Leadership Network education session with Jan Tharp, president and CEO at Bumble Bee Foods. PPWLN events connect the audience through valuable insights on women in the industry.
• Wednesday – The Robot Revolution
• Thursday – All Things Remote
• Friday – E-Commerce, Emerging Brands, Healthcare Packaging Trends, and Contract Packaging
---
See it Live at PACK EXPO Connects Nov. 9-13: Improve Food Safety in Packaging, by Dorner. Preview the Showroom Here.
---
Trend Chats will feature a brief conversation, Monday through Thursday, between prominent industry experts and PMMI Media Group editors, including:
• Monday – Cannabis Packaging
• Tuesday – Food Production and Manufacturing Innovation
• Wednesday – Traceability and Temperature Control for Pharma and Food
• Thursday – Digital Printing
Daily Download – Wrap up each day, Monday through Friday, hearing from PMMI Media Group editors as they recap can't-miss showcases and demos, the latest innovations, and thought-provoking sessions.
Registration is free for attendees at www.packexpoconnects.com.
Join us for "The Most Engaging Virtual Event for the Entire Industry" at PACK EXPO Connects, November 9-13. Live demos of equipment and products, live chat with product experts, expedited product search, and more. Attendee registration open now!
Other articles you make like:
Artificial Intelligence Advances Food Safety
Keeping Food Processing Safe During COVID-19
Register Now for First of Its Kind PACK EXPO Connects