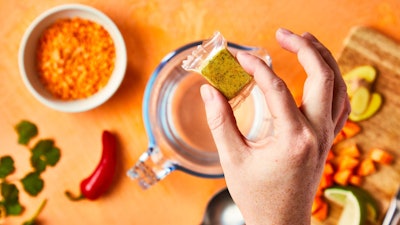 British meal kit pioneer Gousto Recipe Box delivers kits containing pre-measured ingredients and expert instructions to help consumers create delicious meals for themselves at home. The company recently teamed with Xampla, a mission-based commercial spinout from the University of Cambridge, U.K., to trial an edible film specifically engineered for a commercial stock (bouillon) cube packaging application in one of Gousto's meal kits. After 15 years of research and one year of development, Xampla says the application is a world-first edible packaging solution to be made from pea protein. The product can also be described as a plant protein polymer, natural polymer or protein polymer. This product is a single layer film, designed for this precise application. The edible stock cube packaging is being trialed to replace Gousto's existing stock mix sachets, for a packaging-free stock that's full of flavor.
Gousto is beta-testing the technology, rolling out this month, as part of its ongoing efforts to reduce plastic packaging in its recipe boxes. Following its first full year of profitability in 2020, the recipe box company recently became a certified B Corporation™, joining a global community of businesses that are committed to growing the right way for people and the planet, including Xampla.
This was achieved in part by Gousto's ongoing work to reduce plastic packaging in their recipe boxes. Last year the business cut plastic by 50% in their boxes by switching to more cardboard packaging and launching the Eco Chill Box, an innovative insulator made of recycled cardboard, that keeps ingredients fresh in boxes.
A further 17 tonnes [18.8 tons] of plastic could be saved by Gousto annually if the new edible stock cube packaging is rolled out in full to customers in the future, the company says.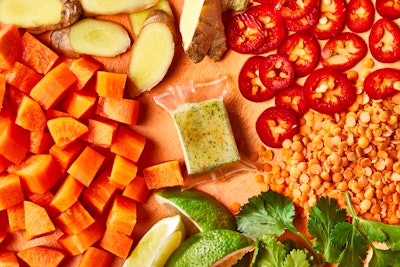 How the pea protein film is made
The edible packaging is made primarily by engineering and drying a pea protein material into sheets that have the same benefits as plastic, being able to preserve the food's flavor and shelf life, but with none of the packaging waste, the company says. The material is vegan and gluten-free.
"The film is created using starch and pea protein," says Simon Hombersley, CEO of Xampla. "Our process for manufacture includes the use of vinegar, but none remains in the final product. This process of controlling the self-assembly of proteins is how we create the strong, flexible film – precise formulation of the material is a trade secret, but everything is 100% natural, we use no synthetic materials in our product or process."
Home cooks who take part in the trial will enjoy the vegetable stock cube in Gousto's Indian Spiced Carrot & Lentil Soup recipe, by simply dissolving the stock cube and its packaging in hot water.
Characteristics and barrier properties
"We have worked with Gousto to create a bespoke stock cube wrapper that delivers the barrier properties that their stock needs (in box and transit) but that dissolves in use," Hombersley says. "This precise formulation to meet the customer requirements is Xampla's expertise. For Gousto, the requirements for oxygen barrier are limited. Plant-protein films generally have very good oxygen barrier performance, and for other applications we are developing this is a priority.
---
| | |
| --- | --- |
| | This Gousto Recipe Box application looks promising but edible packaging hasn't hit the mainstream yet Check out a couple of applications that cropped up over the past few years. |
---
"There is no specific secondary packaging required for this stock cube wrapper. It is packaged alongside the other food ingredients in Gousto's recipe box. This application is dry, but we are working with other clients on applications for pastes, powders and certain liquids," adds Hombersley.
Sustainability profile
The new innovation comes after a recent study by environmental services company Foodsteps revealed that dinners from Gousto produce 23% less carbon emissions than equivalent meals from supermarket stores. If every home in the country replaced supermarket dinners with meals from Gousto for just one year, 10.3 million tonnes [11.35 million tons] of CO2e[quivelent] could be saved, the same as taking nearly 140,000 buses off the road for a year, according to the company.
Adds Gousto CEO and founder Timo Boldt, "At Gousto, our purpose is to build products that have a positive impact on people and the planet, and we invest in innovations that will help us get there. We are so proud of our Eco Chill Box and the significant amount of plastic we cut from our boxes as a result. This partnership with Xampla is another super exciting step towards reducing plastic packaging even further. We're excited to see what our customers think, and to continue paving the way for innovative sustainable solutions in our industry."
The edible packaging was available for customers to choose to add to deliveries in November 2021, as part of the Indian Spiced Carrot & Lentil Soup recipe. -PW