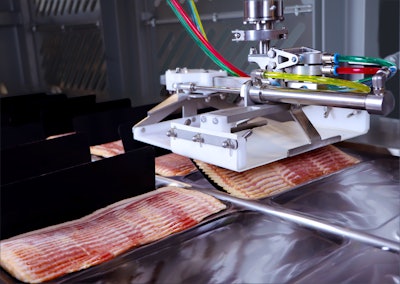 Robots' use in food packaging applications is growing as a greater number of robots adhere to IP69K construction standards for sanitation. That's according to PMMI's recent robot report, "2022 Robots and Cobots An Automated Future," which shares that the primary packaging applications for which robots are being used are bag and bottle handling, container loading, multipacks, package inserts, pick-and-place, tray unloading and loading, and more.
According to a report from TechNavio, the food packaging robotics market size is expected to grow by $1.03 billion, with a year-over-year growth of 4.75% from 2021-2025. "One of the key factors driving the food packaging robotics market growth is the assurance of safety and quality," explains the report.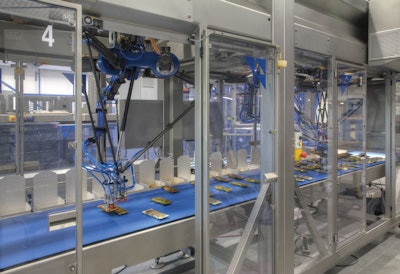 One new robotics innovation for primary food packaging is a robotic tray-loading system from BluePrint Automation's (BPA) called the Spider 100v. Explains the company, the system replaces a traditional collate-and-load system and eliminates racetrack collation and potential jam points. Recommended for bags, pouches, cereal/nutritional bars, and other flow-wrapped products such as frozen novelties and baked goods, the Spider 100v uses a combination of four- and six-axis delta robots and an integrated vision system to pick product and place it into trays, cartons, cases, and other secondary containers.
---
---
The vision system is designed to pick random, unoriented product, which eliminates the need to perfectly orient the product prior to it entering onto the pick belt, therefore reducing floor space. The vision system also provides built-in product inspection, detecting double wraps, bad product size, and more.
The Spider 100v can accept product from bulk using BPA feeding technology and is built using BPA's standard modular frame, which the company says reduces cost by minimizing wiring and reduces the footprint by eliminating bulky external electrical cabinets.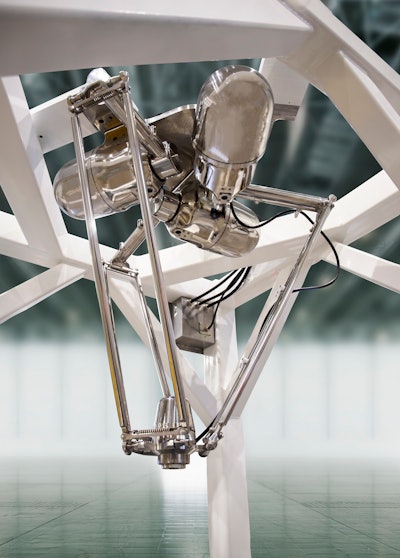 Also engineered for picking and packing primary food products is a new robot from Fanuc, the DR-3iB/6 STAINLESS, which is the company's first stainless steel, food-grade delta robot. Rated IP69K, the robot meets USDA and FDA food safety standards, with a fully enclosed stainless steel body that is resistant to the chemicals and high pressures/temperatures required in strict wash-down environments. Notes Fanuc, the robot's mirror-like surface finish ensures that any microbial contaminants can be washed away cleanly.
---
---
Other hygienic features include NSF H1 food-grade lubricant, secondary oil catch basins (with viewing windows to monitor potential leaks), self-draining surfaces, and other details driven by USDA/FDA standards.
The DR-3iB/6 Stainless has a 1200-mm reach and a four-axis design that allows it to handle 6-kg payloads at high speeds. The new robot operates with Fanuc's latest R-30iB Plus controller with integrated intelligent functions such as iRVision, Force Sensing, Robot Link, Collision Guard, and Zero Down Time (ZDT).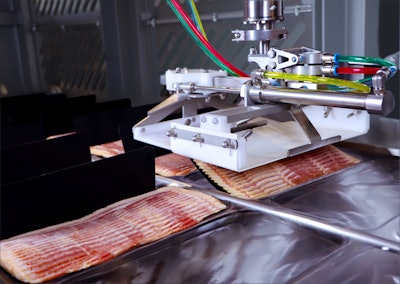 JLS Automation also recently debuted a food loading system equipped with an IP69K-rated delta robot: the Harrier Bacon Draft Loading System. The system automatically loads fresh sliced retail bacon drafts into thermoformers. According to JLS, the Harrier replaces the typical complex series of conveyors and devices often used for this process while helping solve labor gaps. A patent-pending robotic gripper EOAT pre-folds a flat bacon L-board flap using a combination of linear servo actuators. The folded draft is then rotated 180 deg and articulated down into the thermoformer pocket. Drafts can also be loaded onto a pattern-loading board of a thermoformer designed for fresh retail bacon packaging. The system has a surge capacity of 20%.
Notes JLS, the vision-guided robot's targeting system accommodates a wide range of draft position variance on the infeed conveyor while also providing a degree of draft quality inspection. The Harrier has an open design, which the company says contributes to its sanitary design and wash-down capability, as well as provides easy access for operator loading of "Make Weight" and "B-Grade" drafts. The stainless steel IP69K-rated delta robot sits in an open-channel chassis and features tool-less disassembly of all tooling and conveyors for easy cleaning and sanitation.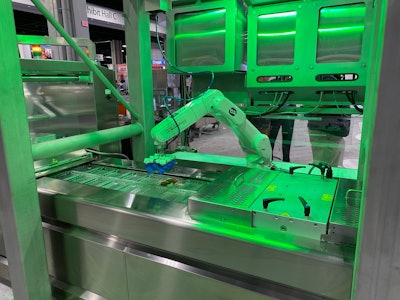 Another solution that picks and packs protein into a thermoformer is an integrated system from Quest and Ossid, both part of the ProMach family of brands. Recently demonstrated at a trade show, the integrated packaging line featured a Quest six-axis robotic pick-and-place system feeding an Ossid thermoformer. Using Fanuc IR vision and the flexibility of the robot's six axes, the system oriented and loaded steaks into thermoformed trays. The robot EOAT was equipped with a Soft Robotics gripper, designed for hard-to-handle products such as poultry and meats.
Says Mandy Turner, Regional Sales Manager for Quest Industrial, "The protein industry has been hit hard with labor shortages over the past two years. Quest is developing innovative, small-footprint, cost-effective solutions to alleviate labor in the most difficult of bulk handling applications."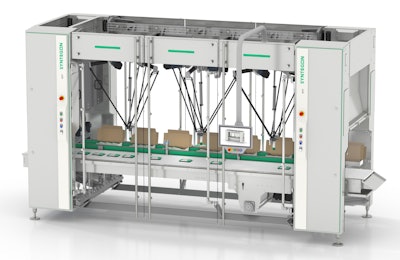 Offering handling and feeding capabilities in addition to loading for both packaged and unpackaged products, including food and pharmaceuticals, is the new Robotic Pick & Place platform, or RPP, from Syntegon. The platform uses a modular cell design that enables individual configuration of the robotic cells, with up to three delta robots per cell. Explains Andreas Schildknecht, Product Manager Robotics at Syntegon, "Each customer project is different. Thanks to the modular RPP platform, we can handle a wide variety of products. The delta robots can be flexibly connected and, together with transport modules, seamlessly integrated into an overall system. Together with our customers, we can automate single process steps consecutively and in line with their needs or budgets, following the principle 'build as you grow.' Moreover, the platform can be scaled to suit different production capacities, while multiple cells can be connected."
Among the functions handled by RPP are product handling, including capping, changing orientation, and grouping as single, stacked, shingled, multipacks, variety packs, or assortments; loading of products into trays, u-boards, boxes, or cases; or feeding of products into infeed chains of primary and secondary packaging equipment. Depending on the type of EOAT, RPP is capable of performing multi-pick, reflex-pick, grouping, pre-stacking, product orientation, and tilting functions.
RPP uses open control software that ensures the seamless integration of the delta robots into the line. According to Syntegon, the RPP cells provide "excellent visibility, easy access, and efficient cleaning." The stainless steel robotic cells also meet the IP65 protection class and are built to fulfill the latest food safety regulations.

---
---
Companies in this article