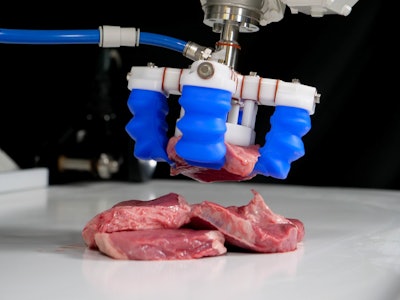 Among the improvements expected to influence the adoption of robotics in the near future are easier changeover and advancements in end-of-arm tools (EOATs). According to a controls engineer from one OEM who was interviewed for a report, "2022 Robots and Cobots An Automated Future," from PMMI – The Association for Packaging and Processing Technologies, "EOAT design will advance the use of robots in the years ahead, since most of the applications and functionalities are driven by the customer."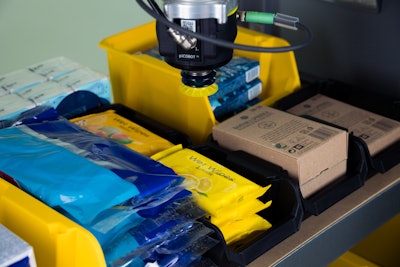 To eliminate the need to change a gripper or suction-cup EOAT for each individual product in an application, Piab has introduced the MX suction cup, which can work across an array of solutions, such as bin picking, order fulfillment, box depalletizing, and order sorting.
The multipurpose suction cup is said to have extreme gripping capabilities on many surfaces and materials, including cardboard boxes, recycled objects, and difficult-to-grasp bags, among others. It also has the ability to create a hard seal with up to 50% less vacuum flow, which Piab says contributes to a more sustainable energy output. The suction cups are available in five sizes—35, 42, 50, 57, and 65 mm dia—and are compatible with Piab's piGRIP fitting program, which allows for custom fitting options.
---
---
In addition, the EOAT's low-vacuum-level design ensures packages do not become dented or wrinkled, which means they have a better chance of being recycled or reused. The suction cup is designed with Piab's extreme-longevity material, Duraflex, which the company says has tested positively for over 750,000 cycles. "This material features the elasticity of rubber and the outstanding wear-resistance of polyurethane, as well as fantastic elastic memory and 'mark free' capabilities," Piab claims.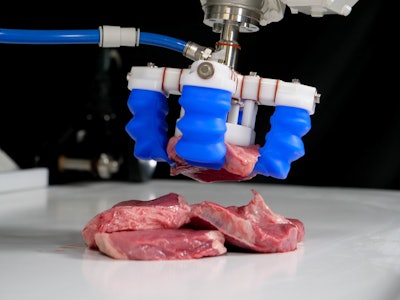 For the food packaging industry, Soft Robotics, known for its soft gripper technology, has introduced new mGripAI software, which incorporates proprietary 3D vision, AI, and soft-grasping technology to pick, place, and sort delicate, variable, and bulk food products in the protein, prepared foods, produce, and baked goods industries.
According to Soft Robotics, mGripAI augments traditional industrial robots with true hand-eye coordination to unlock its use in most labor-dependent processes. The company predicts that "this technological innovation will finally drive broad-scale adoption of automation resulting in a more resilient food supply chain that produces safer products at higher volumes with reduced waste and lower operational costs."
---
---
The mGripAI Perception Module is the eyes of the solution. It captures high-resolution, 3D images that are sent to the Intelligence Module for further processing. The Intelligence Module is the brain behind mGripAI. It translates images into action for the robotic arm and gripper. The hands of the solution are specialized mGrip soft grippers that work in unison with the robot arm (the gripper can be integrated with virtually all industrial robots) to pick delicate, variable product at speeds to 90 products/min. Applications include food that is touching, overlapping, or piled on a conveyor and 3D bin picking. The gripper has an IP69K rating and uses food-grade materials.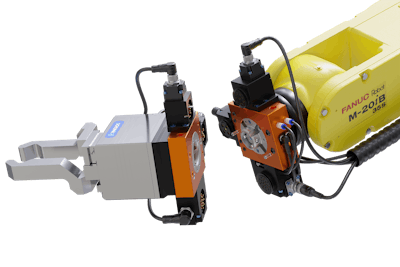 To speed robot changeover, ATI Industrial Automation has introduced the QC-29 robotic tool changer for the 25- to 35-kg payload class. Says the company, the QC-29 is the first standard ATI Tool Changer designed to mount directly to 40- and 50-mm robot wrists.
---
---
The QC-29 includes in-body lock/unlock and ATI's fail-safe locking mechanism. Built-in pneumatic pass-through ports and three-module mounting make connecting utilities easy, says the company, and the zero-freeplay design ensures maximum repeatability for high-precision tool changing.
The robotic tool changer is compatible with ATI's range of standard utility modules and tool stands, enabling an array of configurations, ranging from ultrasonic welding to servomotor support and other applications.
---
---
Companies in this article