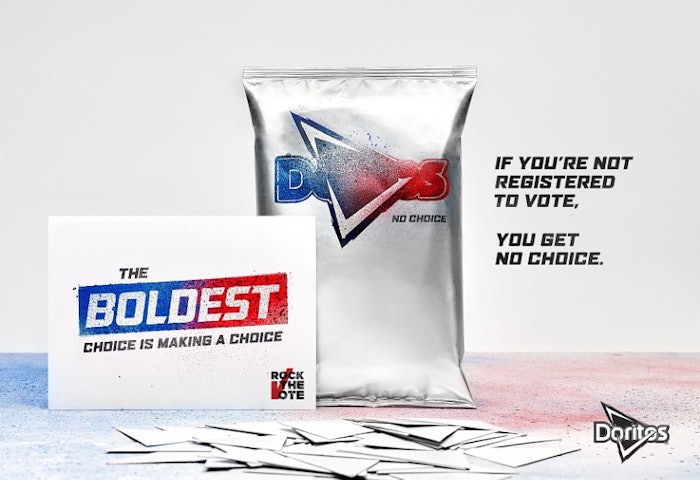 According to the U.S. Census Bureau, 62 percent of Americans 18 to 24 years of age did not vote in 2012. With the millennial generation set to become one of the largest and most diverse voting contingents in the country, PepsiCo's Doritos brand is trying to reverse the trend.
Doritos is partnering with Rock the Vote, a non-partisan, non-profit organization dedicated to building long-term youth political power, to engage and mobilize young people to register to vote and participate in elections.
As part of the Boldest Choice campaign, the Doritos brand is introducing a limited-edition Doritos bag created for those not registered to vote. It has no taste, no crunch and no chips to illustrate that, if you don't make a choice, you don't get a choice. 
Doritos is joining Rock the Vote on its Truth to Power bus tour to various stops at college campuses, beginning with a stop in Denver, Colo. Doritos will also join Rock the Vote to rally youth voters at additional stops in Madison, Wis. and Chicago, Ill.
Starting September 27 (National Voter Registration Day), consumers can order a bag of "No Choice" Doritos at www.Doritosredvsblue.com/Vote and send them to someone they know who is not registered to vote. Doritos hopes the bag will encourage them to make the boldest choice – registering to vote online and then going out and making a choice by casting their ballot on November 8.
Doritos created a vending machine that dispensed the bags instead of the consumer's snack of choice to students not registered to vote. Only registered voters got their choice of Doritos Nacho Cheese or Cool Ranch from the machine — demonstrating that when you're not registered to vote, you don't get a choice and, if you are, you do. Watch the students' reactions in this video: www.Doritosredvsblue.com/Vote.