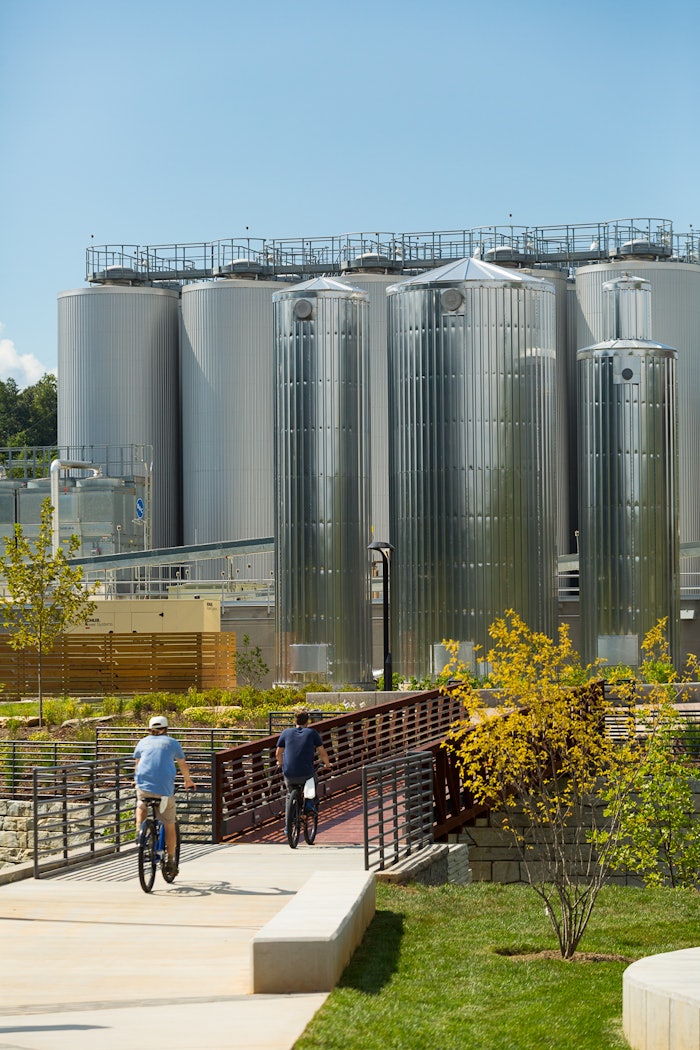 Twenty-five years ago, Jeff Lebesch developed Belgium-inspired craft beers out of his basement after riding his mountain bike with "fat tires" through European villages famous for beer.
Today, New Belgium Brewing, Fort Collins, Colorado, celebrated its quarter-of-a-century anniversary with the opening of a 127,000-square-foot brewery in Asheville, N.C., that produces 500,000 barrels a year for distributors nationwide.
The brownfield site was a former auto salvage yard, auction house and stockyard that aligned with the company's sustainable in-fill and redevelopment strategy.
"New Belgium deconstructed the former buildings on the site, and 97% of those materials have been re-purposed and re-used," says Susanne Hackett, communications specialist.
Reclaiming this site for use along the French Broad River was as important as incorporating green building practices, according to Hackett.
"All of the parking areas and roads have drain rainwater runoff into a range of stormwater treatment areas (bioswales, bio-retention, constructed wetlands and more), and the campus is a model for low impact development in the city," she adds. 
Other innovative features include stream daylighting, restoration of Penland Creek, rainwater capture, LED lighting, high-efficiency cooling and distribution heating and cooling, solar hot water and PV, natural ventilation, HVAC and process heat recovery, pollinator-friendly landscaping and LEED-Silver certification on the distribution center. New Belgium Brewing is also pursuing LEED certification for the Asheville brewery and liquid center tap room.
The company also wanted to make the best use of the 18-acre urban site for tank expansion. The brewery and 6,000-square-foot liquid center is home to a tasting room, brewery tours, outdoor event space, food trucks, bike-friendly paths and more.
"Our East Coast location allows us to become a national brewery and ship beer to the East Coast with a smaller footprint than if we shipped to the East Coast from Colorado," says Hackett. "We had more than 30 criteria for choosing a specific location on the East Coast, and Asheville met our needs by having a great water source, being centrally located on the East Coast, being the type of community where our co-workers want to live, work and play and partnerships that helped us meet our goals of developing an urban brownfield in the process of building 150 jobs."