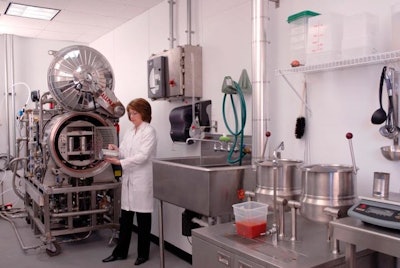 As consumer demands for higher-quality, shelf-stable products and convenience packaging continue to grow, manufacturers are developing new formulations for both at an accelerated rate. To help them in their efforts, Allpax has developed the 2402 multimode R&D retort that offers both sterilization and agitation.
Customized to laboratory specifications, each unit offers as many or as few modes as necessary. The retort can run saturated steam, steam air overpressure, water immersion, water spray and water cascade processes in combination with seven easily changeable modular agitation modes: still, end-over-end, swinging, low-speed, high-speed, hydrostatic simulation and axial rotation. It accommodates cans, bottles, pouches, cups, trays, metals, glass and plastics, as well as double-seam film and foil closures; it also is suitable for testing flavors and films.
Equipped with the 21 CFR Part 11-compliant production version of Allpax control software, the retort features a PLC-based HMI that makes switching between sterilization processes fast and easy, and streamlines the process of scaling up from the lab to the production facility.
Long-time 2402 multimode retort user Erik Hassid, technical head savory, Givaudan Flavors, a global leader in flavors and fragrances, says, "We run products in cans, pouches and cartons pretty seamlessly in our lab. The 2402 certainly shortens our development cycles, as well as those of our customers."
The customizable retort can be purchased or leased from Allpax.
Companies in this article