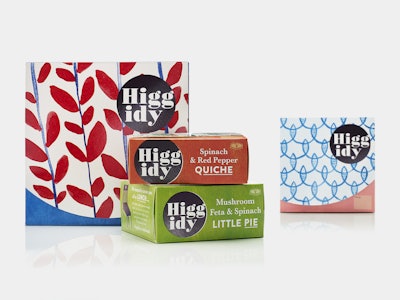 U.K. handmade pie and quiche company Higgidy has released an eclectic and eye-catching new brand identity that moves it away from being a product-led challenger brand, launched 13 years ago, to an established British brand with a unique and differentiating philosophy.
The new identity, designed by B&B studio, and launched in February 2017, is based around the strategic positioning of "the best food always looks a bit Higgidy" and celebrates the hand-finished nature of Higgidy's much loved pies and quiches.
B&B studio worked closely with Higgidy on an extensive brand renovation, with B&B involved at every stage, helping the brand define, articulate, and express its positioning. In-depth category research, and consumer and stakeholder workshops confirmed an opportunity to truly disrupt the category. The resulting positioning, based around the idea of The Beauty of Imperfection and inspired by the product's natural qualities, challenges standardized ideals of perfection.
The creative strategy led on the belief that "the best things in life are Higgidy"—evolving the positioning from product to lifestyle philosophy. The resulting packaging for the brand's 33 pies, quiches, and sausage rolls, is inspired by an eclectic collection of ceramic plates. Illustrators collaborated to create abstract illustrations, inspired by the recipes, which appear cropped.
A new round logo, which breaks the name of Higgidy up across two lines, makes a distinctive, memorable, and easy-to-read brand mark. The logo has been designed to look subtly different each time, emphasizing the look and feel of Higgidy products.
Says Shaun Bowen, founder and Creative Partner, B&B studio, "From the start, we were keen to help build Higgidy's broader philosophy, and the company's belief in the beauty of its imperfect pies felt like something that could evolve way beyond the food.
"The packaging design was inspired by a lifestyle aesthetic born out of the beauty of imperfection, and the mismatched plates gave us the opportunity to tell a story around each recipe, either in terms of its inspiration, ingredients, or associations. We worked closely with founder Camilla Stephens to truly appreciate each recipe, then with each individual illustrator to ensure the story came to life in the most appropriate way.
"The redesign required a brave client to take a game-changing approach, but the result is a category-challenging brand with depth."
Mark Campbell, Managing Director for Higgidy, says, "An enormous amount of thought and rigor has gone into this new approach. Category and consumer insights have driven our thinking at every step, and we wanted to take a completely new approach to re-energize the category."
Companies in this article