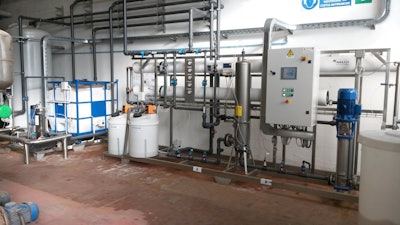 Inalca SpA, an Italian meat processor and producer of charcuterie and snacks, worked with Nalco Water, an Ecolab company, to significantly reduce its water and energy usage as part of its ongoing commitment to reduce its environmental impact and pursue sustainable growth.
Inalca partnered with Nalco on several water management projects for its plant in Rieti, Italy, that helped the processor save about 3.7 million gallons of water and more than $72,000.
To improve water preparation, Inalca replaced the demineralizer (DEMI) plant with a Nalco Water reverse osmosis system that efficiently removes dissolved solids and contaminants from the water. The system uses reverse osmosis membranes as its core separation technology to reject these contaminants. This helped the company reduce its chemical use and total cost of operation: more than 121,000 pounds of commodity chemicals saved through pretreatment and process enhancements, saving more than $17,500 annually.
Inalca implemented the Nalco Water 3D TRASAR Boiler Technology to improve boiler asset reliability and reduce water and energy use. The 3D TRASAR Boiler Technology detects and responds to preboiler corrosion stress in real time, prevents scale formation, and helps optimize and control boiler breakdown. By using the 3D TRASAR Boiler Technology, Inalca saved more than 14,000 cubic meters of fresh water and saw annual savings of more than $11,000 per year. It also saved more than 2,400 gigajoules of gas due to increased cycles of concentration within the boilers, saving over $43,500 in annual gas costs.
To improve water reuse, Inalca installed a cooling water reuse system that incorporates vacuum pumps to collect the cooling water and reuse it as makeup water for the evaporative condensers. It also installed Stork hydrostatic sterilizers and STOCK retorts sterilizers to further enhance cooling water reuse and recycling.
These efforts are part of Inalca's overall strategy of sustainable growth through environmentally-friendly business practices. While the company pursues policies that use cogeneration, renewable energy sources, recovery of waste and byproducts, and sustainable farming practices, Inalca concentrates on reducing water consumption because water is the resource it relies on most for its production cycle.
Companies in this article