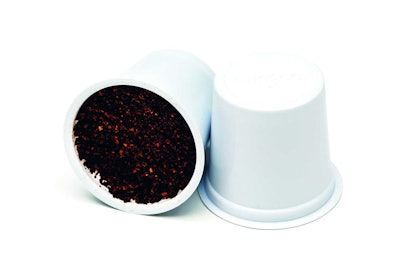 Improved barrier properties, greater strength, heat resistance and material source reduction are some of the reasons why Ingeo, NatureWorks' naturally advanced bioplastic made from renewable resources, is applied to a range of rigid and flexible packaging. Several companies showed off their Ingeo-based products at interpack.
For instance, in the area of beverage capsules, the increasing popularity of single-serve beverage systems raises the question of how best to prevent spent capsules from ending up in landfills. NatureWorks, compounders, converters and coffee companies used Ingeo to make capsules that meet temperature, pressure and filtration requirements, yet are still compostable.
In flexible packaging, Sidaplax's Ingeo-based EarthFirst UL is an ultra-thin, bio-based sealant web used for flexible packaging application that lowers the cost of sealant films. "EarthFirst UL is ideal for food packaging applications using single-serve pillow pouches, coffee frac-packs, gusseted stand-up pouches, frozen foods and multiwall bags," says Steve Davies, director of corporate communications and public affairs at NatureWorks. "Its naturally high dyne levels make it ideal as a laminate to PET, metPET, PP, nylon and paper substrates."
Etimex Ingeo-based, heat-stable thermoformed trays, made in collaboration with NatureWorks, are designed to serve more demanding, high-end, convenience packaging, including ready meal applications, and to allow hot-fill applications.
Ingeo starts life through plant photosynthesis and the capture of CO2 from the atmosphere. The CO2 is transformed into starch, which is fermented into lactic acid, the building block of Ingeo, and then polymerized and made into Ingeo pellets. "Producing Ingeo uses significantly less nonrenewable energy and generates significantly lower CO2 emissions when compared with all traditional oil-based polymers," says Davies.
Companies in this article