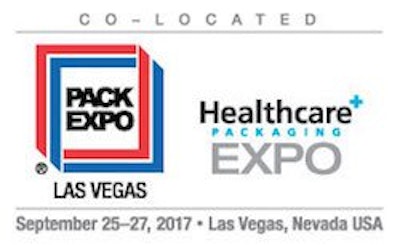 Capping off an unprecedented year of record-breaking events in the PACK EXPO Portfolio of Trade Shows, PACK EXPO Las Vegas and Healthcare Packaging EXPO 2017 welcomed nearly 1,000 more attendees than 2015, making it the largest PACK EXPO Las Vegas in history. Preliminary numbers reveal 29,500 attendees and 2,000 exhibiting companies convened over almost 900,000 net square feet of the Las Vegas Convention Center.

Show owner and producer PMMI, The Association for Packaging and Processing Technologies, saved the best for last in its most ambitious year to date, with four best-in-class events that raised the bar for North American packaging and processing trade exhibitions.

"The overwhelming success of PACK EXPO Las Vegas and Healthcare Packaging EXPO, coming on the heels of our success at PACK EXPO East, ProFood Tech and EXPO PACK Guadalajara confirmed our belief that our industry views the PACK EXPO brand as must-attend events," says Jim Pittas, COO, PMMI. "Our exhibitors and attendees expect PACK EXPO to carry out first-class events, and this show was no exception."

Exhibitor Gary Bach, director of sales and marketing for Digital Design – A Matthews Company, has attended every PACK EXPO Las Vegas Show since the very first PACK EXPO West at the Sands Convention Center in 1995. As far as he is concerned "PACK EXPO Las Vegas has been getting better and more attended every year."

Up nearly 4 percent in size from PACK EXPO Las Vegas 2015, the larger crowds continue to be high-level attendees with decision-making power.
To keep up with the growing size, PMMI continues to offer the most up-to-date online technologies like My Show Planner both online and via a mobile app that include enhanced Virtual Exhibitor Booths to ensure attendees and exhibitors come to the show prepared to make the most of every minute.

"It was great to see the number of people coming to the show with [real-world] applications, ready to do business," says Stacy Johnson, director of marketing and strategic planning, Dorner Mfg. Corp. "We get both quality and quantity attendees [from] PACK EXPO Las Vegas which is ideal. The pre-show planning PMMI provides [us] is [beneficial]. We take advantage of the online booth upgrade and receive nothing but positive feedback from it."

PACK gives BACK, sponsored by Rockwell Automation, offered another milestone as it produced the largest crowd to date in the event's seven-year history. Not only was the standing room-only crowd entertained by the legendary rock 'n' roll band, The Doobie Brothers, but proceeds from the performance, combined with industry donations and PMMI's $100,000 match, pushed PACK EXPO's hurricane aid past $325,000.

"The generosity of PACK EXPO attendees and exhibitors was truly inspirational," says Chuck Yuska, at the conclusion of his last PACK EXPO after more than a quarter century as president and CEO of PMMI. "Ours is an industry that has consistently risen to the occasion to help others in times of need."

In addition to supporting hurricane relief, PMMI recognizes the importance of industry education, awarding $30,000 in PACK EXPO Scholarships at the show. Yuska announced the 2017 recipients of PACK EXPO Scholarships, with the six students from PMMI Partner Schools each receiving $5,000 scholarships.

For the first time, PACK EXPO Las Vegas welcomed the Department of Labor's Veterans' Employment and Training Service (VETS) to the NextGEN Networking Fair, which offered a one-of-a-kind matchmaking opportunity for exhibitors and attendees to connect with the emerging workforce. With so many talented and skilled veterans out of work, this event is the perfect opportunity for employers to connect with these qualified veterans and guide them into careers in the packaging field.

A first-time addition to the show experience received mainstream media coverage and was the first stop for many at PACK EXPO Las Vegas. The PACK EXPO DRONE DEMO – Packaging for the Last Mile provided insight on the latest frontier in supply chain logistics: drone package delivery by Workhorse. Every hour attendees witnessed drones taking off from the top of electric trucks and making deliveries to mock houses populating the 15,000-square-foot exhibit in the North Hall.

PACK EXPO Las Vegas also hosted its first Packaging and Processing Woman's Leadership Network (PPWLN) breakfast. Over 500 attendees took advantage of the opportunity to network and hear Caterpillar Vice President Tana Utley's keynote address titled "Dancing on the Glass Ceiling."

Next up in the PACK EXPO portfolio is PACK EXPO East, April 16-18, 2018, at the Pennsylvania Convention Center in Philadelphia. Information and registration for the upcoming show can be found at packexpoeast.com.
Companies in this article