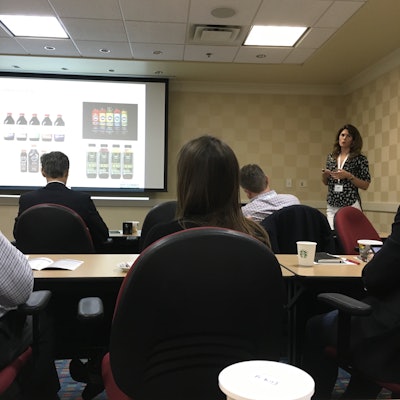 Beverages made with high pressure technology and cold pressed juices have exploded in the past decade. At the 2017 HPP Summit held in early October, Joyce Longfield, CEO of JL Nutrition and Food, told conference participants which market areas are growing for HPP juices. They include:
Lower sugar
Super blends that are satieting (probiotics)
Fat and fiber drinks (that are similar to smoothies where fat is no longer an offender)
Nutrient dense shots
Coffee and tea
Seasonal juices
Drinkable meals
Savory products
Longfield also discussed the new high pressure certified symbol developed by the Cold Pressure Council. She says consumers value food safety, and the new logo will bring awareness to the safety of the products that use it. The benefits of HPP include:
Pathogen reduction
Shelf-life retention
Innovative fresh products
Increased shellfish yields
Convenience
Reduced sodium
Clean label products
For more information about the Cold Pressure Council and the cerification logo, visit http://coldpressurecouncil.org. See related article, Cold Pressure Council launches certification logo.