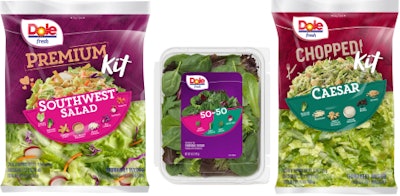 Dole Food Company, Inc. just rolled out new modern, color-coded graphics for its salad packaging that it hopes will make it easier for consumers to navigate among the company's 47 salad kits while reinforcing the brand's commitment to freshness and quality.
Launching in November 2017, the redesigned salad packaging assigns a different color to each Dole salad category: Mild Basics, Leafy & Robust, Mixers, Classic Kits, Premium Kits and Chopped Kits. The company expects the color-coding system to help consumers quickly find their favorite Dole salad kits. In addition, the design includes more clear space to better showcase the salad greens as well as information and images about each salad's ingredients and key nutritional values.
"Our customers told us they wanted a cleaner, more contemporary design that better communicates both brand and product benefits," says William Goldfield, director of corporate communications at Dole.
This is the first time Dole has redesigned its salad packaging graphics in about a decade. The company conducted extensive qualitative and quantitative research when it was developing the new design. That included focus groups and interviews with consumers and Dole's retail partners.