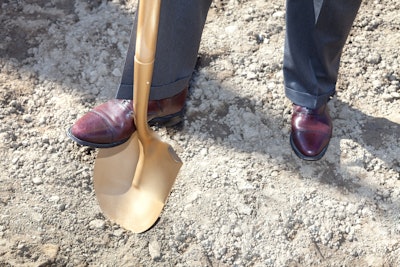 Architects and construction professionals from Chicago-based Wight & Company joined Chicago Mayor Rahm Emanuel and other project partners to break ground on a new food incubator development in Chicago's East Garfield Park neighborhood. The Hatchery, designed by Wight & Company, will serve entrepreneurs in the food and beverage industry seeking commercial kitchen workspace, coaching, and other services to develop their businesses and produce products. The 67,000-sq.-ft. space will include 56 private kitchens, a large shared kitchen, co-working and multi-function space, bulk storage and a loading dock.
The innovative incubator project is the brainchild of Accion Chicago and the Industrial Council of Nearwest Chicago (ICNC), two non-profit organizations that work to encourage investment and economic development in Chicago neighborhoods. A key component of the project will be creating new offices for Accion Chicago. From its new headquarters, Accion Chicago will offer direct access to small business loans and support programs to tenants of The Hatchery and to members of the local community.
IFF Chicago is serving as the development partner for the $34 million venture. Sponsors, including Kellogg and Conagra, are providing additional funding. The City of Chicago played an instrumental role by selling the project site to the developers for $1.
Wight & Company will serve as design architect, architect of record, structural engineer and construction manager for The Hatchery project. Other project partners include dbHMS for MEP engineering, site design group, ltd. for landscape architecture, Terra Engineering for civil engineering and Next Step Design as food services specialists.
Wight's team will repurpose one existing building that dates to the 1920s and add a modern structure of approximately 57,000 sq. ft.. "Adaptability in design is critical for The Hatchery to accommodate flexible programming and future growth," explained Matt Zolecki, project executive for Wight. "We are creating a space not just for food production, but for mentoring, coaching, presentation and collaboration."
The kitchen spaces are designed to be scalable, accommodating the entrepreneurs who may be looking for only table space as well as those seeking large volume catering production. Private kitchen spaces range from 250 to 400 square feet and are designed in quadrants featuring utility cores that will allow spaces to evolve with tenant needs. According to Zolecki, the building is slated for delivery by the end of 2018.