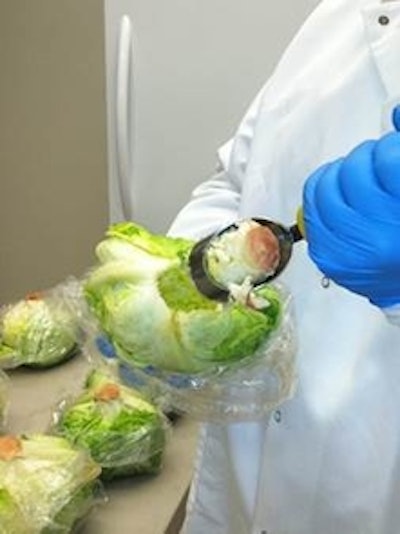 As the food production and supply chain becomes more global and food safety regulations become more complicated, the need for educated and skilled food safety professionals is greater than ever before. To meet that demand, the University of Arizona (UA) created a new bachelor's degree program in food safety that will commence in the fall of 2018.
UA's food safety program will educate students on the entire food safety domain. This interdisciplinary program will include courses covering epidemiology, food toxicology and legalities in the food industry. Students can specialize in areas such as produce, animal production, public health, food science and microbiology.
UA will also offer a distance learning program in food safety in Arizona's Yuma County, which is the nation's third largest vegetable producer and supplies 90 percent of the nation's leafy vegetables between November and March. The distance learning class format is designed to accommodate working professionals in the Yuma area. Distance learning students will attend classes online and take part in hands-on components of the curriculum at local community college facilities in Yuma.
"The new food safety degree is vitally important in the educational preparation and workforce development that will lead students into the agriculture food safety industry," says Tanya Hodges, regional academic coordinator for the University of Arizona in Yuma and La Paz Counties in Arizona and Imperial County in California. "What most people don't realize is that most jobs involved in food safety require advanced and very specific science and math competencies that can only be gained through very specific coursework. Food safety is a relatively new concept and profession."
A breach in food safety can be catastrophic for businesses and individuals. The Centers for Disease Control and Prevention estimates that 1 in 6 Americans gets sick and 3,000 die each year from contaminated foods or beverages. The U.S. Department of Agriculture estimates that foodborne illnesses cost $15.6 billion annually. Even without the health implications, a serious recall alone could put a company out of business.
Given the high stakes involved in food safety, UA says its food safety program will fill an essential need in the food industry. Food companies recognize that they can't simply assign food safety duties to their existing employees. Instead, they need to hire food safety experts who understand the complexity and evolving safety challenges facing the food industry.
"This new food safety program presents students with an opportunity to gain an education with an integrated food safety curriculum designed to provide them with the necessary knowledge and problem-solving skills to thrive in tomorrow's food safety-related food industry workplace," says André-Denis Wright, director of the UA College of Agriculture and Life Science's School of Animal and Comparative Biomedical Sciences, which houses the food safety program. "Students completing this program will have a unique and highly desirable credential, which will likely provide them a competitive edge in the marketplace."
UA is currently accepting applications for it food safety program. For more information, please visit UA's College of Agriculture and Life Sciences website.