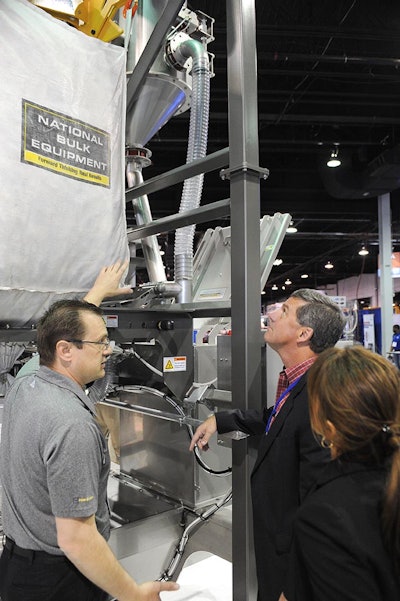 North America's largest and longest-running powder show is back. The biennial International Powder & Bulk Solids Conference & Exhibition will take place April 24-26 at the Donald E. Stephens Convention Center in Rosemont, Illinois, bringing together more than 3,500 engineers and executives from over 35 countries who want to explore the latest technologies and equipment, deepen their knowledge, and share innovative ideas that drive the powder and bulk solids sector.
The conference will feature in-depth educational sessions led by experts from leading companies, such as Cargill and Dow Chemical. They will cover industry fundamentals and advanced topics, so attendees can choose the level of education that is appropriate for their career stage. The session topics include new tools for regulatory compliance in powder processing, combustible dust control, how to scale up conveying equipment, and key essentials to food and nutrition powder blending.
More than 350 powder and bulk-material handling suppliers will also be on hand to showcase their equipment and services. Attendees will get the chance to talk with them about how to address their biggest challenges and see machinery in action. Some of exhibitors will also give formal presentations about their products and demonstrate them at the Tech Theater on the show floor. This year's exhibitors at the conference include Acrison, Volkmann, Schenck Process LLC and Gericke USA Inc.
Other highlights of the conference will include new speed networking sessions. These fast one-on-one meetings will help attendees connect with other industry professionals. In addition, the conference will host several Innovation Tours. An expert guide will give attendees a one-hour tour of the show floor, focusing on a specific theme at the forefront of the industry.
For more information about the International Powder & Bulk Solids Conference & Exhibition, please visit https://event.powderbulksolids.com/.
Companies in this article
Videos from Gericke USA, Inc.