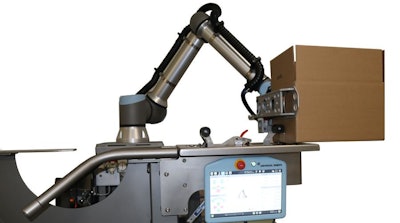 Collaborative robots have come a long way since first breaking on the PACK EXPO International scene roughly five years ago. Universal Robots was among the first to launch the technology, introducing its UR5 six-axis robot in 2015. At this year's show, the company broke new ground again with what it said is the first solution for random robotic case erecting. The new UR-powered, XPAK-developed box erector, called the XPAK ROBOX™, allows packagers to randomly erect any box in their suite on-demand without changeover.
"This collaborative design not only enables the operator to safely and intuitively interface with our machine, ROBOX also realizes approximately 60-percent reduction in terms of the footprint required for a similar machine using more conventional robotic technology requiring fencing," said William Reilly, Technical Sales Engineer with XPAK. Reilly added that the company developed ROBOX as it recognized the undeniable market trends toward collaborative robotics, now the fastest-growing segment of industrial automation.
The XPAK ROBOX is equipped with a UR10e cobot arm that picks a flat box from one of two magazines, squares the case, folds the bottom flaps, and seals the flaps with 2-in. tape. Additional magazine and custom box conveyance options allow the XPAK ROBOX to integrate seamlessly into virtually any packaging environment.
Explained Universal Robots, the UR10e is the largest cobot in its new flagship line of cobots, the e-Series, which was also showcased for the first time at a PACK EXPO. The e-Series features built-in force/torque sensing, "unrivaled" safety features, and improved precision for faster integration in a wider range of future-proofed applications.
"The e-Series strengthens the core principles defining collaborative robots: fast setup, easy programming, flexible deployment, safe operation, and a quick ROI," said Stuart Shepherd, Regional Sales Director of Universal Robots' Americas region. "End users with complex applications and diverse or uncertain future needs will benefit from the e-Series platform and our unique UR+ ecosystem, knowing their investment will be able to grow with them as their needs change."
The e-Series includes a rapidly expanding portfolio of certified UR+ plug-and-play end effectors, software, and peripherals certified for UR cobots.