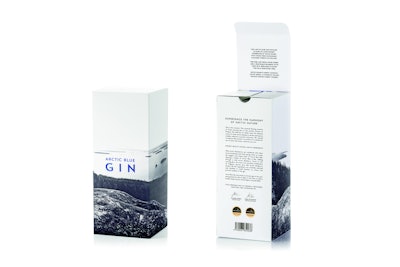 Show Daily Exclusive - When developing the award-winning Arctic Blue gin, the team of culinary experts at Finland's Nordic Premium Beverages wanted its flavor to reflect the Arctic environment. Ingredients are carefully selected. Equal attention was paid to the packaging so it would reflect the quality and values of the brand.
Pro FBB Bright 350 grams/sq. m paperboard from Metsä Board, parent company of Metsa Board Americas (Booth N-4861), meets all requirements for the carton. It is lightweight and made from virgin fibers, traceably sourced from sustainably managed northern forests. The wood fiber is a renewable resource with four seedlings planted for each tree harvested. In addition, its consistency, as well as high whiteness and smoothness, ensure excellent printability and display of special effects.
Ilkka Harju, Metsä Board's packaging services director, explains "The package was printed on the uncoated side of the paperboard to give a pure, natural feel that reflects the brand identity. In addition, demanding finishing techniques were used on the surface to create a 3D illusion around the printed rock scenery, and multilayer embossing gives a rock-like haptic feeling. Foiling was also used to give a distinct contrast with the natural paperboard surface. Then as a final touch, packaging was printed inside . . . to create maximum impact when the consumer unboxes the bottle."
To ensure that the Artic Blue gin cartons arrive at the retailer in the best possible condition, the transit packaging is made from another Metsä Board paperboard, Pro WKL, which combines high strength with sustainability.
Established in 1989, Nordic Premium Beverages is the oldest winery and producer of sparkling wine in Finland. Located in Ilomantsi, a small town in eastern Finland, the company offers high-quality products made from the arctic berries and botanicals.
For more information, visit www.metsaboard.com. SD