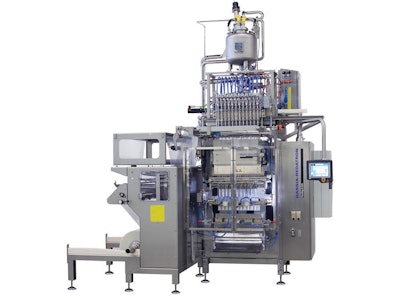 Hassia-Redatron displayed at its booth its Flexibag Si-600 all stainless-steel, four sided-seal sachet machine capable of producing up to 1,500 packages/min of sachets, depending on sachet size, complete with available contoured end seals and easy-open package tear slits.
Designed for high production and high-quality sachet applications, the machine offers front and back registration from a single roll of film and fully integrated date coding. Explained Hassia, the latest in Allen-Bradley PLC, drives, and touchscreens control the many sensors and full servo motion of the machine. The A-B system stores up to 40 product recipes, all of which are accessible from the PanelView Plus series touchscreen. Machine operation parameters and diagnostic information are all available via the HMI.
The Flexibag Si 600 can use an 800-mm-dia single roll, which is loaded from the side of the machine at floor level. The PLC-controlled servo film drive, web edge guide, and tracking device all aid in "exceptional" registration, Hassia noted.
Maximum web width on the Si 600 is 600 mm, which the company explained makes it Hassia's highest-capacity machine. Two roll film configurations are also available. Other options include CIP compatibility, date code, and discharge conveyor solutions. The Flexibag family of machines can package liquids, pastes, powders, or granular or tablet products.