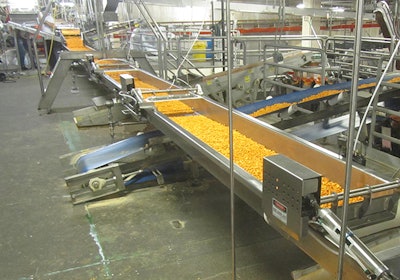 Show Daily Exclusive - When this cracker manufacturer's thin crackers began slipping through the drop gates of the existing vibratory conveyors, it approached Triple/S Dynamics (Booth N-4948) for help in developing an equipment layout to address the leakage issues and integrate the new packaging line.
In order to keep the project under budget, the baked goods maker opted to modify several existing Slipstick conveyors and add a few new conveyors. This option also allowed the company to phase-in the equipment rather than shutting down the entire packaging system for several weeks.
The simple, one-piece formed-trough design of the Slipstick conveyor pan with suspension rod hangers spaced on 15-ft. centers simplifies field modifications especially when compared to conveyors with base frames and closely spaced support springs. To change the length of Slipstick conveyor pans, sections of formed trough are simply added or removed.
For more information, visit www.sssdynamics.com/resources/case-studies/slipstick-conveyor-enables-sy.... SD
Companies in this article