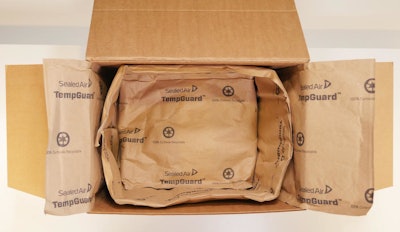 Sun Basket, a national meal kit delivery service, now ships its product in 100% recyclable packaging. Known for its commitment to organic produce and sustainable ingredients as well as recyclable packaging, Sun Basket chose TempGuard™ paper-based liner from Sealed Air (Booth S-2939).
TempGuard thermal insulation protects the contents from temperature abuse and also serves as a protective cushion. Made from recycled paper, it is certified to ISTA Standard 20 to ensure it maintains proper temperatures for one- and two-day ground shipping. Measuring 1-in. thinner than the insulating material used previously, the TempGuard liner represents a source reduction for Sun Basket because its outer box is now 25% smaller. This reduction also shrinks Sun Basket's carbon footprint.
Michael Golub, head of Strategic Initiatives for Sun Basket, reports, "At Sun Basket, sustainability is one of our core values, and one of the ways we approach that is by ensuring that all of our packaging is recyclable or compostable. We proactively work with suppliers as products are being developed. We learned about Sealed Air's 100% recyclable paper insulation before it came to market, and because of that, we are now the first in the meal kit business to use it. We are excited about this insulation because, among other things, it made the recycling process even easier for our customers while at the same time reducing the size of our box, for both a sustainability and customer experience win."
"We are pleased to have a fully curbside-recyclable solution in our portfolio that meets Sun Basket's temperature assurance requirements," says Susan Bell, vice president of Strategy and Business Development at Sealed Air. "Because sustainability is a key business driver for our clients and online shoppers are requesting environmentally friendly packaging from retailers, Sealed Air is expending R&D efforts not only on improving the recyclability of its existing packaging materials but also creating . . . bio-based packaging products derived from natural sources," she concludes.
Companies in this article