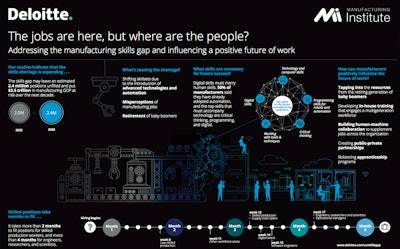 As digital transformation and the Fourth Industrial Revolution redefine manufacturing jobs, leaders and workers alike need to embrace a new work environment, according to a new report from Deloitte and The Manufacturing Institute. Advanced technology and digital skills must blend with human skills to yield high levels of productivity, the report states.
Today, the industry is experiencing an exciting and exponential transforamtion, as technologies such as artificial intelligence (AI), robotics, and Internet of Things (IoT) are rapidly changing the workplace. While some predicted that these new technologies would eliminate jobs, Deloitte and The Manufacturing Institute study have found the reverse—more jobs are actually being created. In fact, job openings have been growing at double-digit rates since mid-2017, and are nearing the historical peak recorded in 2001.
The study reveals that the skills gap may leave an estimated 2.4 million positions unfilled between 2018 and 2028, with a potential economic impact of 2.5 trillion. Further, the study shows that the positions relating to digital talent, skilled production, and operational managers may be three times as difficult to fill in the next three years.
These future personas represent our research on the manufacturing skills gap and reflect several important themes:
Putting humans in the loop
Expanding digital and "soft" skills
Leveraging the digital toolbox
Digital twin engineers and toolboxes
Digital twin engineers create a virtual representation of both the physical elements and the dynamics of how an IoT-connected product operates and interacts within its environment, throughout its entire life cycle. Ranging from a jet engine or aircraft to a shop floor, an assembly line, or even an entire factory building, digital twin engineers make it possible to virtually see inside any physical asset, system, or structure that could be located anywhere, thereby helping to optimize its design, monitor its performance, predict its maintenance, and improve the overall experience. View the complete persona of the Digital Twin Engineer.
The digital twin engineer plays a crucial role in building the relationships and communication lines across silos to create a network that marries the physical and digital worlds throughout the manufacturing value chain.
Digital twin engineers must be proficient in creating virtual replicas of major industrial products and helping companies predict and respond to customer problems using real-time data analysis and advanced technologies.
Skills include:
Simulations
Analytics
Sensors
Software development
Systems engineering
Research and development
Algorithms
Image processing
Cross-functional team leadership
Program management
The toolbox supports the worker in achieving external outcomes such as productivity as well as internally focused ones such as decision making and learning. View complete toolbox of the Digital Twin Engineer.
Productivity
Venus–Artificial intelligence (AI)-powered, voice-enabled digital assistant provides a conversational interface for all productivity-related tasks
WeAR–Augmented reality (AR) wearable device that connects digital twin engineers to IoT devices and receives work instructions and training
InstaCap–Captures data automatically using digital technologies such as radio frequency identification (RFID) and speech recognition
Decision-making
Smart Dash–Visual display that presents data, live information, and analysis from multiple sources to facilitate informed decision-making
Envision–uses machine learning to identify potential problems as well as opportunities to devise solutions that make a positive impact
RealConnect–Enables an engineer to seamlessly interact with suppliers, partners, customers, and the broader ecosystem
Learning
SkillsPro–Smart learning assistant that helps digital twin engineers refresh existing skills as well as learn new emerging skills
SmartLab–Facilities classroom learning using virtual reality headsets and simulation
For more information, visit the Deloitte website.
Want to learn more about workforce development issues? Don't miss the free educational sessions at ProFood Tech, March 26-28 in Chicago. The biennial trade show features machinery, automation and controls and solutions in action from 450 top manufacturers, plus lots of free sessions and networking opportunities.