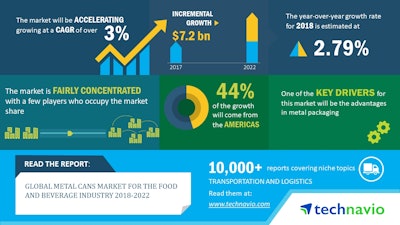 Metal can packaging is gaining popularity in the food and beverage industry because of the many advantages that can be seen throughout the supply chain. According to Technavio's latest market research report, the global metal cans market is expected to grow at a compound annual growth rate (CAGR) of more than 3 percent.
One of the reasons there's been exponential growth in metal can packaging is shifting consumer lifestyles. Packaged and convenience food has become a staple in the hectic lives of consumers.
Now that online and offline retailers are storing more packaged items, they're looking for packaging materials with many benefits. One benefit of metal cans is its durability. Because of the strength and rigidness of metal, it's possible to fill cans faster without any product loss.
Metal's durability also helps maximize space during storage and transportation. Cans are able to stack on top of one another without damage. And once product reaches the store, metal packaging ensures a longer shelf life and reduces spoilage costs.
Not only can metal can packaging be more efficient, it can also be more cost-effective. The price of metal is affected by raw materials and labor factors. Because these two factors have remained relatively stable, metal is the more affordable option when compared to other packaging materials.
These factors and benefits are expected to increase the global market for metal cans in the food and beverage industry. According to Technavio's report, the industry is expected to grow by more than $7 billion from 2018 to 2022.