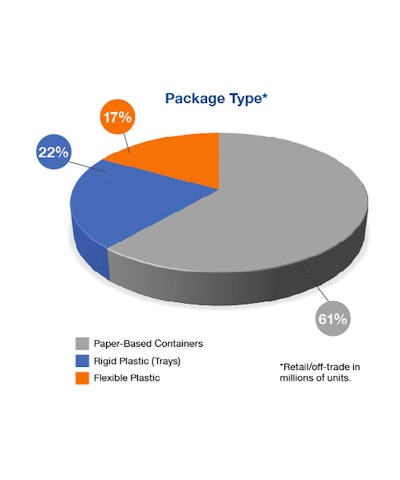 Top Five U.S. Brands in 2018
Brand Company
Stouffer's Nestlé SA
Lean Cuisine Nestlé SA
Hot Pockets Nestlé SA
Totino's General Mills
Amy's Kitchen Amy's Kitchen, Inc.
Market Analysis
Frozen ready meals typically constitute a whole meal and include meat, poultry, fish and vegetarian-based meals. A typical product contains a type of meat (beef, pork, lamb, poultry, fish, etc.) or meat substitute accompanied by vegetarian ingredients (rice, pasta or vegetables) and sold frozen. The products do not require any cooking preparation other than heating. Note that vegetable and meat pies are included here (quiches, pot pies, pizza rolls, etc.). But this category excludes frozen pizzas, snacks and appetizers where leading global brands include Healthy Choice (Conagra), Weight Watchers (Kraft Heinz) and Swanson (Pinnacle Foods).
Frozen ready meals appeal to consumer convenience, especially to the increasing number of people who dine alone at home. These meals provide a quick and easy way to prepare a wide variety of offerings while controlling portions.
The frozen ready meals market in the United States is estimated at $17.5 billion.
To gain more insight into the frozen ready meals sector, attend ProFood Tech, the only processing trade show in North America that addresses all food and beverage market sectors. The event will feature educational sessions with industry experts and innovative technologies from 400 exhibitors designed to give you a competitive edge. ProFood Tech will take place March 26-28 at McCormick Place in Chicago, Illinois. Register for the event at www.profoodtech.com.
Source: Euromonitor