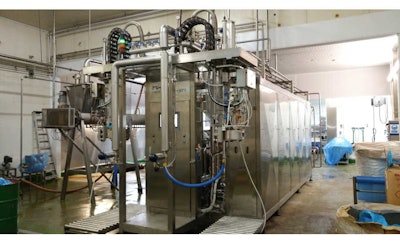 Having created a range of aseptic fillers, including the HRS AF Series and the new Asepticblock Mini Series, HRS Heat Exchangers now offers food and drink manufacturers a full production solution from pasteurization or sterilization, through to the finished pack product, with appropriate integrated control, traceability and cleaning systems throughout.
Waste minimization and process automation are current industry priorities, and are closely connected with the Internet of Things (also known as Industry 4.0). This digital revolution is enabling manufacturers and operators to use automatic feedback monitoring to reduce waste and maximize their output.
A good example is the HRS Product Recovery System, which measures a physical or chemical property (such as product Brix, pH, viscosity or density) and automatically alters the treatment of it—should it fall outside specified parameters. This reduces the amount of wasted product at production changeovers or when implementing Cleaning in Place programs. Similar technology is employed in all HRS heat exchangers to ensure product safety by continuously measuring the temperature; for example, to ensure that full pasteurization or sterilization has been carried out.
Maintaining the safety, integrity and quality of food and drink products after pasteurization or sterilization is vital, so HRS BP Series of reciprocating positive-displacement pumps feature a hygienic design, which incorporates a separator between the piston and the hydraulic chamber to ensure that there is no contact between the product chamber and the hydraulic oil. Once the pump is in operation, no part that comes into contact with oil can come into contact with the product. The pumps are capable of flow rates between 200 and 20,000 liters per hour with a pressure drop of up to 30 bar, and a range of specific models is available to cope with challenging materials from viscous sauces and gels through to whole soft fruit mixtures.
Companies in this article