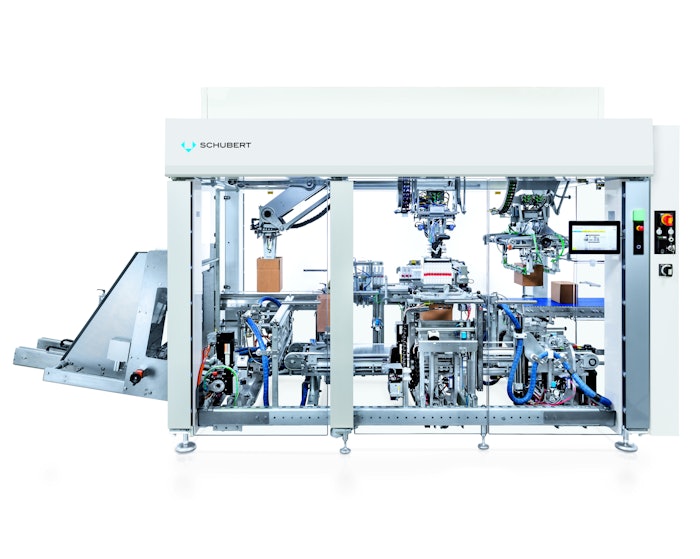 At ProFood Tech this week, Schubert is highlighting its new lightline series, which consists of three machine types with preconfigured machine modules. Modularity and preconfiguration enables a quick planning and assembly processes. According to the company, customers can use lightline to master standardized packaging tasks efficeintly, and do so at attractive purchase price.
"On the one hand, the company customizes high-end packaging machines to handle complex, sophisticated packaging requirements. And on the other, its recently introduced lightline series is ideal to take on most standard packaging applications," according to the company. 
Machines in lightline
The new lightline Cartonpacker acts as a classic case packer when erecting, filling, and closing cartons. The lightline Pickerline is a powerful pick & place line for picking up and placing products in trays. And the lightline Flowpacker packs products in flowpacks in conjunction with the Pickerline. 
Particular to the Flowpacker is a high-quality sealing mechanism. Depending on product characteristics and the desired film, the seamlessly integrated Flowpacker is equipped with one of four sealing technologies, but for especially heat-sensitive products, the company developed a new, patented sealing technology.
This technolgy first uses an ultrasonic sealing system to close the flowpack's longitudinal seam. Then a heat-sealing system with a flying cross sealing unit is used. This flying cross sealing unit adapts to the variable speeds of the upstream F4 robots and therefore ensures high sealing quality with constant sealing times.
"Customers now have the choice between freely configurable machines with extensive degrees of freedom, which are tailored to individual customer requirements, and our cost-attractive preconfigured machines from the new lightline series with defined product and packaging formats," says Hartmut Siegel, CEO, Schubert North America.
Also at the show is a machine frame equipped with a four-axis pick & place robot tasked with assembling 3D-printed miniature Schubert machine frames. This is meant to illustrate the value of modularity and scalability for the end user. A video of the demo can be viewed here.