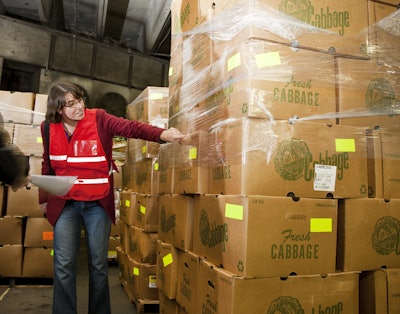 In December 2014, Global Green worked with one of the nation's largest grocers to test recyclable boxes that could be used by their suppliers across the country. The grocer operates over 1,300 locations, "so if they decide to switch to 100% recyclable packaging that would make a tremendous impact," says Global Green.
To get things started, Lily Kelly, Senior Program Associate of Global Green's Coalition for Resource Recovery visited the farming community of Moultrie, GA, to test out some recyclable boxes with one of the grocer's major cabbage suppliers. Global Green had arranged for its CoRR members—Green Bay Packaging and Interstate Container—to send samples of recyclable cabbage boxes to the facility.
Many produce items, as well as meats and seafood, are typically packed in unrecyclable boxes coated with paraffin wax. In many cases, the boxes are coated to prevent moisture from making the box soggy, but for cabbage, the key lies in augmenting the strength of the box itself. An uncoated box would buckle from the pressure of the heavy cabbage heads stacked on top of it, as well as the inevitable moisture of the coolers and shipping containers. But a box with a coating would withstand the rough treatment, and a recyclable coating would mean that the grocer or restaurant receiving the cabbage could sell that box instead of losing money by paying to have it landfilled.
Recalling her visit to the cabbage packer, Kelly says, "When I arrived at the packing shed on a warm, sunny, Southern winter day, the workers were packing box after unrecyclable, wax-coated box of cabbage to be shipped to grocery stores across the country. It's one thing to hear that over 1.4 million tons of wax-coated cardboard boxes are used every year, but it still takes me by surprise to see the sheer volume of unrecyclable packaging being used at just one packing shed. Clearly, it was time to change things up a bit."
To test the new boxes, cabbage packers filled them with up to 40 pounds of heavy cabbage heads and stacked them seven layers high on the pallets. Once the pallets were loaded onto the trucks, they left for a 750-mile trip to St. Louis.
Once the boxes arrived in St. Louis, they were unloaded at a distribution center outside the city. Kelly then met up with one of the grocer's leadership team members at the grocery store chain. "We headed out early to take a look at the freshly unloaded boxes, and found that the boxes had survived the shipping process with no failures or product damage," she says. "The distribution center staff confirmed that they thought the boxes looked good, and many said they performed better than their unrecyclable wax-coated counterparts.
"Now that we have been able to demonstrate that the boxes can handle the challenge of being shipped long distances with a heavy load, the next step will be helping more of these packing facilities switch over to 100-percent recyclable packaging. With the help of our grocer friends, we are embarking on that journey in 2015."
The above was taken from a blog entry by Lily Kelly, "Follow That Box From Georgia to St. Louis"
Companies in this article