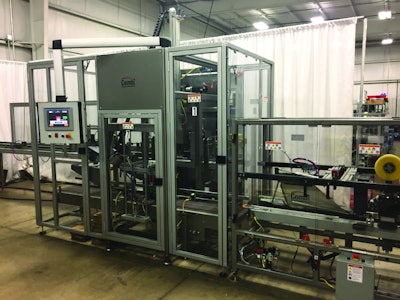 Show Daily Exclusive - When an old drop packer couldn't keep up with production at a chafing fuel manufacturer, it was time to find a new machine.
The plant manager knew Combi Packaging Systems (Booth N-5332b) has a reputation for quality. This was quickly reinforced when the teams met at an industry trade show. He recalls, "I've been in the business a long time, 35 years to be exact. So, it's fair to say I've seen just about every solution out there. However, once we witnessed Combi's build-quality and production speeds firsthand, we knew they could really help us improve our packaging processes. They exceeded our expectations from day one. When we visited their facilities, we witnessed a truly all-hands-on-deck approach to getting our equipment customized"
A customized system was needed because the force of a traditional vacuum pick-up would remove the lid of the chafing can, ruin the product and contaminate the production environment with the flammable material.
The customized system runs at 750 cans/min. and consists of a Model SPP dual-head servo place packer (customized with magnetic pickups), a Model 2-EZ HS case erector, a Model TBS-100 FC case sealer and a 2LD lane diverter and case conveyor. After installation, the system was running at full production rates in less than 10 days. "Anyone who has purchased packaging equipment . . . knows that type of turnaround is truly exceptional," comments the plant manager.
He reports the impact of the equipment has been three-fold: "We're able to run our packaging line with two people now. This same process took nine people before. Not only have we drastically reduced input costs, we've increased our efficiency. Basically, we can package 66% more product while using less than a quarter of the labor."
Quality has improved too. Instead of traditional photoelectronic sensors, the Combi system weighs each case. An incorrectly packed case shuts down the line, guaranteeing that all cartons leaving the facility contain the correct piece count.
For more information, visit www.combi.com. SD
Companies in this article