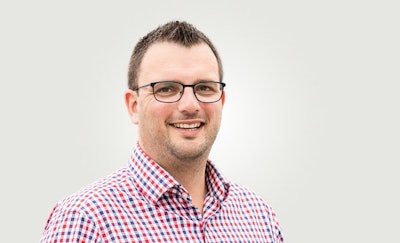 There is plenty of talk surrounding the manufacturing industry and what's going on in the market. But as a digital operations consultancy that help organizations improve business agility, we rarely share our own insights and observations.
With the state of the manufacturing industry, we do hold concerns about how rapidly (or otherwise) manufacturing organizations—particularly in food and beverage—are moving towards digitization.
The current state of food and beverage
Food and beverage manufacturing, while slower than other industries to transform, is now in the midst of its fourth revolution. With Industry 4.0 enablers—like the Internet of Things (IoT)—giving clients a more competitive edge, manufacturers can now gain transparency on where their assets, materials, transport, people, and products are at any single point in time.
For many years the layers of information technology (IT) and operational technology (OT) haven't connected, so sensing and sense-making was simply not possible, and in some traditional manufacturing organizations today, it still isn't.
Unfortunately, some firms are still manually documenting the data that comes from sensors on the shop floor into excel spreadsheet printouts. So by the time they've detected or identified quality failures, trying to track back to specific units becomes difficult and time consuming, causing a waste of product.
The hardware and software to collect, store, and analyze data is readily available. This has helped many manufacturing companies become more agile, flexible, and productive. However, in an industry as competitive as food and beverage, manufacturers can't really afford not to digitize and improve their operations.
Avoiding the black hole of inefficiency
Food and beverage manufacturing is an extremely competitive industry. In this industry, profit is driven by efficiency across the entire supply chain, and efficiency comes from accuracy. Agile matching of supply to fluctuating demand at lightning speed, producing and seamlessly moving the right amount of high-quality product in less time to where it needs to go is the goal. For this reason, there is also a huge number of moving parts.
Available assets, machinery, trucks, materials, production processes, and packaging—the list goes on. And in between each moving part and process, is the potential for a black hole of inefficiency, especially if devices do not speak to each other.
Enter IoT and digitalization, now previously detached machines and devices can suddenly bring data together from disparate sources to paint a real-time picture of where everything is. It allows for speedy response and decision-making, while making accurate traceability of things throughout the entire supply chain possible. IoT is vastly improving inventory, asset management, and stock utilization too.
As an example, some of our food and beverage clients have implemented paperless improvement solutions that:
Run repetitive processes automatically (automated workflow).
Enable real-time visibility of equipment status.
Store and retire all documentation electronically.
Enforce electronic data entry and storage.
This enables improved response time on faults, quality systems, data integrity, and traceability to name a few.
Taking action
We do worry that those who don't make a move soon will get left behind, and there are some really great manufacturers out there that could do with some advancing. If you suspect IoT could help propel your food and beverage business, now is the time to do your research, consider your options, and act.
Gareth Williams is a food and beverage principal at Nukon, a SAGE Group brand. SAGE is a certified member of the Control System Integrators Association (CSIA). For more information about SAGE, visit its profile on the Industrial Automation Exchange.
Companies in this article