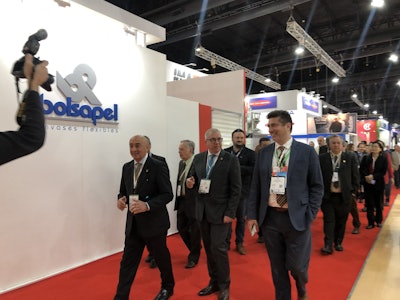 Perhaps there is no better window to the future than to observe what happens in moments of crisis. Despite Argentina´s current financial turmoil and electoral controversy, exhibitor´s and visitor´s perception at Envase Alimentek Argentina 2019 suggest a positive business environment. "In our company, we always look at the market with an optimistic eye. Throughout our almost half a century trajectory, we have experienced several difficult situations and we have always succeeded. This is a temporary situation and we contribute with our work to what is coming," said Juan Carlos Alessandretti, Account Manager of the Argentine company Bolsapel, one of the top flexible packaging manufacturers in the country.
After touring booths covering more than 22,000 square meters of exhibition area and observing activities for four days at the fair, we can verify that this is a widespread feeling with the companies that brought and showcased their equipment and machinery at Buenos Aires as well as visitors who came to see the exhibition of technological solutions and in the knowledge of market trends offered, opportunities for the growth and consolidation of their products in the markets.
Also, Envase Alimentek Argentina 2019 evidenced the trust that manufacturers of machinery and equipment for packaging and processing put on the country´s consumer product industries. They believe in the resilience demonstrated by the Argentine economy to recover from difficult economic and political situations.
Innovation is the solution
Visitors to Envase Alimentek Argentina 2019 focused their attention on issues that define the industry's agenda and on solutions that are being designed and offered as an answer to the demand for sustainable and innovative packaging produced with high quality and efficiency. "At the fair, we saw very innovative aspects related to environmental responsibility, evident in the use of less materials, better post-consumer packaging handling and in machines and equipment that streamline processes," said Jorge Acevedo, General Manager of Envase Alimentek and Director of the Instituto Argentino del Envase (Argentinian Packaging Institute), the organizer of the fair.
Bolsapel presented novelties in the progress towards the Circular Economy for the Argentine market at Envase Alimentek show. The company launched Paper Touch, a selection of new paper materials for flexible packaging applications with improved barrier performance aimed to replace plastic with paper based biodegradable and compostable solutions. These materials can be used to different types of applications—for solid products such as cookies, candies, chocolates, among others—and guarantees a wide range of use. "This technology already exists in Europe and in Asia, and the next application is being developed for liquid products," said Alessandretti. Depending on the type of barrier that is sought for a particular product, Bolsapel's new offer includes varnishes that are applied on traditional Doypacks, the replacement of polyethylene with paper and the use of less grammage paper with a heat-sealed varnish.
Europackaging, an Argentine manufacturer of packaging solutions for pallets, presented an innovative tool for real-time monitoring of stretch film pallet wrapping, which records the information of variables such as platform speed, number of turns and the weight in grams of the stretch film for each wrapped pallet. This 100 percent Argentine brand new technology attracted the interest of visitors due to its innovative nature and the benefits it offers to companies in the end-of-line processes. The product is based on a programmable logic controller and software, designed by the manufacturer with the backing of Brazilian software developer Totvs. Its application provides tangible benefits in terms of material savings, accurate information on consumption per shift and amount of film used, as well as alerts about the operation's performance. "Our solution changes the way clients wrap their pallets with stretch film and, allows us to correct the problems generated by different variables, avoiding product quality, compliance, and return problems." said Edgardo Greppi, Director of Europackaging.
General Automation, representative for Argentina of several automation of industrial operations companies such as the Italian firm Campetella (with more than 20 years in the Argentine market), was present in Envase Alimentek 2019 offering different automation solutions for the packaging industry. "In Latin America, there has been a growth of almost 50% in the replacement of obsolete machinery with robotic solutions in the last 4 years, especially for end-of-line packaging, product construction and handling, stacking, cutting and labelling," said Sergio F. Magistrali, the company's Commercial Director. The use of Cartesian and collaborative robots shows a boom in Latin America that continues to consolidate in the region, and in the packaging industry they are fully usable, "every day we see more companies preparing to improve their production through automation and robotics," said Magistrali.
Another key technological trend evident at Envase Alimentek Argentina was personalization of packaging through the use of digital printing systems with variable data functions. In Buenos Aires, Hewlett Packard showed its HP SmartStream Designer Collage application, a new tool that allows the creation of unique elements within a printed form, each one with an exclusive graphic work. Users can then control variables such as repetition, rotation and image size, as well as superposition and dispersion of elements, which opens up a great creative potential for packaging and labels. "In Latin America, most part of consumers are millennials and centennials, who are interested in, and greatly, impact through personalization. This trend helps product manufacturing companies to attract consumers at the shelves and sell more," said Gonzalo Schroeder, manager of HP Indigo Labels and Packaging for South America. The Israeli manufacturer has developed this and other SmartStream Designer tools, which can be applied to the packaging market with the HP´s Indigo 30000 or Indigo 12000 press models for folding boxes, and HP´s Indigo 6900 and Indigo 20000 models for labels and flexible packaging.
A space for knowledge
Envase Alimentek Argentina 2019 has also placed a focus on how the packaging industry can provide solutions to the serious global problem of food waste. During the event, the second edition of Save Food Journey took place, a program promoted by the Food and Agricultural Organization of the United Nations, whose main objective is to build networks between the different actors in the extended food value chain, linking the food industry and the packaging industry to create solutions that help reduce food loss and achieve maximum use.
The adoption of the Circular Economy model by Argentine industry was also part of Envase Alimentek's academic program. Fabio Lisanti, Director of CARE, the Argentine Chamber for Packaging Recovery, explained that the growth of the companies that make up the entity has allowed the professionalization of packaging recovery activities and the export of recycled containers from Argentina throughout the world. This Chamber is made up of 16 companies dedicated to packaging and materials collection, recycling and reuse, specializing in different types of packaging, sizes and components for almost 20 years. They have developed a clear understanding of Circular Economy principles. "We recover and recycle a container four or five times, according to what the specification of the container itself allows, and that generates a much longer life cycle, saving water and energy, and reducing the environmental footprint," explained Lisanti.
Envase Alimentek's solid academic program also placed special emphasis on the presentation of issues that lead to significant improvements in productivity, such as the use of the color expanded gamut technique in flexographic processes for package printing. In terms of design and marketing, a presentation by the renowned Argentine industrial designer, Franco Mercado, allowed visitors to learn about the impact that creativity and the use of cutting-edge technologies—such as virtual reality and augmented reality—have on creating a solid connection between the product and the end consumer.
To learn more about the processing and packaging industry, visit https://www.mundopmmi.com.